---
Toronto rent prices continued their months-long climb in July, now sitting $525 above where they were at the same time last year.
A new report from TorontoRentals.com and Bullpen Research & Consulting found that Toronto's average rent price jumped a whopping 6.2% from June to July, to its new average of $2,667 per month for condo and apartment rentals -- the highest out of any city in the Greater Toronto Area (GTA). This marks a $525 rise from the July 2021 average of $2,142.
Prices have increased in every Toronto postal code on an annual basis, with prices in the M5V area, home to the Entertainment District, King West, and Cityplace, jumping up a staggering 43% year-over-year to $3,203. But the biggest change can be seen in the Beaches' M4E postal code, where rent prices are up 52% compared to the same time last year.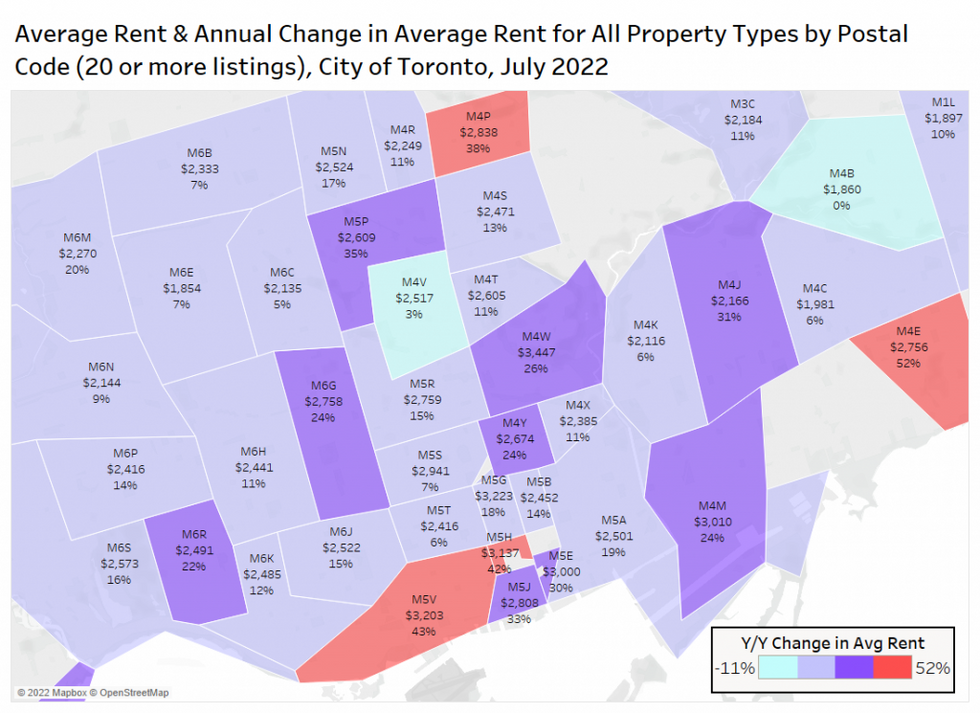 The most expensive neighbourhood remained Casa Loma, with an average rent per-square-foot of $4.40 -- a 43% annual increase.
"The rise can be attributed mostly to the completion of the luxury rental development 2Fifteen, and the inclusion of the newly renovated, high-end rental Two Clarendon," the report says.
But it isn't just Toronto that's seen prices soar. Rent prices across the GTA as a whole climbed 3.3% from June to July, rising to a new average of $2,482. This followed the 3.1% jump seen in June, and the sizeable 5.7% hike in May.
"The Greater Toronto Area continues to see unprecedented rent growth, with monthly increases exceeding 3% in May, June and July," said Ben Myers, president of Bullpen Research & Consulting. "The average rent in the GTA in July of $2,482 per month has now topped the previous market-high recorded in November 2019 of $2,460."
After Toronto, Mississauga had the second-highest rent prices out of any GTA city, averaging $2,308 -- a 16.4% increase from the same time last year. Rent prices in Vaughan, which has had a high number of condo completions recently, averaged $2,292 in July.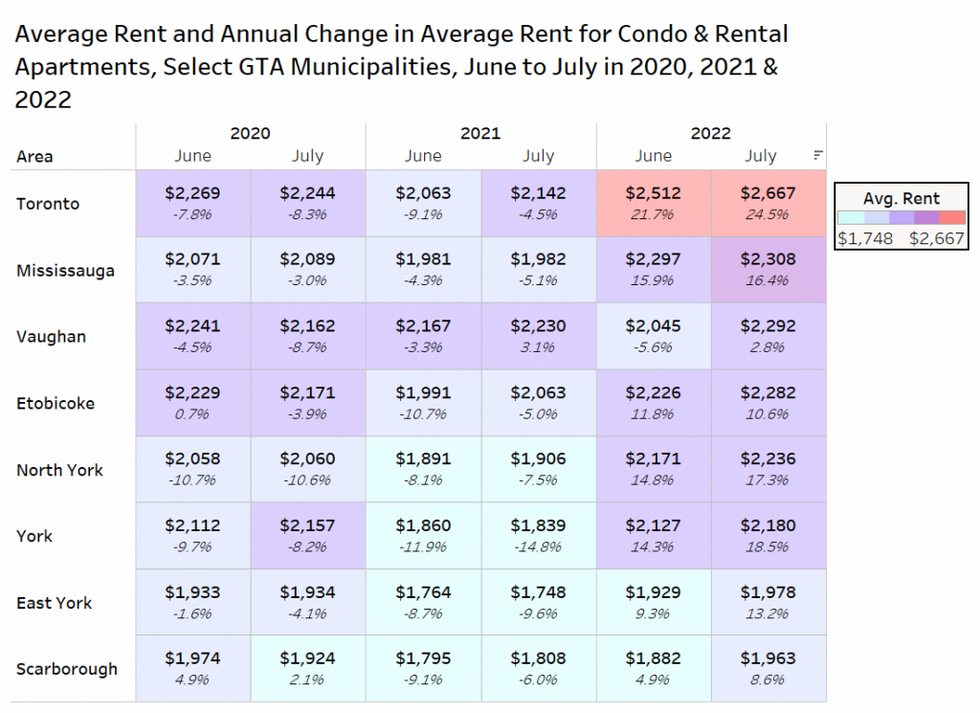 Etobicoke saw prices jump up 10.6% annually to $2,282, while North York rents are up 17.3% year-over-year to $2,236. York's were slightly lower at $2,180, followed by East York with a $1,978 average. Scarborough had the lowest average price in July at $1,974.
Unfortunately, as high as prices have risen, Myers warns that it's likely they'll keep climbing in the coming months.
"With further interest rate hikes coming, uncertainty in the ownership market, and the high-demand fall rental season upcoming, expect further outsized rent increases over the next few months," Myers said.
Renting