Toronto has been recognized as being the second-fastest rising city in the world, according to a recent global cities outlook.
Last month, Kearney -- an international consulting firm focusing on government and industry leaders -- released its annual Global Cities Index (GCI), which was based on data obtained before the start of the COVID-19 pandemic.
---
According to the report, New York City, London, and Paris topped the list of 151 major cities around the world for global integration. However, in addition to its cities Index, Kearney also published its Global Cities Outlook (GCO), which is described as "a projection of a city's potential based on rate of change in 13 indicators across four dimensions: personal well-being, economics, innovation, and governance."
The difference between the two rankings is the GCI identifies current global leaders, while the GCO identifies cities on the rise, or "those creating the right conditions for future global status."
"The 2020 Global Cities Report provides a snapshot of where cities stood as they entered the COVID-19 crisis. Incorporating the Global Cities Index (GCI) and Global Cities Outlook (GCO), this year's results reveal intensifying competition for global status and future prospects in an increasingly fragmented and volatile environment," reads the report's executive summary.
READ: Toronto Considered One of the Best Cities in the World for Expats
This year's GCO paints a more dynamic picture and while London maintained its top ranking in 2020, most cities rose or fell fairly dramatically in the rankings. One example is Toronto, which climbed nine spots to take second place -- driven by a large upswing in innovation and continued strong governance.
According to this year's Outlook, London, Toronto, and Singapore topped the list, with Canada's largest city being the only North American city to make it onto Kearney's top 10 list, while six European cities, two Asian cities, and one Middle Eastern city also made the cut.
"For many of the rising cities, long-term investments in governance and economics have begun to pay off," reads the report. "This is particularly true of cities in China and the Middle East, which are rapidly catching up with their European and North American peers."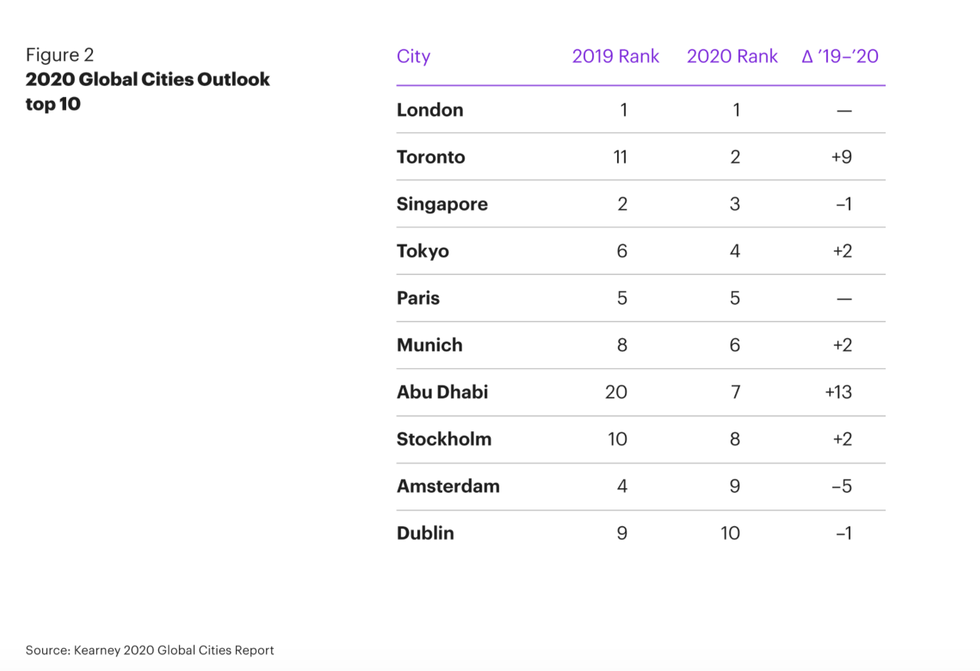 As for how Toronto in the GCI, our fine city ranked 19th overall, which is down two spots from last year, trailing behind Melbourne, Seoul, Madrid, Berlin, and Brussels.
You can read the full report here. 
Toronto