Tonight, the streets and spaces of downtown Toronto would have filled with countless art enthusiasts and late-night revellers to enjoy captivating art installations that would have made their way to social media.
Nuit Blanche would have taken over Toronto in an all-night art extravaganza from 7:00 pm on October 3 to 7:00 am on October 4, had COVID-19 not spent the better part of 2020 ravishing the world and leaving almost no aspect of daily life unchanged.
---
Now, the 15th annual art event has gone digital with a 10-day affair. And tonight, Toronto will remain a virtually silent shell of what it once was on Nuit Blanche.
With esteemed artistic director Dr. Julie Nagam at the helm, and a theme of "The Space Between Us," – one that invites artists to build bridges between cultures, communities, and the environment – the multi-platform digital version of Nuit Blanche is indeed gripping and engaging. It features talks, podcasts, live streams, a Nuit Blanche history archive, and augmented and virtual reality artworks.
But nothing quite replaces the real deal.
Of the countless events cancelled out of understandable necessity, the physical absence of Nuit Blanche hits particularly hard. While Toronto is obviously no stranger to world-class festivals and events, none quite use, transform, and uniquely showcase the city the way that Nuit Blanche has in its 14-year history.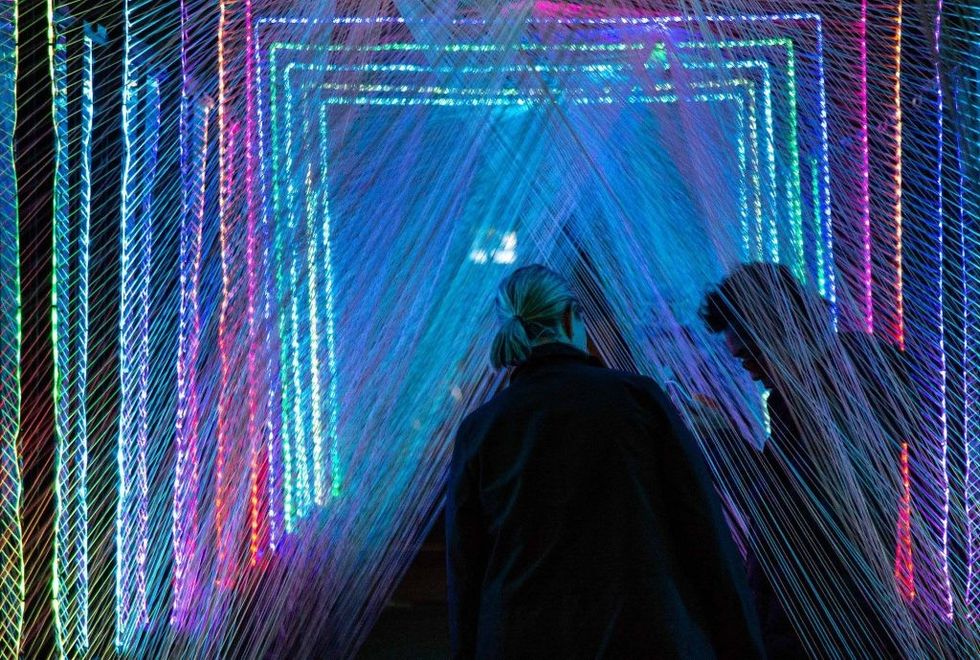 Photo via the Nuit Blanche Facebook page
Attracting hundreds of thousands of participants of all ages annually – including over 1.2 million people in 2018(!) – the all-night art affair offered an approachable means for the masses to consume art, while also affording a dynamic platform for local and international artists. Of course, for some visitors, it was simply an excuse to party all night.
But perhaps most remarkably, Nuit Blanche also showcased Toronto in all its grit and glory, introducing people to undiscovered (or rediscovered) places and spaces in a completely unconventional way.
Installations like last year's "Hoarding" – which saw The Bentway's pillars wrapped in neon-yellow hazard tape – highlighted Toronto's recent innovative public space initiatives. Meanwhile, Christie Pitts Park was given more personality in 2019 with "Buried Rivers," a river of vibrant blue light to represent the Garrison Creek, which runs beneath the park (a fun fact for guests).
Other installations offered a Toronto history lesson along with their captivating visual appeal. Last year's "Eulogy for a Coffin Factory," for example, saw local artists who had been evicted from the historic Coffin Factory design twenty-four coffins to sit in a row on Niagara St. The eerie Anatomy of an Abattoir installation offered a raw and hard-hitting transformation of an abandoned slaughterhouse, with latex structures of old slaughterhouse objects (admittedly, this one wasn't for everyone).
Other installations have presented familiar Toronto spaces – like Yonge-Dundas Square, the Bata Shoe Museum, the University of Toronto, and Old City Hall ­– in new ways over the years.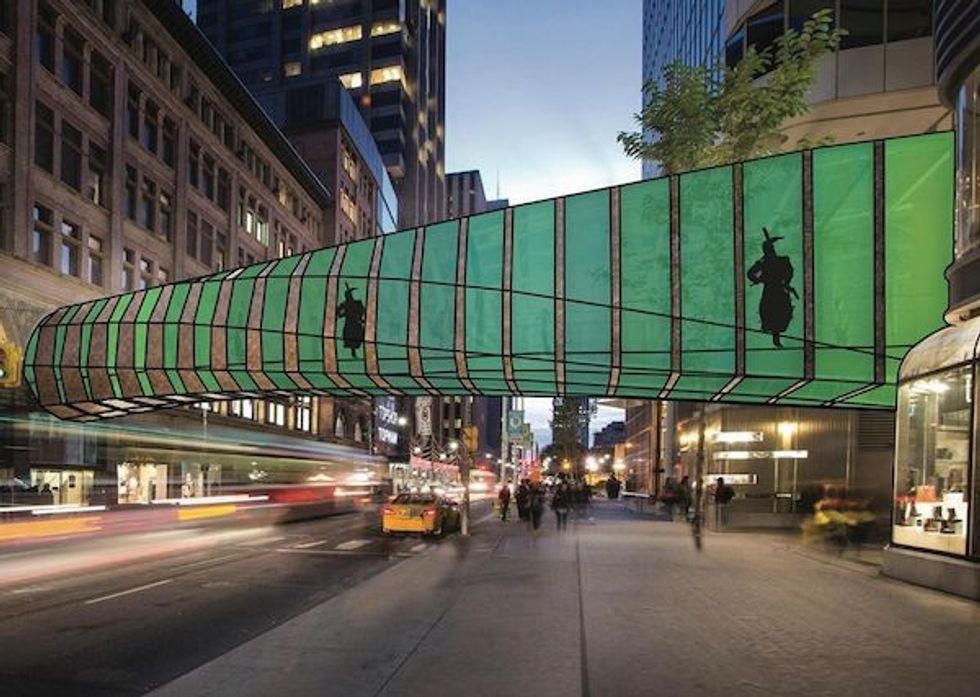 Image: @bekahlbrown
Once confined to the downtown core, Nuit Blanche had ventured to previously untouched parts of Toronto in recent years. In 2018, Nuit Blanche expanded into Scarborough for the first time, with installations along the subway stations, and projections onto the Scarborough Civic Centre. Last year, it added Danforth East, with notable installations between Greenwood and Coxwell TTC stations.
"As artists whose work explores community gathering and explorations of the built environment, we are sad that COVID-19 has required a move of Nuit Blanche online; however as a popular event that draws in huge crowds, it was obviously the right move for the City considering liability," says Toronto artist Daniel Rotsztain, who has participated in Nuit Blanche in the past.
He suggests perhaps spreading out future Nuit Blanche events over many nights to avoids the typical crowds and congestion. "As the pandemic continues, we know there are many creative and safe ways to do large scale public art while promoting physical distancing," says Rotsztain. "Art Spin's recent installation the Hope Foundry at Dupont and Dovercourt had large groups of people safely gather to enjoy the unique building animated by dynamic light."
For director Nagam, moving entirely digital was the safest choice in such an unstable climate when faced with the decision in the spring. After all, Nuit Blanche crowds easily veered into the hundreds of thousands most years. In June, it was announced the night would go digital for 2020."I couldn't imagine the artists doing all the work, then being advised by the City or Province that it couldn't happen," said Nagam.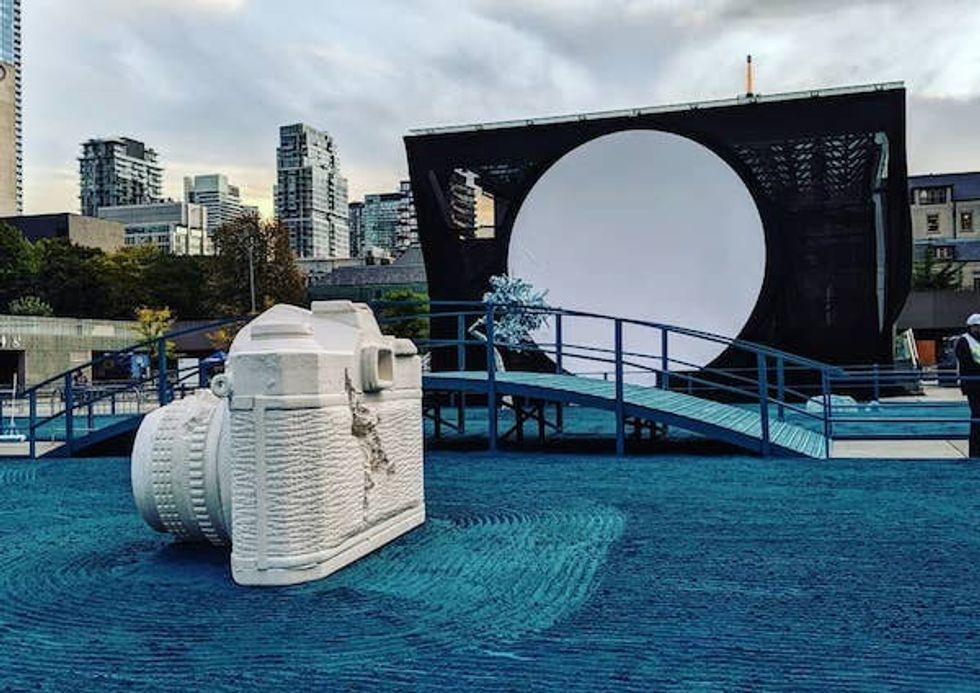 Image: @bettyologie
While it will look different, Nuit Blanche 2020 invites participants to safely engage with their urban surroundings on their own terms. A new series called 'Nuit In Your Neighbourhood' encourages participants to use their smartphone or tablet to view 21 three-dimensional artworks via augmented reality and virtual reality wherever the camera is pointed.
"The idea is that you're still going out into your localized spaces in Toronto and deciding where you want to put those works," said Nagam. "You can actually put an artist's work at home on your kitchen table, you can put it in a park, you can put it on an outdoor wall you want to tag or feel needs graffiti. So there's real opportunity to get that traditional Nuit Blanche feeling."
Luckily, Nagam is also the Artistic Director for 2020 and for 2021. "There is going to be a nice continuity between the two years in the curatorial theme, so I was in a really good position to push for the digital option," she says. "As a digital media artist who has shown in Nuit Blanche in 2017 and prior years, I've selected really strong digital media artists for 2020 and 2021 so we were able to push some of those works."
This year's event will also offer a nostalgic look into Nuit Blanche events from times past. The Nuit History archives will open up to highlight 1,600 past works from everyone from young local artists, to Ai Wei Wei's 2013 massive bicycle sculpture in Nathan Phillips Square. Meanwhile, a series of ten 40-minute curated podcasts will feature interviews and discussions revolving around a geographic thematic.
"We were always doing a very strong virtual platform for Nuit Blanche, and the goals were to have a podcast, the talk series, and the archive, so we were already building that capacity this year," says Nagam. "I think that is the benefit of me coming on for the two years, to have that material. "
The hope, then, is that 2021 will come back bigger and better, offering the best of both the physical and digital worlds. As for the city, the absence of the lively affair will be felt hard tonight… striking the same chord as the sight of Toronto's eerily vacant theatres, concert venues, cafes, and anywhere else you might traditionally find the confluence of art and public space.
As much as anything, COVID-19 has been a truly lonely virus. It has kept people apart, both in sickness and in health, for months on end. And so, Toronto sleeps alone tonight -- again -- and on the anniversary of an evening that has managed to showcase and use and take advantage of the city so beautifully over the years.
Let's hope it's for the last time.
Toronto