While the Toronto housing market saw a relative pause this spring due to a sharp pullback in new listings and sales, a new report from the Canadian Mortgage and Housing Corporation (CMHC) confirms that home prices increased in Canada's largest city in the second quarter. (Something we already knew.)
---
As a reminder, in the wake of COVID-19, housing market activity across the country slowed significantly between the first and second quarters due to the combined effects of the pandemic driven economic decline and social distancing measures put in place to curb the spread of the virus. The significant decrease in new listings and the resultant low levels of inventory, however, maintained some pressure on observed house prices in the local housing markets that were seeing strong activity prior to the crisis.
In the CMHC's latest housing market assessment, Canada's federal housing agency analyzed 15 Census Metropolitan Areas (CMAs) and revealed that as the housing market as a whole fundamentally weakened, most CMAs experienced an increase in average overvaluation estimates, between the first and second quarter.
The data covers up to the end of June, during the height of the COVID-19 lockdown. It doesn't include the record-setting sales and home price increases seen in July and August.
READ: RE/MAX Claims CMHC is 'Fear-Mongering' in Housing Market Forecast
According to the report, housing markets identified as showing overall "moderate" vulnerability in Q2, which incorporates risks of overheating, price acceleration and overvaluation, include Toronto, Vancouver, Victoria, Hamilton, Ottawa, Moncton and Halifax.
Yet while all regions of the country were affected by the COVID-19 pandemic, CMHC says Vancouver and Toronto entered the second quarter of 2020 with a general "unwinding" of housing market imbalances. However, both cities experienced an increase in observed house prices for some price measures in the second quarter despite the COVID-19 driven decline in the estimated house price.
This has led to an increase in average overvaluation estimates in both housing markets.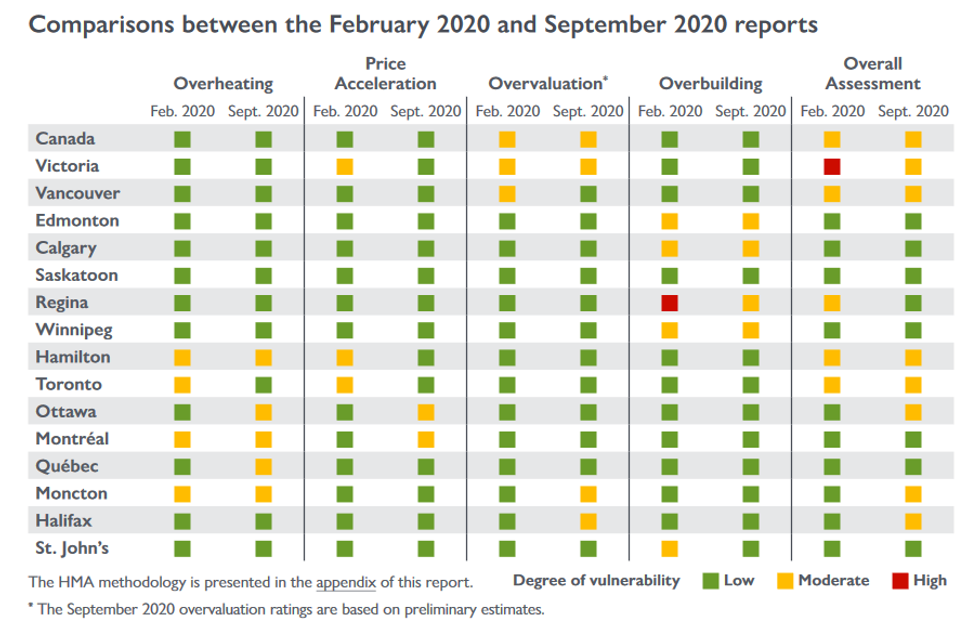 According to the report, housing market activity in Toronto remained relatively similar to the previous quarter across all housing types except condominium apartments, which saw their sales-to-new-listings ratio (SNLR) drop to 43% (near to the threshold of below 40% which is typically considered a "buyer's market") from 68% (near the threshold set for overheating).
Activity declined across all GTA housing markets, apart from Durham, which saw its SNLR rise about 10% to 72%. Since the beginning of Q3 2020, GTA housing market activity appeared to rebound because of pent-up demand, with the overall SNLR increasing to 65%.
At the same time, the ground-oriented home market tightened while the condominium apartment market showed weaker market conditions. Easing demand for short-term rentals resulted in more condominium apartment units remaining unsold in the market, thus adding to inventory.
You can read the full report here.
Real Estate News