Toronto
Listed
This is What a $1.5M House in Toronto Looks Like Right Now
The Toronto market may have seen some cooling in recent weeks, but that doesn't mean buying a house has magically become more affordable.
If you're looking to purchase a property in the city, you'll still likely be shelling out well over $1M for even the oldest and most compact of homes. To get an idea of the current market, look no further than the house at 118 Hamilton Street in Toronto's Riverside neighbourhood. The 1978-built home, with its unusual front yard and lean silhouette, hit the market recently with an asking price of $1,475,000.
The three-bedroom, three-bathroom house sits on a lot just over 21 ft wide, with the house itself coming in a few feet under that. Narrow houses are nothing new in Toronto — for years, builders have made the most out of every inch of available space — but when a more muted, contemporary house stands alone on a slice of land surrounded by ornate Victorian row houses, it tends to stand out.
How exactly this house came to be is an interesting story, says listing agent Sandra Franchi of Keller Williams Advantage Realty.
"Back in the day, this particular piece of land was actually an apothecary," Franchi said. "What they did was they demolished that and then built the home. I can only imagine what was going through the architect's mind when he designed it, but it's quite eye catching."
The late 70's style may not be for everyone, but the home certainly has a number of features that would be of interest to just about any Toronto homebuyer. For starters, there's outdoor space both at the front and back of the house thanks to the home's set back and a walk-out patio at the rear. There's also indoor parking space inside the home's insulated garage. And up on the roof, there's the potential to have a rooftop deck for any buyer willing to install some railings.
The interior of the house measures just over 12 ft wide, which may sound tight, but Franchi says that with the property's 86-ft-long lot, everything from the bedrooms to the living and dining rooms feel spacious.
"That's the one thing everyone notices," Franchi said. "It is extremely sun-filled and it's also energy efficient."
Specs:
Indeed, the home has an energy efficient door and uses radiant heating. And up on the rooftop, there's a solar panel that's used to generate energy for the hot water tank. Getting up to the rooftop, though, wouldn't be a task well suited to anyone with an aversion to steep stairs, thank to the set of narrow wooden steps leading up to it from the upstairs living room.
As is the way of the Toronto market, interest in the property is already high, particularly among young homebuyers. After hosting an open house over the weekend, Franchi says there seems to be a 50/50 split over whether interested buyers are wanting to keep the infill house as-is or scrap it and start anew.
"Some couples are saying 'Oh, I can make this work and just move in,' whereas the older demographic typically wants luxury finishes — they want to come in and gut it, or tear down," Franchi said. "I'm hoping it doesn't happen with this. I think it needs a reface on the front of the house and if someone wants to come in and reno it, it's good to go. The bones are great."
EXTERIOR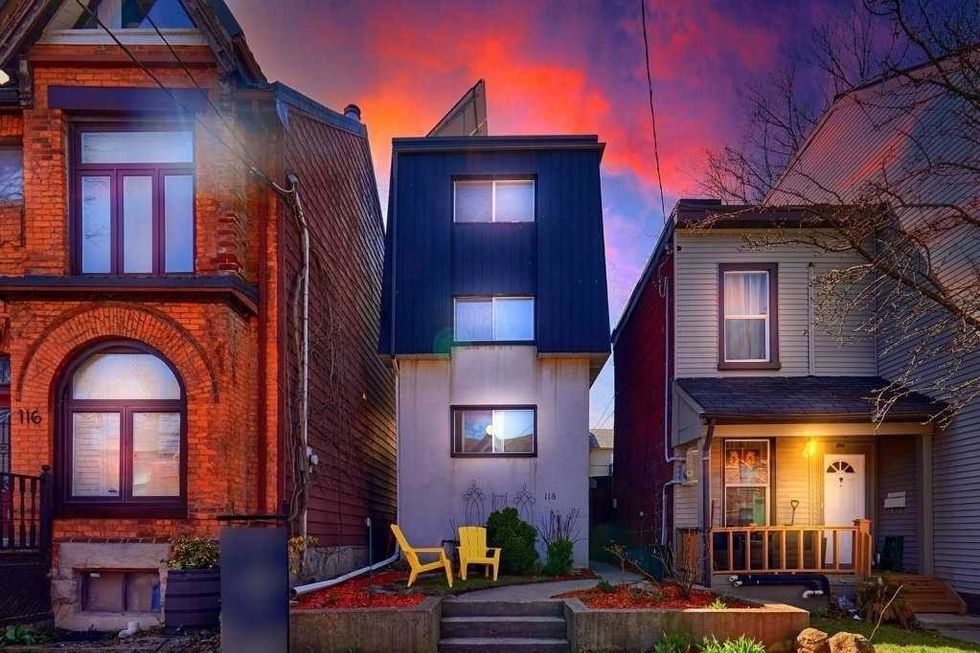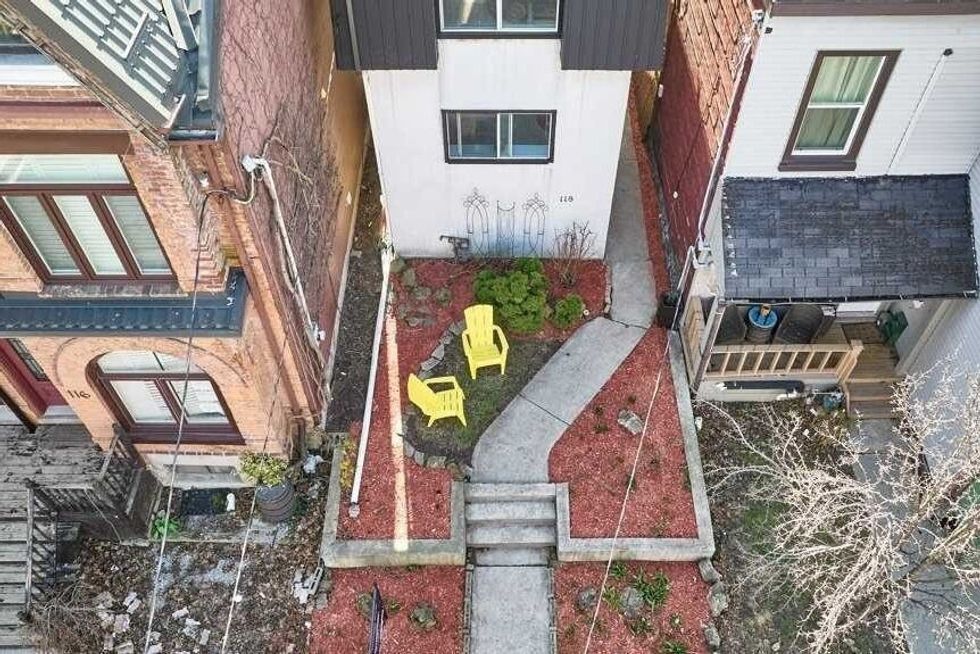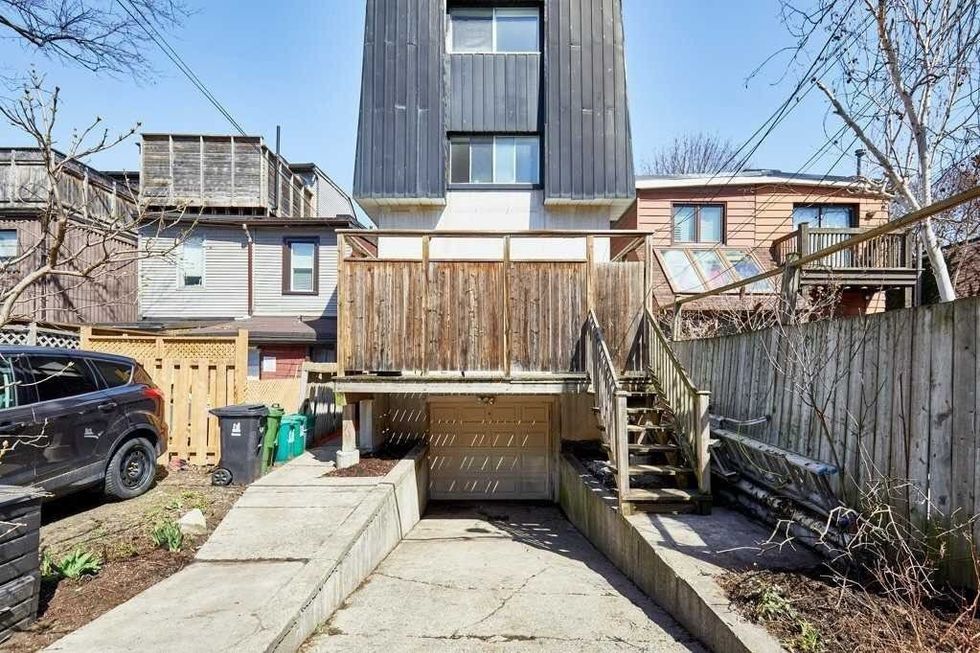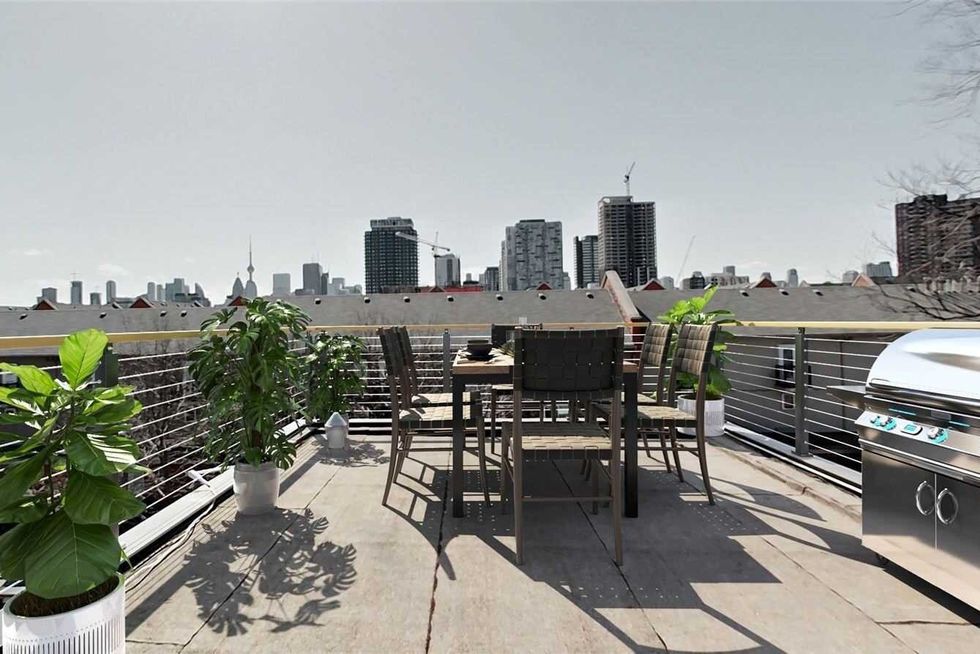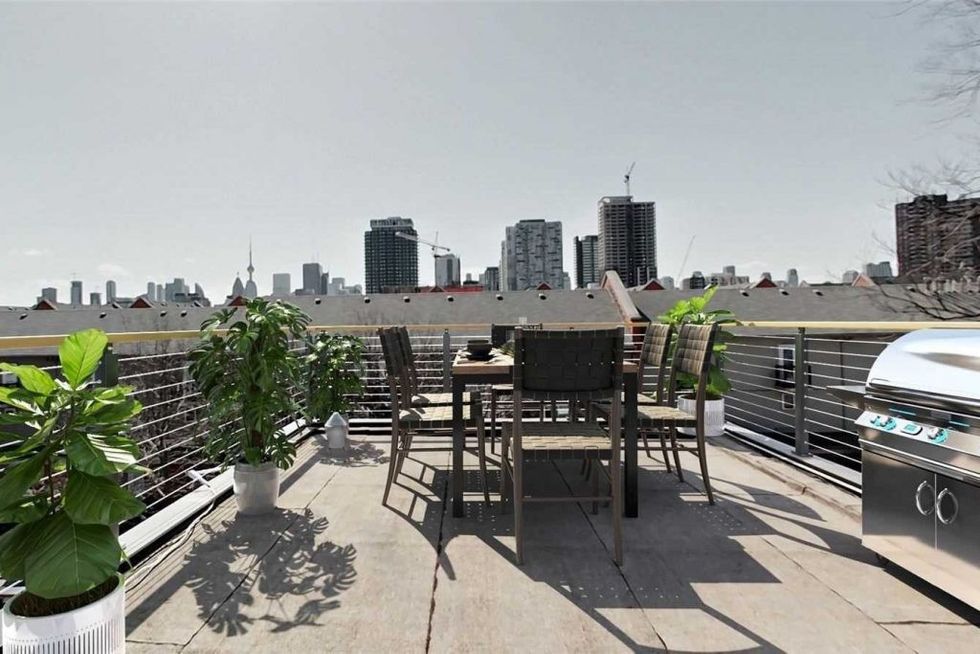 INTERIOR