Insiders
Toronto hits it out of the park with new greenspaces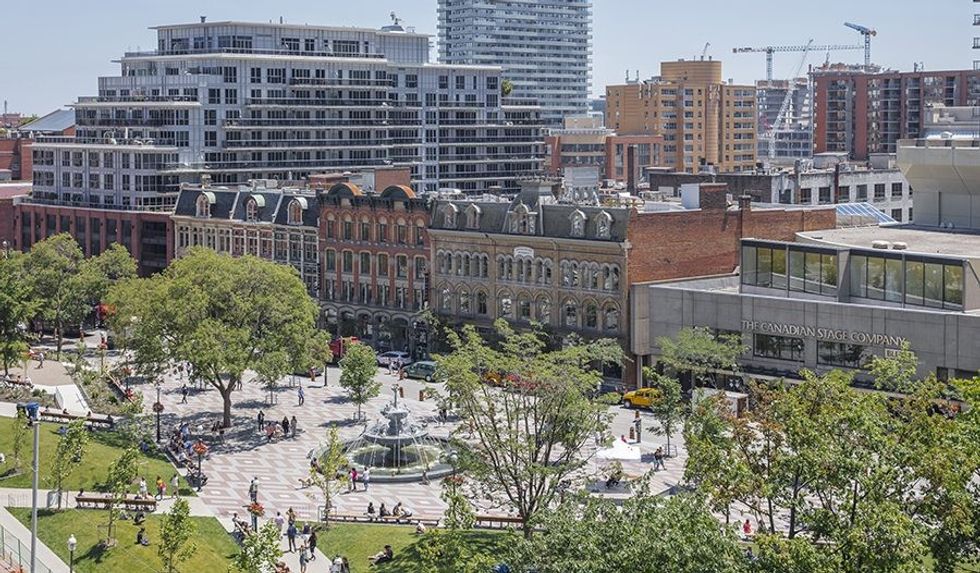 Toronto's new Berczy Park, which boasts one of the city's most stunning fountains, is a lovely place to meander through, perch for an ice cream cone with the kids or while away a good few hours relaxing.  (Photo courtesy by Industrious)
Lately, it seems a walk in the park has become a lot more interesting here in Toronto. In recent weeks, no fewer than three new or newly remade parks have been unveiled.
First came Berczy Park, which now boasts the most fabulous fountain anywhere in town. Then there was Trillium Park, carved out of a former parking lot at Ontario Place. Finally the all-new Grange Park was unveiled just last weekend, better if not bigger than ever.
More than anything, all three are a reflection of the continuing domestication of the city. Where once people worked and shopped, they now live. Where there were only office towers, department stores, cultural facilities and the like, there are now residential towers. No corner of the downtown core is immune from the wave of condos that has changed the face of Toronto. Even the Financial District now has its share of permanent residents.
Pets for a spin
The best illustration of this is Berczy Park. When constructed in 1980, local office and shop workers pretty well had it to themselves. But by the turn of the century, local parents were demanding a place for their kids to play and dog walkers wanted a space to take their pets for a spin. By then, the neighbourhood had been transformed by the dozens of condo towers that had popped up in the area.
Though the park, which runs between Front and Wellington streets a block east of Yonge, is small (less than an acre), it had become a hub for a variety of users. When Montreal landscape architectural firm Claude Cormier + Associés won a competition to redesign Berczy in 2015, the idea was to reflect its new diversity.
The highlight is a massive three-bowl fountain that includes 27 cast-iron dogs, two cats and a giant bone. It adds a welcome note of whimsy to Toronto's public realm. The park also includes green spaces, rows of trees as well as benches, benches and more benches, something sadly lacking throughout most of the city. To make up for its size, the firm extended the paving to the curb to create the illusion of space.
By contrast, Trillium Park, which occupies 7.5 acres of what was once the east end of the Ontario Place parking lot south of Lake Shore Blvd., was conceived as a meeting ground of city and nature. It has wide asphalt pathways for cyclists and pedestrians as well as extensive areas planted with native trees, plants and flowers.
The designers, Toronto's LANDinc, introduced changes in grade to add complexity and interest to the site. Also enlivening the park is a marvelous collection of rocks from a quarry in Huntsville. They serve as seating, retaining walls, sculpture and playthings for visiting kids.
'Walk gently on the land'
The motto of the park, "Walk gently on the land," seems especially pertinent, even poignant, given the fact it sits on top of what was once a parking lot. Indeed, the subtext addresses just how much of Toronto is a degraded cityscape hostile to all human activity except driving. Surrounded by highways and empty space, the new facility raises the stakes as it reminds us what the city could be.
Grange Park, situated directly south of the Art Gallery of Ontario on Beverley Street, has existed in various forms since the Georgian villa for which it was named was constructed in 1817. Originally, it was part of the 100-acre Boulton estate. Though still owned by the AGO, it has long been a public park, one of the busiest in the city.
Like Berczy Park, it had grown tired and overly familiar, decidedly in need of a remake. Courtesy of PFS Studio in Vancouver, that has finally happened. The British Columbian landscape architecture firm has brought a strong sense of organization to the place that always felt a little haphazard.
Feels right for the space
The main feature now is Henry Moore's large bronze, Two Large Forms, which occupied the southwest corner of Dundas and McCaul for years. Though somewhat hidden away in its new site, the sculpture lends an unexpected air of elegance to the park. The splash pad and playground are still a big draw. Best of all, the new park, though it verges on being over-designed, feels right for the space it inhabits.
"These projects show a new maturity and attitude in the city," says Dave Harvey, founder and president of advocacy group Parks People. "Just a few years ago people would have said that Toronto can't build parks like these. We're now doing it on a regular basis, and not just downtown but beyond with projects like the Butterfly Trail and Guild Park in Scarborough.
"In the past, we would have focused on why we can't build them — too expensive to maintain, inability of the city to partner with funders, creation of a "two-tier" park system. Now we all focus on how to get things done and why parks like these are needed."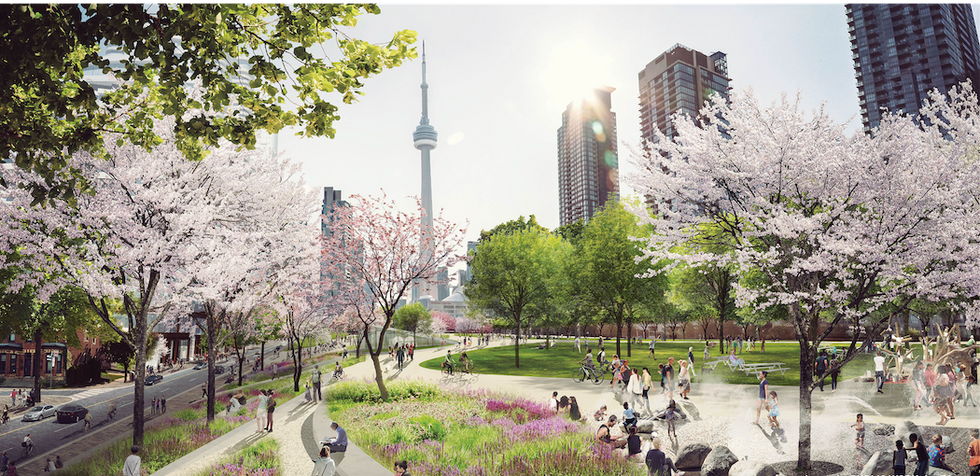 Harvey is dead right. Traditionally, Toronto has seen parks as large green spaces best suited to land unsuitable for development. As he also points out, all that has changed. And with schemes like the Bentway and Rail Deck Park either in the works or under study, it's clear the parks of the future will be even more unlike those we're used to.
When complete, the Bentway will run beneath the Gardiner Expressway for 1.75 kilometres west of Spadina. It will consist of a series of outdoor "rooms," each programmed differently, all connected by trails. Rail Deck, which remains a concept, would occupy 21 acres above the railway tracks between Bathurst Street and Blue Jays Way. But with an estimated cost of $1 billion, its existence is far from certain.
Still, it's a beautiful idea, one that already exists on the city's imaginary landscape, one, like all of the city's beloved parks, that would surely leave Torontonians wondering how they ever lived without it.