---
While downtown Toronto may seem like a shell of what it was pre-COVID – a bustling global city and an entertainment and cultural mecca – the financial industry is keeping us on the money-making map.
According to new research from the Conference Board of Canada and Toronto Finance International, Canada's largest city houses North America's most important banking centre aside from New York City. 
It highlights that Toronto had the fastest-growing financial sector in North America and the fifth-fastest growing financial sector in the world over the last ten years. In news that may come as a surprise to some, growth in banking and insurance outpaced the average of all industries in Toronto (and in Ontario and Canada, for that matter) between 2011 and 2019.
Now, as many pandemic-ravished industries suffer, Toronto is accumulating a growing number of bankers, portfolio managers, and other finance roles at a faster rate than any other city in North America, according to the report.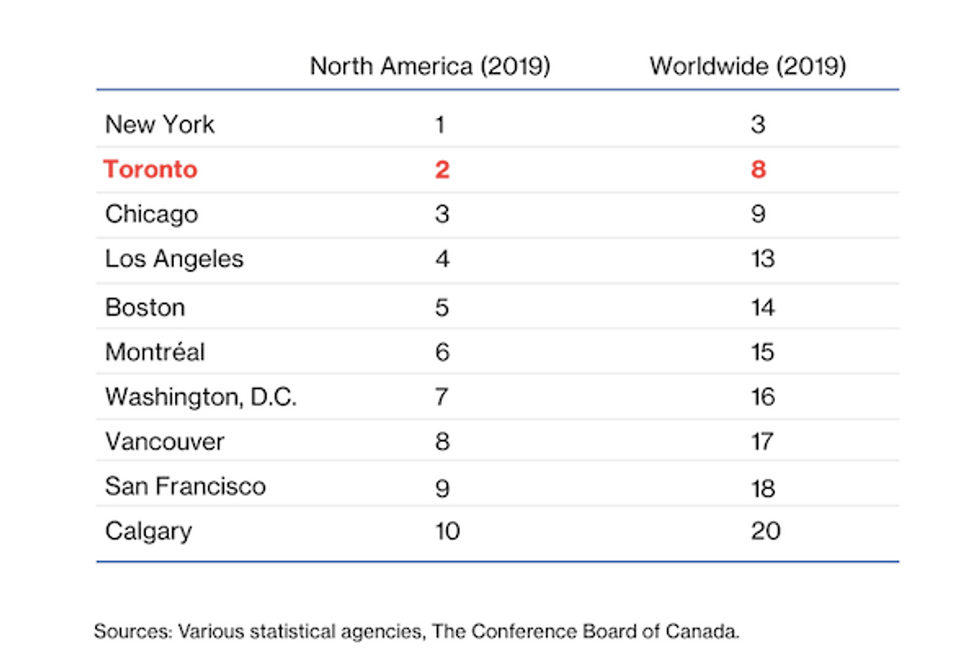 It reveals that Toronto's financial sector outperforms and outgrows other industries in the city, both in growth and GDP. Driving this sector are major powerhouses including the Toronto Stock Exchange, banking, insurance, and asset management.
Though bankers may get a less-than-ideal rep at times (let's just be honest), the industry has made positive moves on the sustainability front as of late. According to the report, significant growth in sustainable finance has been driven by the financial sector's "commitment to addressing climate change, meeting investor demand, and responsibly managing risk."
Over 61% of investments in Canada (totalling $3.2 trillion) were in responsible investment assets in 2019, and Canada's five largest banks alone are investing almost $2 trillion in sustainable finance over the next five to 10 years, according to the report.
Adding to the good news train, it also revealed that the financial industry – once infamously known as a nepotism-driven boys club – was, refreshingly, one of the top industries when it comes to women's representation in the workforce. General employment growth also outpaced that of all sectors in Toronto from 2010 to 2019 and in Ontario and Canada from 2011 to 2020.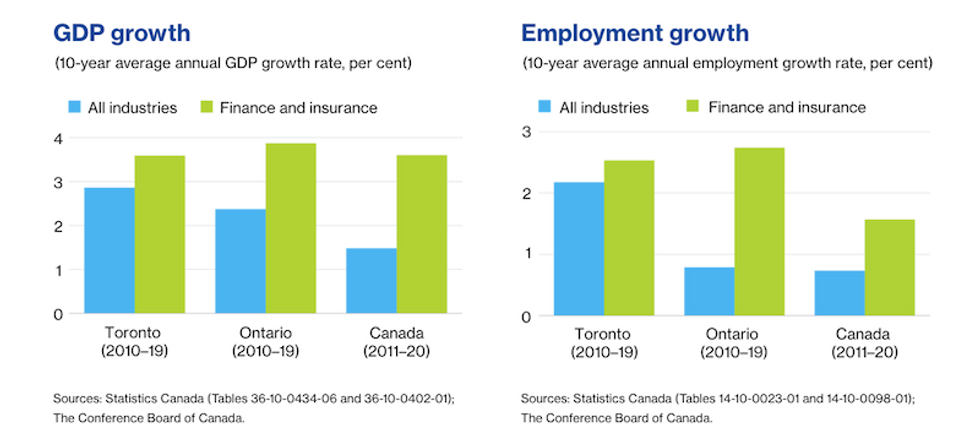 The report also pointed to the role of Toronto's financial institutions in support for small businesses during the relentless pandemic and its perpetual lockdown measures. The industry sprang into action to distribute federal support programs, loan deferrals, interest-free loans, and more to Canada's small and medium-sized businesses. Canada's banks have helped over 842,000 SMEs access $44 billion worth of interest‑free loans.
"As we continue to navigate the pandemic, it's encouraging to see that employment in Toronto's financial services sector has not slowed down and, is in fact the fastest-growing in North America," said Darren De Jean, Vice President, The Conference Board of Canada. "Last year, the finance sector was the second largest contributor to Canada's GDP."
So, at a time when Toronto lags behind its financial hub counterparts south of the border in the pandemic recovery department (and in many parts of the world, frankly), at least we're still shining like a new coin on the money front.
Economy