---
If you've been thinking about buying a home in Toronto anytime soon, you could be saving for your down payment longer than expected.
According to the Q3-2021 Housing Affordability Monitor from The National Bank of Canada (NBC), the cost of down payments in Canadian cities skyrocketed in 2021, as housing affordability continued to deteriorate for the third consecutive quarter.
With affordability worsening, NBC says the mortgage payment on an average home as a percentage of income (MPPI) rose 1.7 points after a 3.2-point increase in Q2-21. Seasonally adjusted home prices increased 4.6% in Q3-21 from the previous quarter, while the benchmark mortgage rate (5-year term) was essentially unchanged, while median household income rose 0.8%.
The report analyzed housing and mortgage trends in 10 cities across the country and found that over the past 12 months, housing affordability has worsened the most in a decade.
READ: Nearly $30 Billion in GTA Housing Linked to Money Laundering
As it stands, it would now take 46.5% of income for a representative household to maintain the mortgage on a representative home in Canada. And while interest rates remained essentially unchanged and incomes continued to grow at a relative pace, a sharp rise in home prices was more than enough to reduce affordability.
In the observed period, NBC says home prices rose 4.6% in the quarter and 18.6% year-over-year, marking the highest annual figure since 1989.
While mortgage rates were not a factor contributing to affordability in Q3-2021, NBC says the outlook isn't particularly bright for new home buyers. Currently, to save for a down payment for an average Canadian home, buyers would have to save at a rate of 10% for 74 months -- or just over six years, which is double the 37-month average since 2000.
Here in Toronto, where the average home costs approximately $1.2 million, the time period required to save for a down payment is much longer.
In order to save enough money for a down payment for a home in Toronto, a resident with an annual household income of $205,342, saving at a rate of 10%, would have to do so for 27.5 years -- or 330 months.

Toronto Q3-2021
On the other hand, to afford a condo in the city, which costs an average of $669,593, someone with an annual household income of $134,726, also saving at a rate of 10%, would need just under five years -- or 58 months.
Meanwhile, NBC says monthly mortgage payments amounted to 63.4% of the median pre-tax household income, which was far greater than the average for the period since 2000 (49.2%).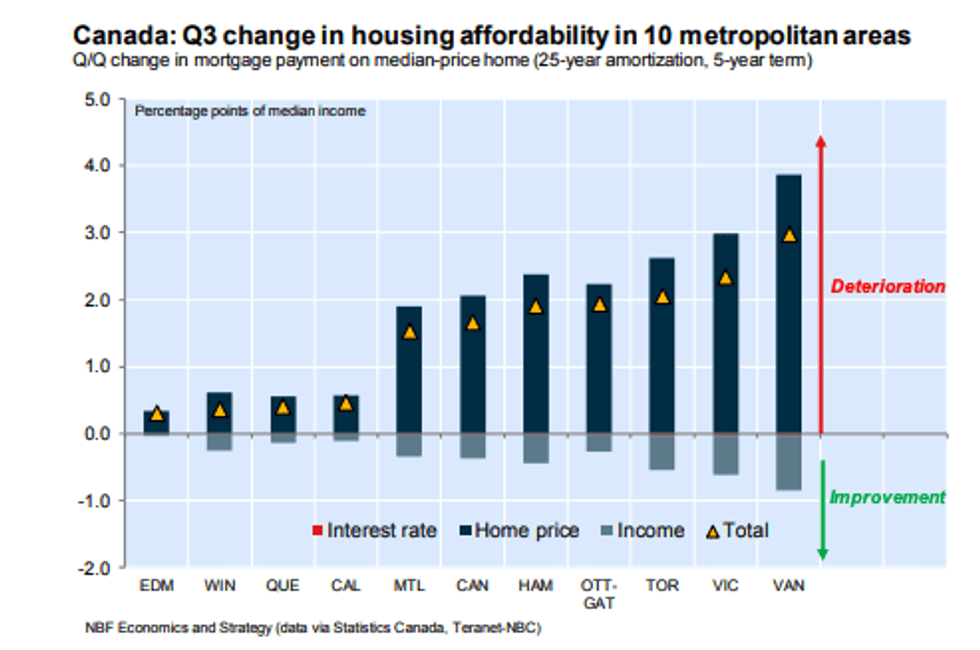 However, it's not only Toronto facing rising home prices. NBC says affordability deteriorated in all of the 10 markets covered in Q3, with deterioration the worst in Vancouver, followed by Victoria, Toronto, Ottawa-Gatineau, Hamilton, Montreal, Calgary, Quebec, Winnipeg, and Edmonton.
This was the third consecutive quarter with a worsening in all markets. Countrywide, affordability deteriorated 0.7 pp in the condo portion compared to a 2.3 pp deterioration in the non-condo segment.
Yet, despite affordability worsening, 2021 has already been the biggest year on record for home sales, according to the Canadian Real Estate Association (CREA). In October, home sales across the country rose by 8.6% from September, marking the largest monthly increase since July 2020.
The jump in sales came as newly listed homes rose by 3.2% month-over-month in October, driven by gains in about 70% of local markets. And with so many markets starved for supply, CREA said it wasn't surprising to see sales go up in months when more properties go up for sale.
But, sales records aside, there's no denying that saving for 27.5 years in order to make a down payment in Toronto is still a tough pill to swallow.
Homes