Toronto
Real Estate News
This Map Now Lets You View Toronto Apartment Building Evaluations
Have you ever wondered if you're living in a safe and well-maintained apartment building in Toronto? There's now a map for that.
To ensure that existing tenants and those looking for a new home are aware of the quality of apartment buildings in Toronto, the City has launched an interactive webpage where the public can view and download apartment building evaluation results for properties registered with RentSafeTO.
RentSafeTO: Apartment Building Standards is a bylaw enforcement program that ensures owners and operators of apartments in Toronto adhere to strict maintenance standards.
In Toronto, building owners and operators of rental properties with three or more storeys and ten or more units must register with RentSafeTO and comply with the Apartment Standards Bylaw within the program or face financial penalties.
READ: In Some Toronto Neighbourhoods Rent is Climbing By $350 a Month
The City says it evaluates RentSafeTO buildings at least once every three years — currently, there are more than 3,400 buildings registered with the program.
During evaluations, staff inspect and score the condition of common areas, mechanical and security systems, parking, and exterior grounds. Buildings that receive an overall evaluation score of 50% or less must undergo a comprehensive inspection and audit of all common areas.
During audits, staff also engage with tenants to educate them on RentSafeTO and document concerns they may have regarding property standards issues within their unit or the common areas of the building.
The launch of the new website, which features an interactive map, should help improve access to information for both existing tenants and those looking for a new home. On the website, the public can search for an apartment building by its address, and when they click on the location, they can see if the building is privately owned, when it was built, what ward it's located in, and its current evaluation score.
There's also the option to download a more detailed report, which breaks down the rating for every building feature evaluated by bylaw enforcement officers. Each item is inspected and assigned a score from one to five, with one being the lowest and five being the highest.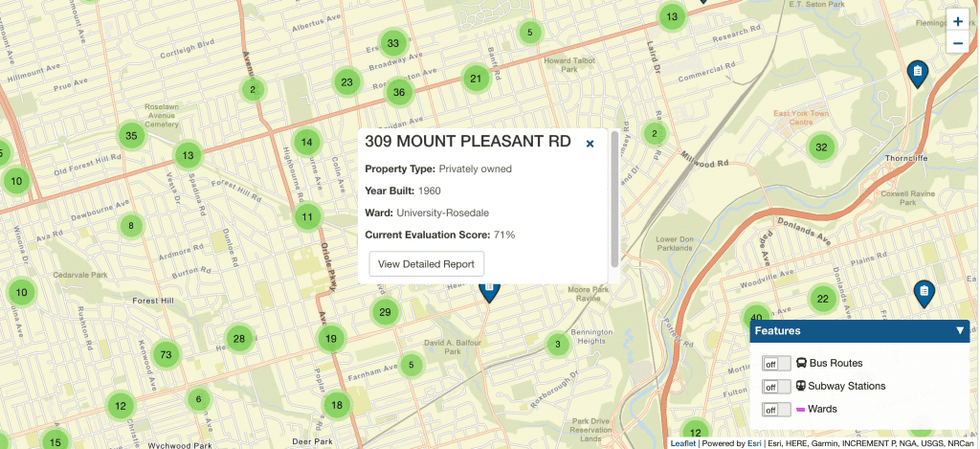 The City says making evaluation results more publicly accessible increases transparency on the quality of apartment buildings across Toronto and holds building owners and operators more accountable to current and prospective tenants.
"Apartment buildings are an important part of the city's fabric, providing valuable housing to a large segment of our population, including students, seniors, and newcomers to Canada," said Deputy Mayor Ana Bailão (Davenport), Planning and Housing Committee Chair.
"It's important they understand what RentSafeTO is, how we are working to safeguard their home, and where they can go if they need support."
The City launched the RentSafeTO program in 2017 to enforce and ensure compliance with the City's bylaws to protect tenant rights and prevent the deterioration of critical housing stock.
Under the program, apartment building owners and operators are required to:
register their buildings with the City and renew that registration annually
have a process for tracking and responding to tenant service requests
conduct regular inspections in common areas for cleanliness and pests
have plans for maintenance, waste, cleaning, and disruptions to vital services such as water, heat and electricity
notify tenants of service disruptions
undergo routine building evaluations
comply with all applicable City bylaws
The City says tenants that have any concerns about their buildings should speak to their landlord first. Landlords have five days to respond to non-urgent concerns, such as low heat or broken windows, and 24 hours to respond to urgent requests related to the disruption of vital services, such as water, gas or electricity.
Suppose a landlord does not resolve an issue in a reasonable amount of time. In that case, bylaw enforcement officers can issue a Property Standards Order, Notice to Comply, or a charge, resulting in fines.
Between the program's launch in 2017 and the end of 2020, the City says it's responded to close to 25,350 complaints, of which 24,670 (or 97%) have been addressed.
Since 2017, the City has also completed more than 7,500 evaluations and 119 audits. During this time, the average evaluation score across all buildings has gone from 65.5% in 2017 to 77% in 2020.