Real Estate News
The Top Toronto Neighbourhoods to Buy Real Estate in 2020
With Toronto's ever-changing housing prices, it's often hard to know what neighbourhoods can provide the best value deal for buyers.
Thankfully, MoneySense released its 'Where to buy real estate in 2020: City of Toronto report and found that the neighbourhood of Alderwood was the best place in the city to put your money into a home. For those out of the loop, Alderwood is located on the west side of the city, just north of Long Branch.
The MoneySense "Where to buy" report gives potential homebuyers the hard numbers to help guide their decision, by using data from Statistics Canada and the Canada Mortgage and Housing Corporation (CMHC) to analyze the real estate markets in Canada's largest 35 municipal areas. In addition, MoneySense examined more than 1,500 neighbourhoods in five of Canada's largest cities, including Toronto, based on three criteria:
Value: Measures how affordable the neighbourhood is compared to the surrounding area and the region overall.
Momentum: Measures how quickly prices are appreciating in this neighbourhood, with an emphasis on long term appreciation.
Expert insight: To ensure we're identifying desirable neighbourhoods, we consulted an extensive panel of real estate agents. In our survey, we asked them to assign a grade to each neighbourhood.
READ: Toronto Home Sales and Prices Soar in June as Buyers Embrace Stage 2
For Toronto's neighbourhood ranking, MoneySense analyzed 141 neighbourhoods(!!). Of Toronto's top neighbourhood pick, Alderwood, MoneySense said buyers can find everything from original post-war bungalows to modern two-storey homes, to larger family homes.
However, according to the report, the development isn't limited to residential housing.
In fact, "the local mall is Sherway Gardens, a 40-year-old regional commercial hub that serves as a focal point for retail space in the area. In order to remain competitive, owners of the mall decided to invest $350 million in its renovation and expansion. This investment is certain to help increase property values for neighbourhoods nearby, which benefit from added jobs, closer proximity to amenities and a greater sense of community among residents and desirability from would-be home buyers."
What's more, buyers looking for a little help with paying the mortgage will be happy to learn that 21% of the residents in this community rent – more than enough to keep rental rates competitive while also giving new landlords the chance to vet and select the right tenants.
Prior to the pandemic and market slowdown, homes typically sold within 21 days in Alderwood and the average single-family home price for 2019 was $1,522,226, while the average for all home types was $1,012,359.
Here's a look at the top ten Toronto neighbourhoods for buying a home.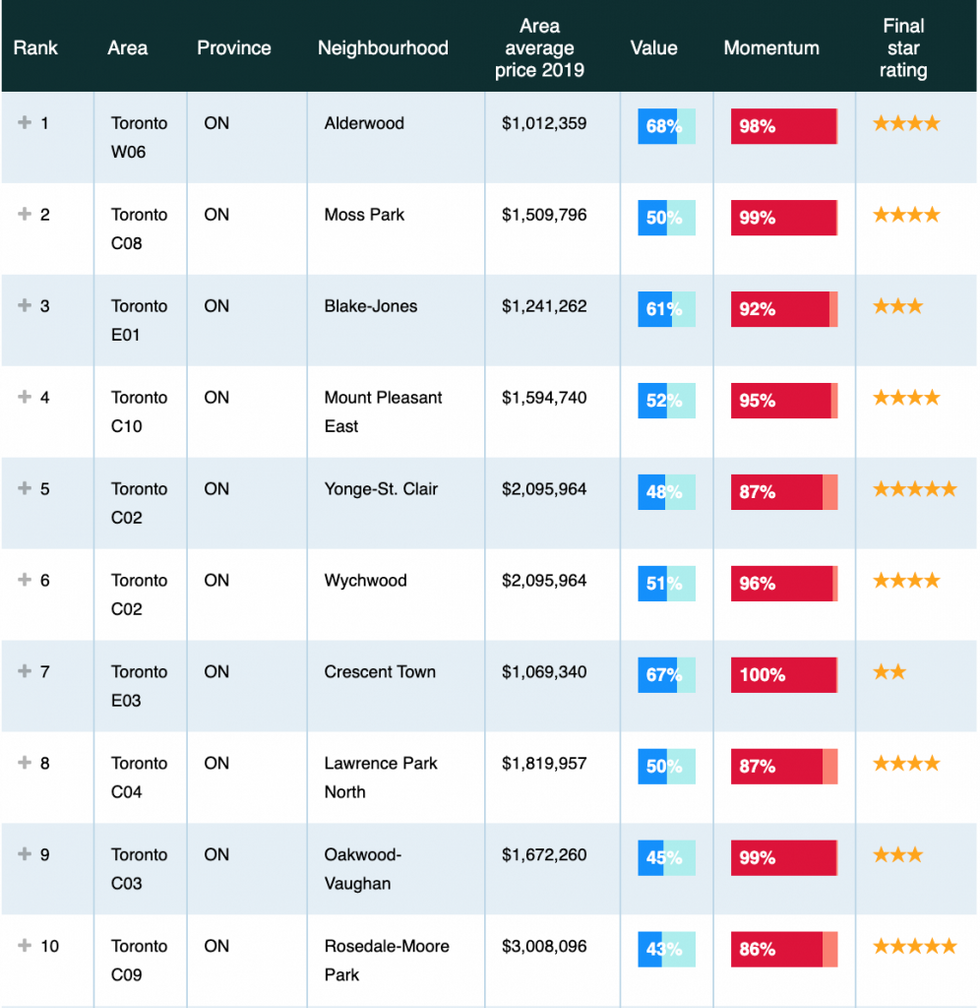 You can find MoneySense's full Toronto neighbourhood ranking here.