Real Estate News
Towering New Residence Defines The River District As "The Place to Be"
"The River District is the place to be and now is the time to be there."
This is according to Anthony Broccolini, COO of the eponymous real estate developer that has presented Toronto's new, celebrated residential tower to the east end of town.
"LeftBank captures this moment in the city."
Standing at 34 storeys, directly above the Don River at River Street, the region that LeftBank was built in has been coined the "River District," based on the area's topography and stunning, naturalized spaces.
As Broccolini's second project in the district, the developer is taking the area by storm, exemplifying the growth and renewal that's currently unfolding in the city's emergent quadrant. The character and culture of the neighbourhood's new chapter is only propelled by the company's signature design and excellence in real estate construction.
"LeftBank's location is unmatched – with the Don River and its extensive ravine trail network steps away on the east, and the downtown core so easily accessible to the west," Broccolini says. "Broccolini is proud to invest in smart, quality city-building in this node of Toronto."
Read: Two-Tower Hotel Development Proposed Near King and Bathurst
And beyond smart, LeftBank is striking; designed boldly and with a strong colour palette, the tower elevates the east end's skyline. Forged by global architecture firm IBI Group, the building's black-and-white exterior façade features a sail-like mast with a tapered architectural element that intersects with the building and, adding movement, the podium's angular façade includes a vertical rib and a pixelated gradient pattern on the exterior.
"LeftBank's design is deliberately strong and confident through the form, materiality, and colour palette, all of which captures the language of Broccolini developments," says Mansoor Kazerouni, Global Director of Buildings, IBI Group. "We responded to the location by creating a sail beacon that stands proud in the resilient east end neighbourhood. We can already envision the beautiful skyline shots of LeftBank for decades to come."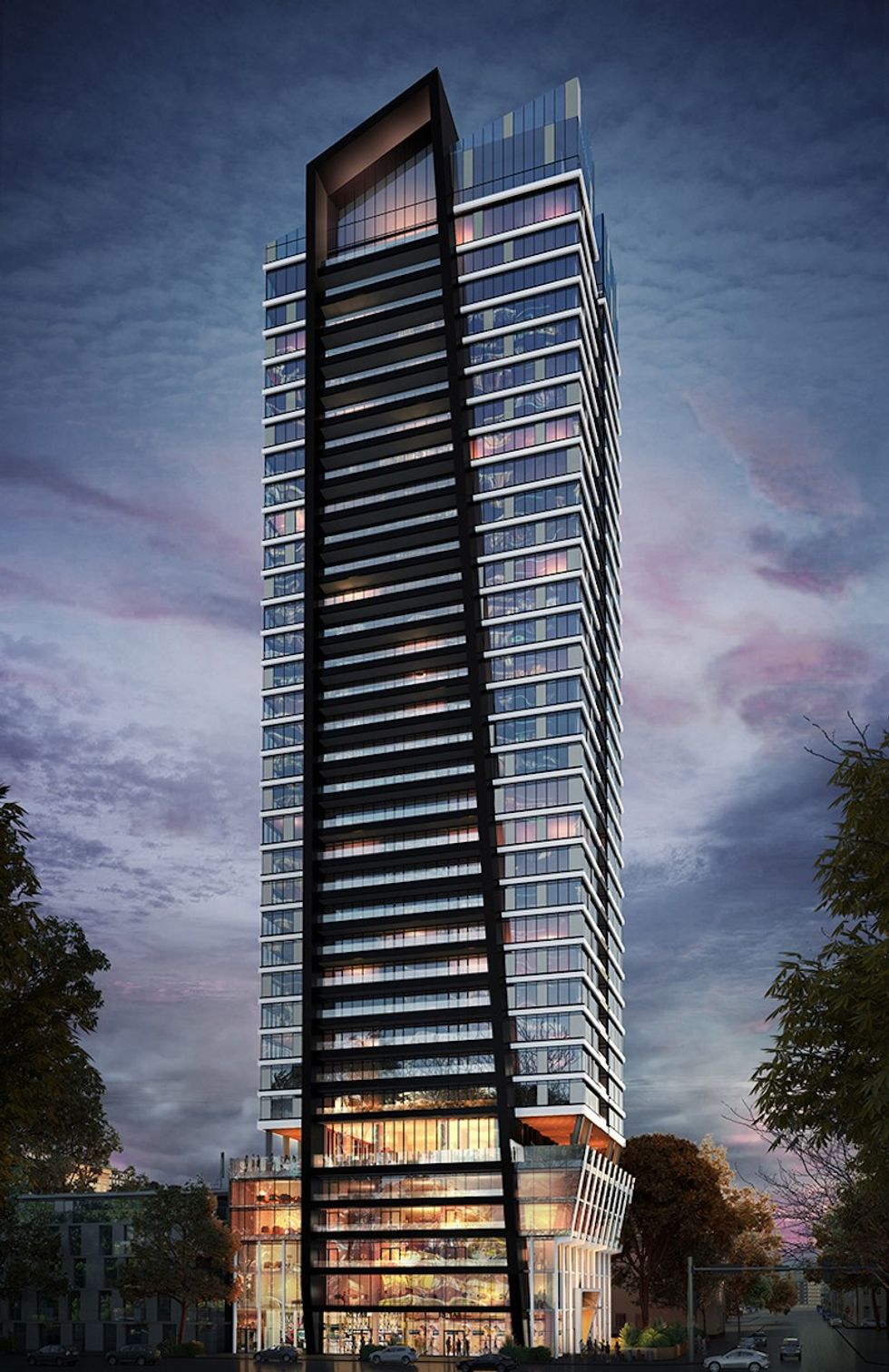 While sleek design is a priority — one that LeftBank checks off the must-have list with ease — a residence must also be founded on connection, both to the outdoors and the broader community. This element is also woven into the new tower's roots.
The development features a new linear park, which serves as an extension of the green ribbon that hugs the neighbourhood. Located on the south side of the building, the park leads to the Don River and the nearby ravine network of walking trails, providing access to Evergreen Brick Works where, on Saturday mornings, the beloved farmers' market shan't be missed.
River Street will be reimagined and animated with the introduction of retail spaces; boutique shops nestled among the widened tree-lined sidewalks are poised to amplify the already-appealing area. Distinctly walkable, and serviced by major transit lines, the upcoming East Harbour transit hub is set to further enhance the connectivity in the River District, offering new options for experiencing culture, dining, and entertainment options. What's more, the enrichment will introduce 70,000 new jobs.
And that's all just from the outside. Within LeftBank, Patton Design's expertise maps the district's new look and feel. Inspired by Milan-based mid-century quirky design and the industrial, raw qualities of the neighbourhood's history, sleek metals contrast with softer muted pink and orange pastels across the interiors. A monolithic lobby with high ceilings, bronze and charcoal clad columns, warm lighting, and oversized porcelain tiles welcomes you home, while the reception desk features stone with — surprise — lavender veining, which provides an unexpected pop of colour. Across from the concierge desk, three built-in banquettes offer individual "pod-like" seating.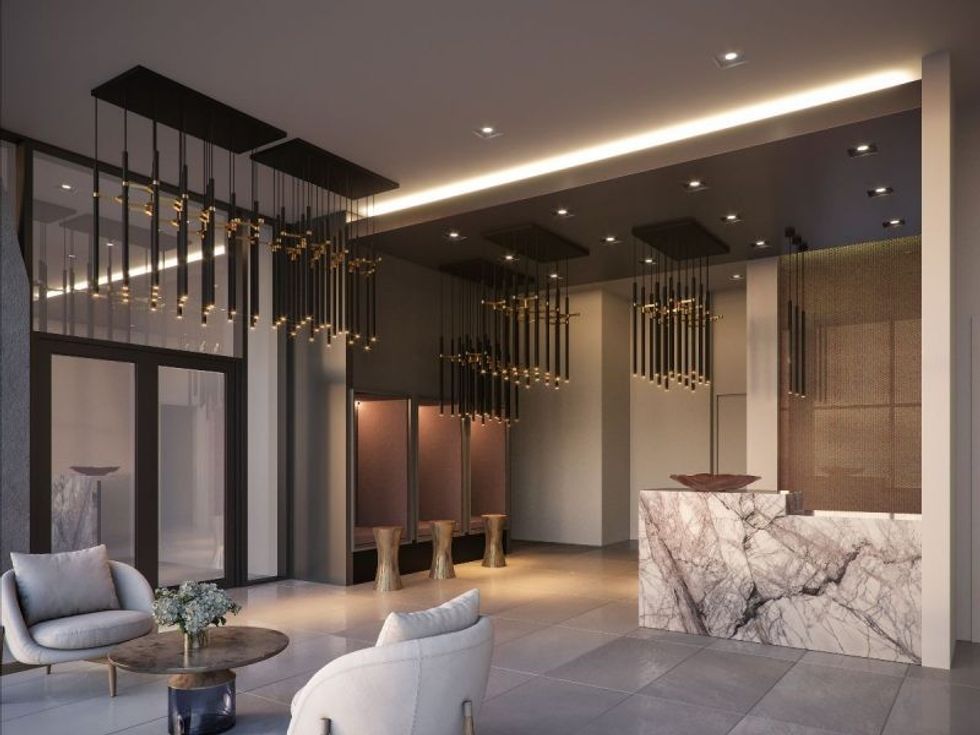 When it comes to options for your abode, LeftBank offers numerous layouts, including studio, one-bedroom, one-bedroom + den, two-bedroom and three-bedroom suites; within each, the interiors continue conversation in the lobby's design language. Colour-blocked wood tones are to be found in the kitchens, topped off with a geometric, ceramic backsplash that speaks to the retro Italian-inspired vibe. Consistent wood tones and oversized porcelain tiles help make up the urban bathrooms, which also feature a sleep, custom vanity wall.
And to carry LeftBank's stylish aesthetic through to the at-home technological experience, Home by Broccolini offers a series of features to simplify everyday living through an investment into smart technology. A suite wall pad or a smartphone app enables residents to see their guests arrive, arm their suite, access private amenity spaces, and receive parcel arrival notifications. A digital door lock, a leak detector, and upgrade features like lighting and blind control are also on offer. In addition, the entire building — that's suites, common and amenity areas — will be outfitted with high-speed internet.
And speaking of what's present throughout the building, the new residence's amenities are expertly planned; read: poised to offer LeftBank-dwellers what they need, now. From a fully-equipped fitness studio, to a kids' zone, to a tool annex, to a yoga studio featuring a juice bar, zen garden, and meditation room, any and all personality types are sure to find their footing without missing a beat.
For residents who are working from home, a co-working lounge will encourage efficiency and productivity, and a private theatre, gaming lounge, dining lounge, and speak easy make the transition from work to play an easy one. The parcel locker room includes a range of locker sizes, from mailbox to closet-sized. Furry friends will also benefit from the dog spa, which aims to simplify grooming and care for pet-owners.
This is all in addition to a gorgeous, exterior, south-facing terrace that offers unmatched views of the waterfront. When it comes to a residence that checks so many boxes in a district that's so booming and bright, there's really only one more item to cross off the list: making this tower your home.