Toronto's bustling King Street West could see the addition of a new hotel development consisting of a pair of 13 and 18-storey buildings designed by Sweeny & Co Architects.
Initially, plans were submitted to the City of Toronto in February 2019 to build a 13-storey office building; however, Manga Hotels – a Canada-based, privately held company involved with the acquisition, development, and management of real estate with a focus on high-quality hotels affiliated with prestigious brands such as Marriott, Hilton, Hyatt, and InterContinental Hotel Group – acquired the site at 689 King Street West in May.
---
The subject site is located on the south side of King Street West, approximately 55 meters west of the intersection of King Street West and Bathurst Street. The property, which is now vacant, was previously occupied by a single-storey building housing retail and a car wash.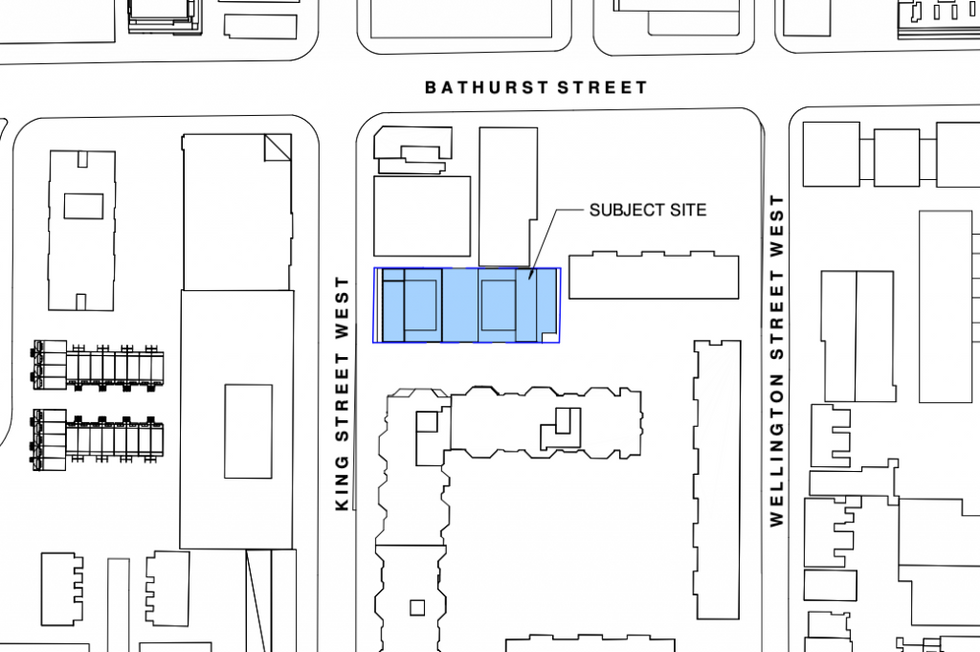 Proposed Site - Rendering submitted to the City of Toronto
Overall, the proposal will result in approximately 13,521 square metres of new hotel space which will include a lobby bar/restaurant space and amenities, with an overall site density of 8.95 times the area of the lot.
READ: Sprawling Multi-Use Community Proposed in Etobicoke Includes Redeveloping Cloverdale Mall
Connected by a two-storey podium, the two slender volumes comprising the proposal would contain a total of 319 hotel suites along with a lobby bar for guests. The hotel suites will be divided between the two taller building components, with the King Street West facing component containing 192 suites, and the rear component containing the remaining 126 suites.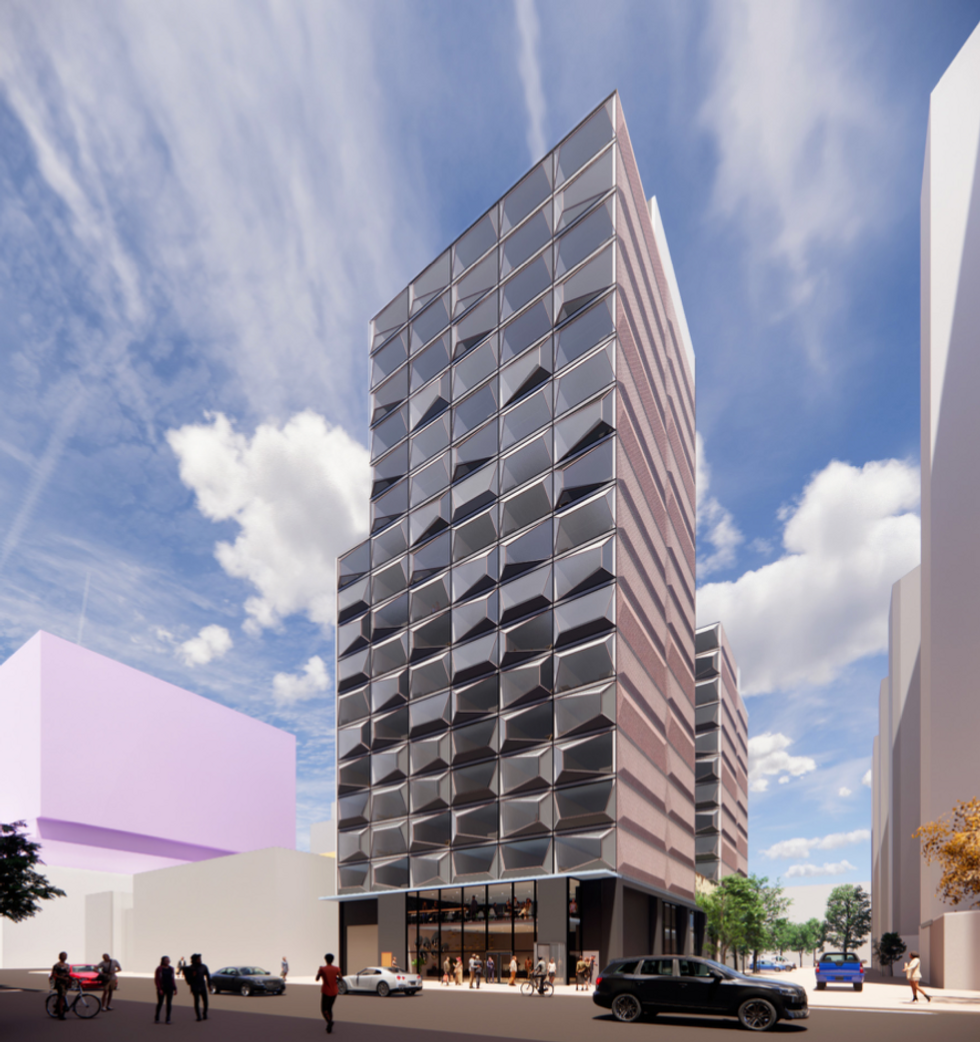 Rendering submitted to the City of Toronto
The 18-storey tower, which will stand 60.91-metres, is positioned on the north portion of the site along King, while the 13-storey, 43.25-metre-tall tower is proposed to be located towards the south end of the subject site.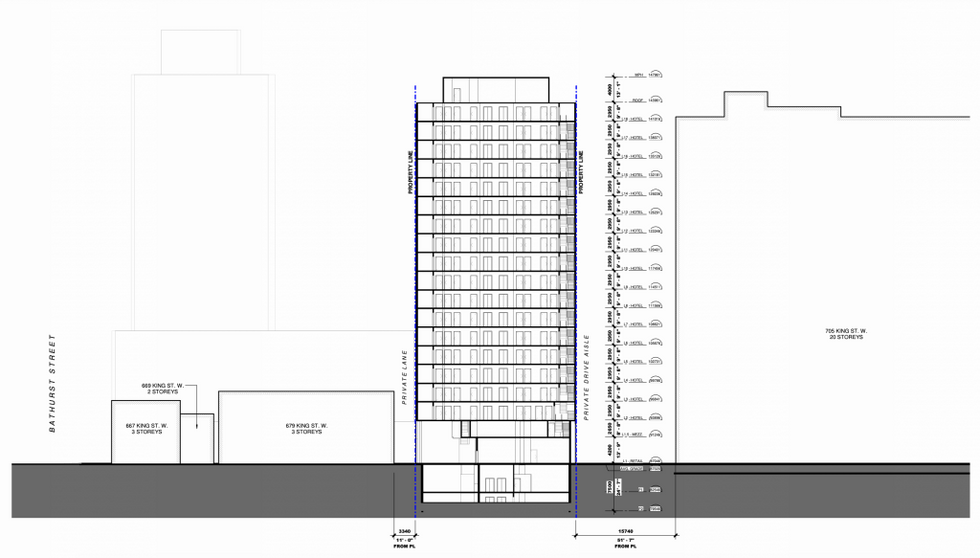 Rendering submitted to the City of Toronto
These building components are separated by an attractive courtyard terrace resulting in a separation distance of 12.33 metres between the taller building components, allowing for sunlight to pass through the subject site from the east and west and into the proposed hotel suites.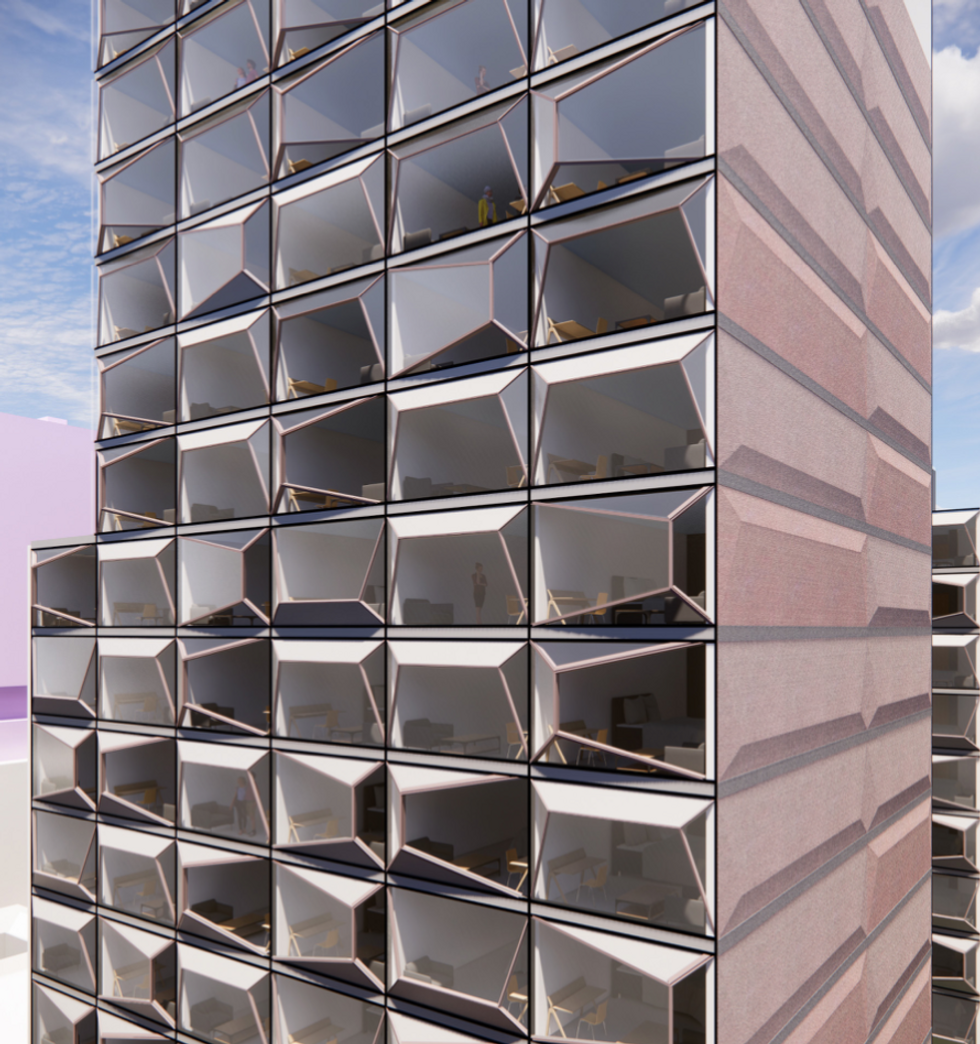 Building facade - Rendering submitted to the City of Toronto
Renderings submitted to City planners show a unique facade comprised of protruding faceted window panels that "create visual interest and articulation." Though no windows are provided on the east or west elevations, instead, brick veneer clad wall sections mirror the window sections on those elevations.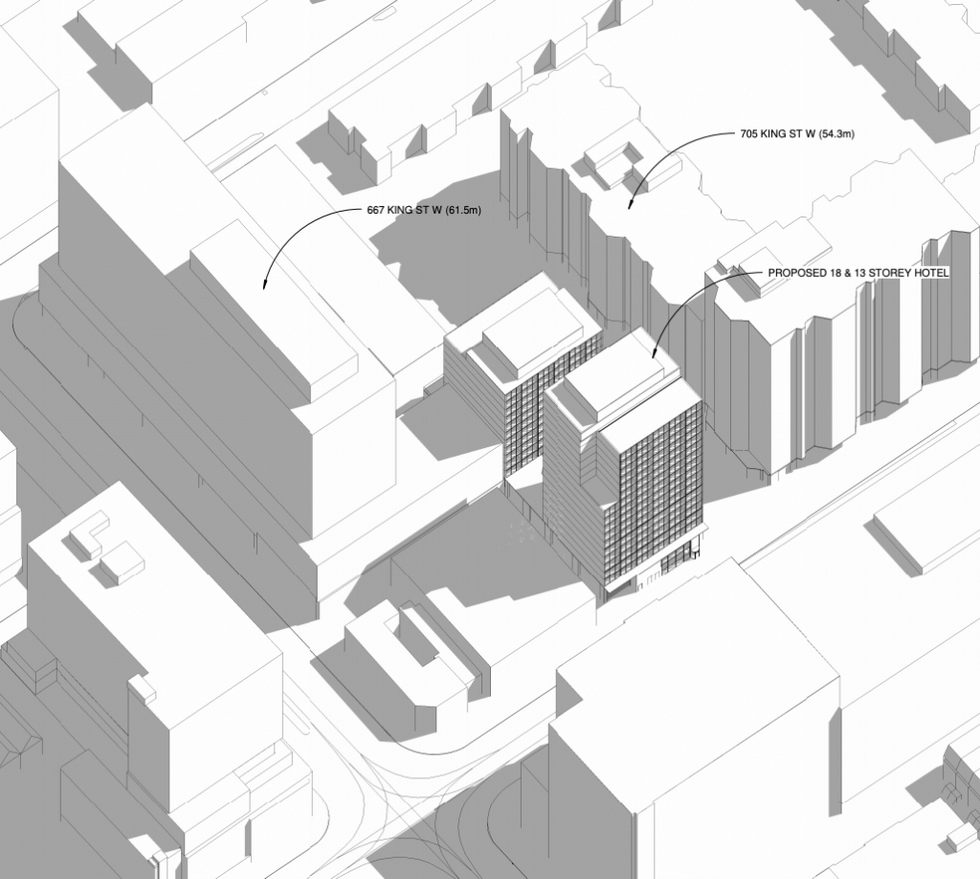 Proposed Site - Rendering submitted to the City of Toronto
Additionally, hotel guests will have vehicular access to loading and the two-level, 31-space underground garage from King Street West via an internalized driveway. The building would also provide eight long-term and four short-term bicycle parking spaces.
Future Developments