A stretch of homes in East York could be demolished and replaced with a 15-storey condo building and a new public park.
In late December, Trolleybus Urban Development Inc. submitted a Rezoning application to City planners seeking approval to build a residential apartment building that steps up to a height of 15-storeys (54-metres) at 5 Cosburn Avenue in East York's Broadview North neighbourhood.
---
The development would also include ground related housing proposed on Gowan Avenue, a gross floor area (GFA) of 25,950-square metres, 316 residential dwelling units, and 192 vehicle spaces.
The Subject Site is located approximately 450-metres west of Pape Avenue and is bound by eight detached dwellings and a 3-storey residential apartment building to the west, a 22-storey residential apartment building to the east, Cosburn Avenue to the north, and Gowan Avenue to the south.
The 48,620-sq.ft development site spans 5-19 Cosburn Avenue and 8-40 Gowan Avenue, which currently encompasses a mix of 18 detached and semi-detached properties, which are proposed to be demolished if the project gets the green light.
The proposed development seeks to redevelop this block to a "modern vertical community" along with a new public park and mid-block connection near the new Cosburn Station on the Ontario Line.
READ: Tridel Revamps Plans for 9-Storey Mixed-Use Building on Dupont
Designed by IBI Group, the development proposal consists of two distinct buildings that are interconnected including a 15-storey mid-rise building fronting onto Cosburn, with a 4-storey podium that extends diagonally southeast towards Gowan before stepping down to an 8-storey mid-rise building, with further stepping down of height to 6- and 4-storeys. At the base of the 4-storey podium are 2-storey high townhouse units.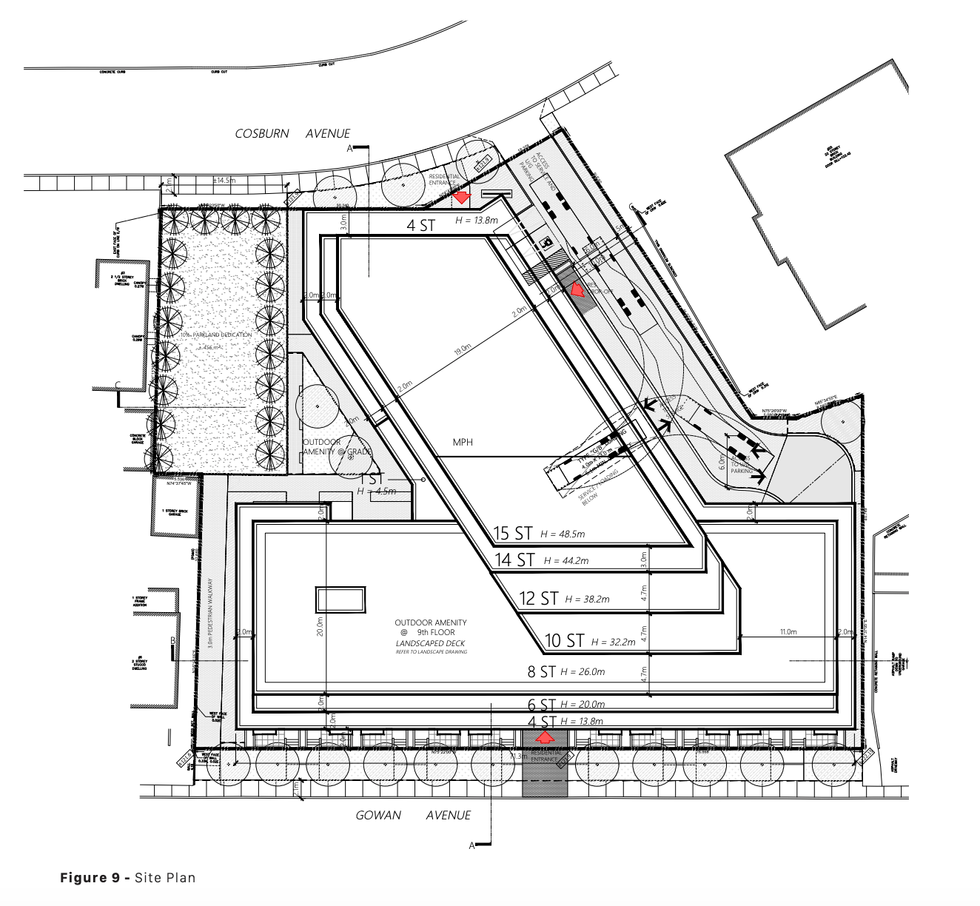 The proposal also seeks to build a new pedestrian connection along the western property line, 3-metres in width, extending north from Gowan Avenue to a proposed 456 square metre public park proposed at the northwest corner of the site.
The ground level of the building will be comprised of two residential lobbies located at the north and south ends of the site and connected by a central corridor that extends from both residential entrances along Cosburn and Gowan.
The ground floor is made up of indoor and outdoor amenity space, a bicycle storage room, indoor loading and garbage rooms, and the ten 2-storey townhouse units.
Approximately 13,605-sq.ft of amenity space has been proposed for the site, which would be located both inside and outside.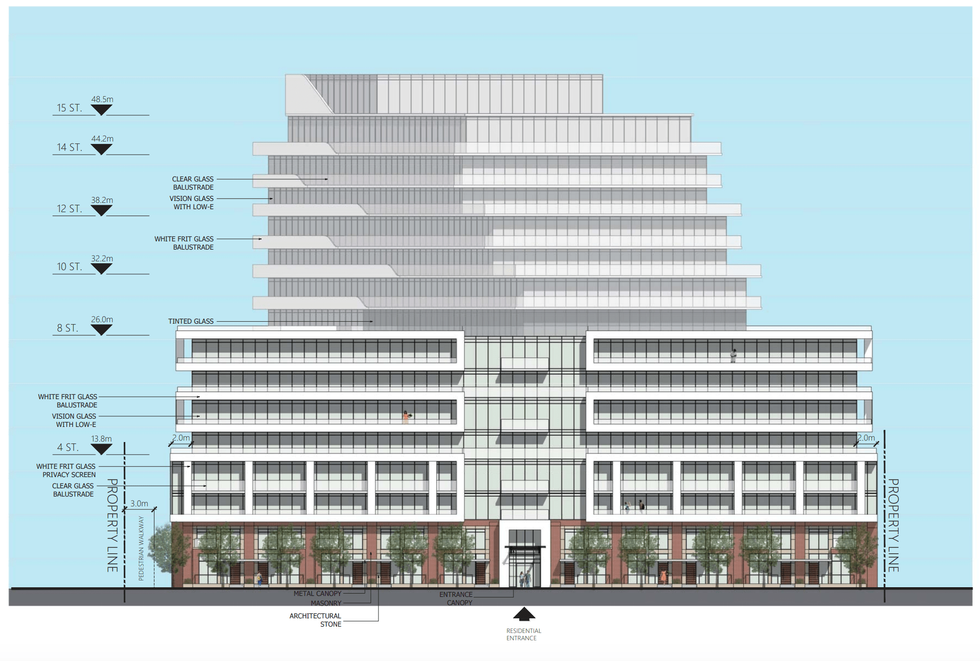 The building would feature large, family-friendly units that would consist of 207 one-bedroom units (66%), 76 two-bedroom units (24%), and 33 three-bedroom units including the 10 townhouses (10%).
The proposal also includes 190 parking spaces with 156 designated for residents and 34 for visitors in addition to 317 bicycle spaces, which consists of 285 long-term and 32 short-term.
Future Developments