On Thursday, the Rockport Group unveiled the highly anticipated Montgomery Square. The 2,800 sq. ft. space, designed by Janet Rosenberg & Studio, brings a touch of modern elegance to the historic square.
The unveiling took place at 2388 Yonge St. and brought together the eager public, as well as those involved with the creation of Yonge and Eg's newest community hub.
---
Prior to the Rebellion of 1837, 2388 Yonge was known as Montgomery's Tavern. It was in this space that William Lyon Mackenzie met and inspired his rebels to fight the British Loyalists. During the rebellion, it burned down, but in 1937 it was rebuilt as Postal Station K, an art deco limestone building.
When word got out that the historic building had been sold, there was public outcry. Fortunately, experienced builders, The Rockport Group, took on the project teaming up with RAW design to enhance the space while maintaining its facade.
The group also enlisted the help of artist Adad Hannan to tell the story of the square's history.
After thanking everyone for attending, Jack Winberg, CEO and President of the Rockport Group, shared his excitement for what's to come. With the square and residential buildings now open, Winberg revealed STOCK T.C., a culinary collaboration from the teams behind Terroni, Cumbrae's and Sud Forno, will be joining the space later this year.
"Rockport is proud that we were able to keep and fully restore the heritage building and to have found a tenant which will animate and ensure that Montgomery Square will continue to serve and support the mid-town lifestyle," Winberg announced.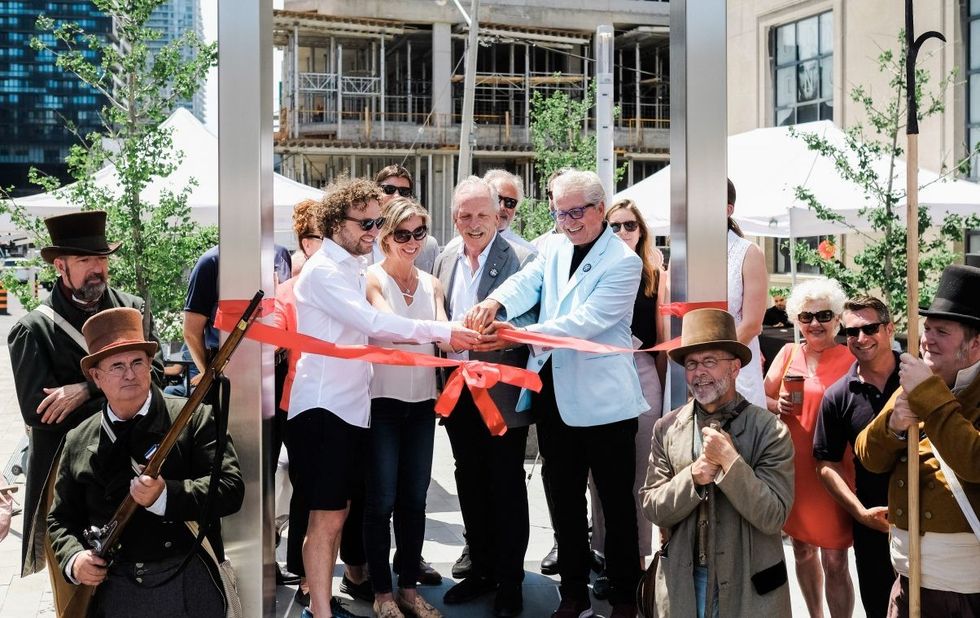 The art unveiling kicked off in the square with actors in period costumes re-telling the story of the space.
After the reenactment, the artist took to the stage explaining, "Art can tell a story; it can also become a story. The artwork [here] represents a history, but also becomes a place where somebody meets somebody."
Hannan used slabs of granite to create letterbox sculptures around the space giving a subtle nod to the old postal office. The most notable piece, however, is the Montgomery Gates. The two steel rectangles stand tall in the centre of the square. Under them are two slabs of granite, which read "Do you love freedom? I know you do" and "Do you hate oppression? Who dare deny it?" in homage to the Rebellion.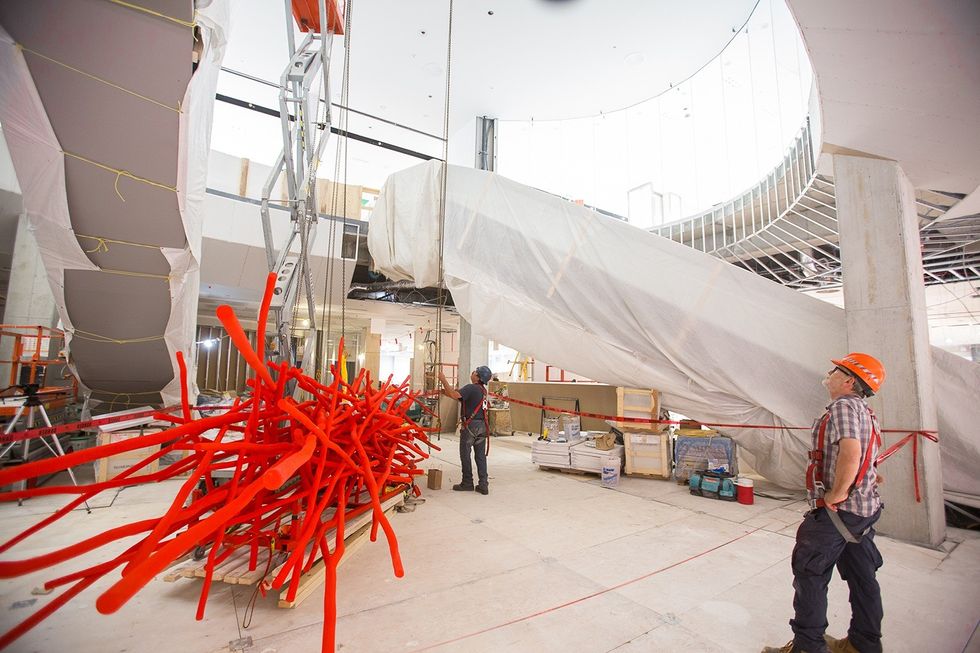 Thursday's ribbon-cutting signified a new beginning for Montgomery Square. The stunning, open-concept space gives the community a place to gather and connect once again.
Toronto