---
Although the market definitely isn't what it was a year ago, presales of the ultra-luxury boutique condominium Barclay, deep in the heart of Vancouver's West End, are expected to eventually entice wealthy downsizers and investors looking for something special. At 10 storeys, each large unit is designed to capitalize on the city's verdant views, as well as the cachet of architect Richard Henriquez, who designed the building for Marcon Developments.
These units are for buyers who can afford to shell out around $4 or $5M, and with the Foreign Buyer Ban in effect, they will most likely be downsizers with substantial equity gains.
Once completed in a few years' time, the Barclay will stand apart from the other ultra-high-end towers located downtown, because it has the distinction of being adjacent to Stanley Park, overlooking the city's famous Lost Lagoon.
Henriquez, who's designed some of Vancouver's most familiar landmark buildings, is the subject of a 30-minute documentary that is making the film festival rounds throughout North America and Europe, called Building Stories.
He's designed several projects in Vancouver's scenic West End, which had been a sea of single-family homes a century ago, before it underwent a transformation into low-rise apartments and then a few highrise towers in the 1950s, he says. He explains that the rental buildings at the time had a uniquely efficient design, small floor plates with space-saving scissor stairs where one staircase wrapped around the other, as well as inexpensive slab construction instead of formwork.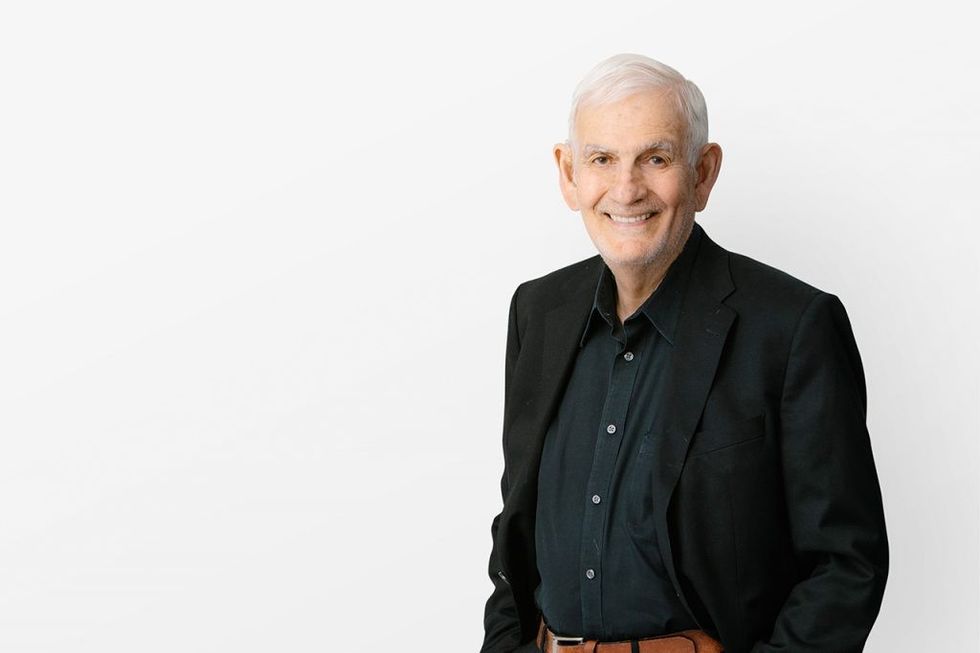 Architect Richard Henriquez
"It's not by accident that Vancouver's West End is the sort of icon of the city because it developed the way it did," says Henriquez, founding principal of Henriquez Partners Architects.
As the towers went up in the 1970s, the residents lobbied hard to curtail heights to protect views. That resulted in an overall six-storey limit but with the exception of 210-foot-high buildings permitted with neighbourhood approval, he says.
Henriquez' firm argued that a taller slender building offers residents greater views compared to a bulky 60-foot-high building.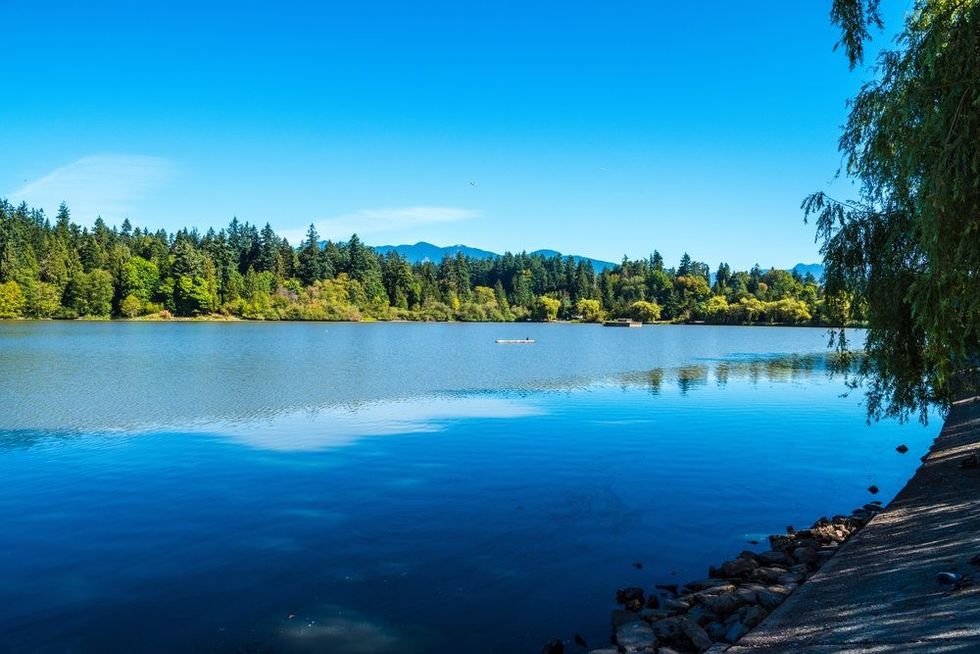 Lost Lagoon, Stanley Park
"We got permits to build several tall buildings with view corridors beside them, first was the Sylvia Hotel, then the Eugenia and the Presidio, which is at the foot of Barclay. A few years later, the city instituted spacing criteria as a simpler way of view sharing, with medium height buildings allowed when a highrise was nearby. "So this is the regime in which the Barclay is to be built. We are allowed to build a 120 foot high building," he says.
Henriquez has worked with Marcon previously, including the creation of the more modest Mirabel towers at 1365 Davie Street, completed a couple of years ago, also in the West End. The Maribel building includes condos and rental, with social housing in the lower floors. As part of a density bonus, the developer gave the social housing units to the city. That's typically how social housing gets built in Vancouver.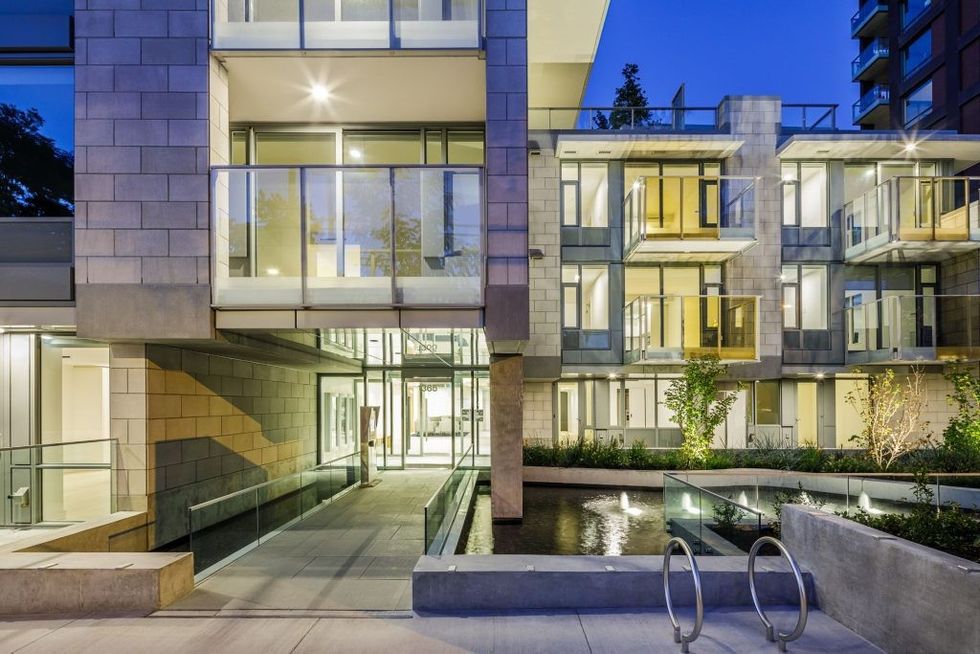 Looking toward the lobby at Mirabel
The striking boutique condo at 2030 Barclay is altogether different from most of the new residential condos, partly because of its out-of-the-way location. But as well, the building comprises just 19 units, with four of them two-storey and ground-oriented to emulate the houses that had at one time filled the neighbourhood.
"People walked out the front door down the street to the beach or wherever, and they didn't have to contend with corridors or elevators or lobbies or any of that stuff," says Henriquez.
"If I had tons of money I would much rather live in a project that has a few suites rather than a larger number of suites."
Alda Pereira Design Inc. designed the interiors, which are on display at a presentation centre at 666 Burrard St. There are the townhomes, a full-floor penthouse, and 14 half-floor suites, each with a large, covered balcony.
"The building is serrated in a zig zag manner so that both sides of the floor capture the best views. So, it's specially designed to capture that site characteristic," says Henriquez.
Marketing has just begun, and prices start at $3.5M for a suite that is 1,600 sq. ft, according to subagents for the project, marketing team Katie Burkard and Jesse Laver, who operate the Abode Group, which is part of Engel & Völkers.
Average unit size is between 1,800 to 2,000 sq. ft, and the higher priced units are $5.6M. The ground-level townhomes are priced at around $4 to $4.5 million and are just under 2,000 square feet, with substantial outdoor space. The 10th floor penthouse is $9M and has 1,350 sq. ft of terraces, situated on each side of the unit, New York style.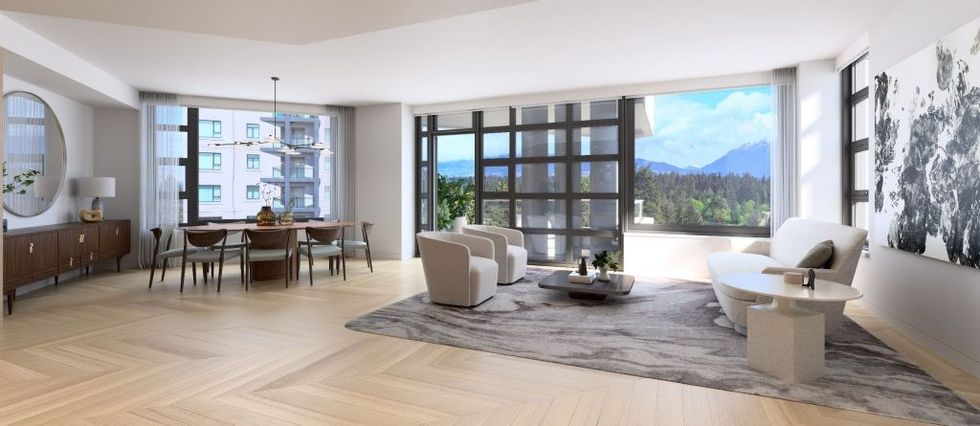 An interior rendering of a living room at the Barclay
"There is a lot of great development happening downtown but it's all very big and really flashy," says Laver. "This one is more quiet, probably for a buyer that wants more anonymity, not right in the middle of downtown."
Burkard points out that it's uncommon for a high-end building to have so many units of similar size. There's usually a wide price gap.
"Because of its uniqueness, and because it's almost like this once-in-a-generational opportunity, because there hasn't been a new residential building west of Denman in a long time… it's very, very unlikely something like this would be built in a very long time, so people have been in interested from an investment perspective. They will rent extremely well for that very sophisticated renter," says Burkard. 
That said, they aren't really stepping up marketing for a few weeks because of the slow market. Buyers are still nervous because of the high interest rates, which have impacted their investment portfolios.
"We feel we are bouncing along the bottom," says Laver, noting that it's hard to know how many months the drop-off will last.
"If this building launched a year or two ago, it would have been a different story," says Burkard. "The timing was not a great market. It's hard for us to gauge, we know it's going to sell but it will take a little longer.
"Everybody is grinding and wants a deal right now," she adds. "And everybody's financial advisors are saying, 'don't buy real estate.' But there's a window here. In typical Vancouver fashion, we will be back to a crazy market."
Henriquez expects the Barclay to begin construction next year, which will give them time to secure building permits and finalize the presales process.
"This, of course, is challenging now with interest rates and all, but I think with only 19 suites to sell, this should be achievable," says Henriquez. "We have done a lot of these luxury condos, and they really are empty nesters who buy. I mean, you might find some rather wealthy young family moving to the city and buying one of these, because it would be fine for kids and all. But I think it's mostly empty nesters that are going to buy it, someone who sold a house for several million dollars and are willing to put that money back into a new home and then travel most of the time."
Future Developments