Real Estate News
A 35-Storey Residential Building is Proposed for Toronto's Bustling Midtown
Toronto's Midtown is a busy district with all the necessities and amenities a person could need, from restaurants, nightlife, and shopping to community centres and condos. And now, a new residential tower is looking likely to join the mix.
Last week, an application was submitted to the City of Toronto on behalf of Fora Developments proposing to replace a four-storey rental building at 77 Erskine Avenue with something offering a lot more density.
READ: Cloud-Inspired Tower Brings Fresh Imagination to Yonge and Elm
Fora's proposal involves the construction of a new 35-storey residential building containing a five-storey podium, indoor and outdoor amenity spaces, and a total of 377 units. Of those units, 36 would be designated as replacement suites. As such, the suggested development represents a full replacement of rental units currently at the site. The project will be designed by notable Canadian architect gh3.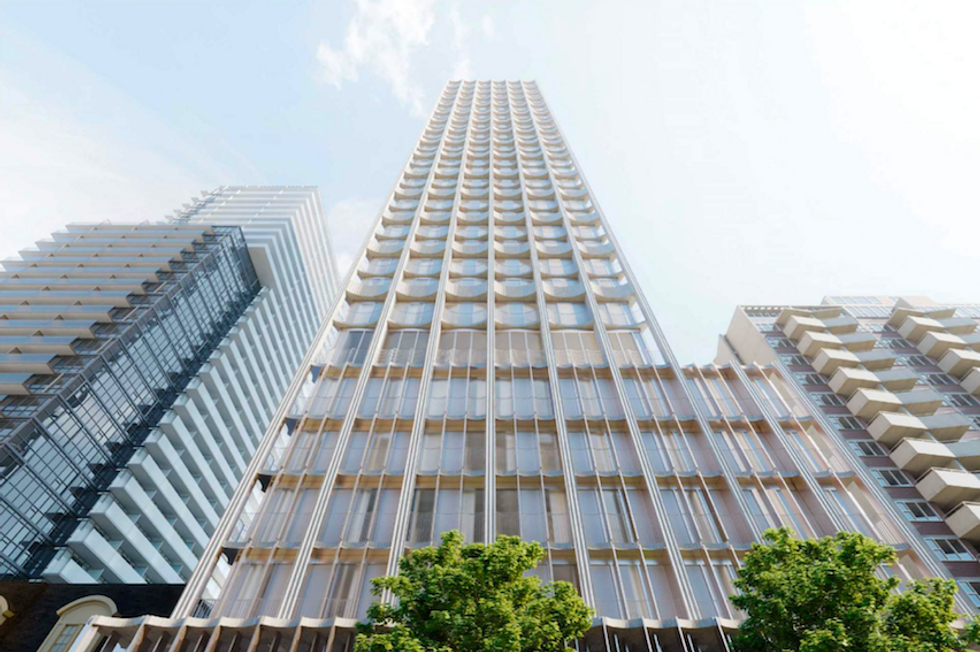 The residential breakdown includes 10 studio units, 197 one-bedrooms, five one-bedrooms with dens, 129 two-bedrooms, and 36 three-bedrooms. Of the replacement rental units, 10 are slated to be studios, 18 would be one-bedrooms, and eight would be two-bedrooms. The site will also have 36 vehicle parking spaces and 378 bicycle parking spaces.
The site in question is well-situated. 77 Erskine Avenue is located on the south side of Erskine Avenue west of Redpath Avenue in Midtown Toronto. It is approximately a six-minute walk to Eglinton TTC station on the Yonge-University subway line. Additionally, the area will be served by the forthcoming Eglinton Crosstown LRT.
In addition, Fora's proposal includes a publicly accessible mid-block pedestrian connection at-grade, which will allow for better pedestrian circulation and access to surrounding open spaces.
The proposed development at 77 Erskine Avenue is currently under review by the City. It is just one of several projects Fora Developments has in limbo and underway in the Greater Toronto Area. Around a month ago, Fora Developments proposed a mixed-use tower with a striking cloud-inspired facade for the corner of Elm and Yonge streets. That development is also currently under review.