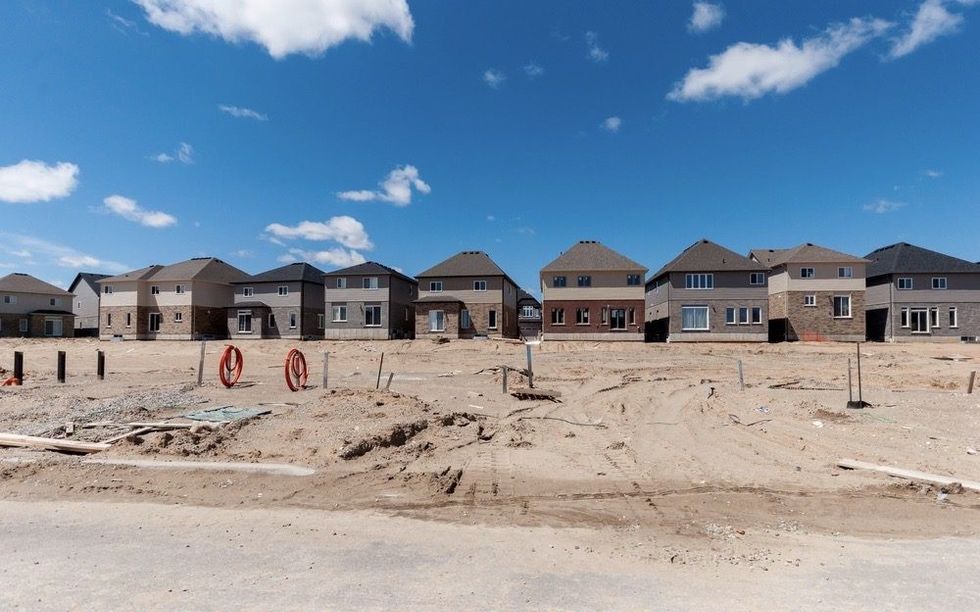 New homes under construction in Kitchner/Shutterstock
Insiders
"A Perfect Storm": The Ability to Produce New Housing is Only Getting Harder
A perfect storm has formed which is creating challenges for developers and builders in the residential construction industry and making it tougher for them to produce much-needed new housing.
Along with challenges posed by COVID-19, we are dealing with supply chain issues, material and labour shortages, as well as rising costs and inflation. Meanwhile, demand for housing shows no sign of abating.
According to a Smart Prosperity Institute report, Ontario will need nearly one million homes to be built over the next decade to meet the needs of anticipated growth of 2.27 million people in the province. But we are not building anywhere near that number for a variety of reasons, one being that the development approvals process is too slow. Presently, it takes too long to build homes.
To tackle the housing crisis then, bold and decisive action must be taken. With more than 400,000 immigrants coming to Canada each year, many who will end up staying in the Toronto area, government, developers, builders and industry stakeholders must join forces and work together on a solution.
More Neighbours Toronto, an organization of housing advocates who believe in building more multi-family homes, maintains Ontario's housing crisis is at a breaking point. A report from the organization notes that decades of inaction, policy failures, excessive regulatory capture, and political domination by exclusionary anti-housing interests have culminated in diminishing social and economic mobility.
In Toronto, the cost of the average dwelling has moved far beyond what a typical family can afford. The cost of the city's housing relative to income is by far the worst amongst G7 countries. Even San Francisco, which was famous for its long-running housing crisis, is better off than Toronto.
Long before COVID struck, RESCON recognized that action was needed to increase housing supply. We produced two research reports on the issue and proposed that a common, open-source data and file transfer platform be established to streamline the development and building approvals process.
There have been some improvements. The province has taken steps to generate more housing via the More Homes, More Choice action plan that aims to cut red tape and make housing more affordable. The government has also established a new Housing Affordability Task Force chaired by Jake Lawrence, chief executive officer and group head, global banking and markets, at Scotiabank. The task force will explore measures to address housing affordability, including increasing the supply of market housing, reducing red tape and accelerating timelines, and supporting economic recovery and job creation. In the end, recommendations will be made to address the problem.
RELATED: Nine Members Appointed to Ontario's Housing Affordability Task Force
The province is also calling on the federal government to double the number of immigrants allowed into the province from 9,000 to 18,000 under a program aimed at boosting the skilled workforce. This will help our industry deal with a labour crunch.
The City of Toronto has also launched the Concept 2 Keys initiative which is transforming how planning and development applications are reviewed by modernizing organizational structures, processes, and technology.
At the federal level, we were pleased to see a new standalone role was carved out in the cabinet to tackle housing. Ahmed Hussen was tapped to lead the Ministry of Housing and Diversity and Inclusion and has been directed to work with provinces, territories, and municipalities to increase the supply of homes for middle income earners and prioritize the launch of a new $4-billion Housing Accelerator Fund that will help municipalities build more housing and speed-up approval times.
However, we are in a crisis situation and more action is clearly necessary. All levels of government must be on the same page.
Canada has the lowest number of housing units per 1,000 residents of any G7 country, according to a recent Scotiabank report. In Toronto, and other communities in Ontario, the cost of the average dwelling has moved far beyond what a typical family can afford. Yet, we have the highest projected immigration targets.
RESCON is hosting a half-day virtual conference March 3 for the industry, government and stakeholders to try to get some answers. The event, called the Housing Supply Summit 2022: Solutions to Build More Homes, will be moderated by TVO reporter John Michael McGrath and feature a number of fantastic speakers who will share their experiences, knowledge and opinions on what has created the current situation and, more importantly, where we need to go from here. Our agenda for the event will be finalized shortly. You can register for the event by clicking here.
We can no longer tinker around the edges of the system. It is time for concrete measures to be taken to speed-up the development review process so builders can get shovels in the ground quicker.