---
Realtors and prospective buyers alike will soon be able to glean a little more insight into competing offers on a property as the Canadian Real Estate Association (CREA) announced Wednesday morning the official Canada-wide rollout of the REALTOR.ca open offer system.
The new program will see real-time offer tracking show up on a property's REALTOR.ca listing page, but exactly how much information is displayed about the offers will vary depending on both seller preferences and location.
With real estate being regulated at the provincial level, the availability of offer information will vary from province to province. "It will only be available on listings where Realtors, by way of their seller's consent, opt to display offer details on REALTOR.ca, as permitted by provincial regulations," a CREA spokesperson tells STOREYS. In Ontario, for example, the Real Estate Brokers Act prohibits realtors from revealing the dollar amount of competing offers, but in British Columbia, this information can be made available.
There will also be voluntary opt-in levels of transparency within the open offer tracking, brought about via a partnership with Australian property technology company Openn. In an interview with STOREYS in June, Openn's Director of Operations for North America, Eric Bryant, explained that sellers will not be required to reveal the offer price amounts on their property, but they will have the option to do so.
"As our first entry into Canada, we are thrilled to launch in partnership with CREA, to help Canadians navigate the challenges of the property transaction process through near real-time data tracking and feedback," said Duncan Anderson, President of Openn NA. "Now, more than ever, we are seeing the significant impact and disadvantages that blind bidding creates due to lack of transparency throughout the entire bidding process. By partnering with CREA and leveraging their online platform, it marks an exciting step toward a more efficient and equitable real estate landscape."
The program also requires that all offers be submitted by a realtor, who will have to specifically sign up for Openn's service.
The Canada-wide rollout follows what Openn describes in a news release as "a successful pilot program in 2022 in select Canadian markets." When asked where the pilot took place, Openn tells STOREYS that the pilot ran in two markets, "one with an Ontario real estate board and one with a BC real estate board" from November 2022 to February 2023, but were unable to provide details on which specific boards those were.
What Openn did disclose, however, is that the pilot didn't use actual live listings "because the product was not ready through most of the pilot stage."
"Openn used a testing box to get feedback while the product was being advanced," the company said. No numbers were available on how many test runs were done, and Openn noted it was "a small group" of agents who were involved.
Interestingly, in a REALTOR.ca blog post dated January 15, 2023, the CREA-owned website said the pilot program would be rolling out "over the next few weeks."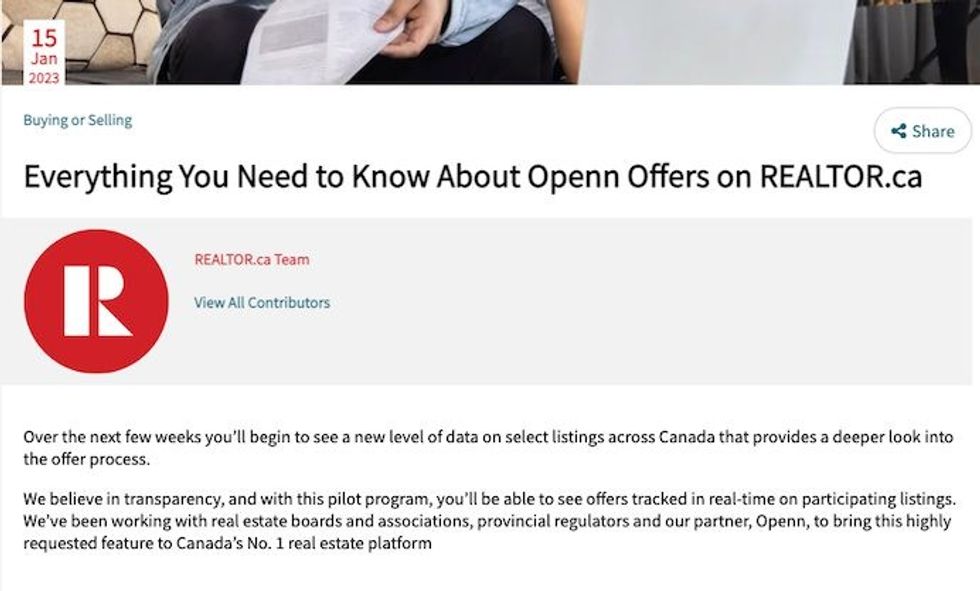 Realtor.ca
When CREA was asked when and where the pilot occurred, STOREYS was directed to speak with Openn as CREA does not "have that information." "From CREA's end, we were more concerned with integration with REALTOR.ca and provincial regulations (e.g. what details of the offer can be displayed in which province)," the CREA spokesperson said.
Real Estate News