---
A bustling pocket of downtown Toronto, in the heart of Little Portugal, will soon see a new mid-rise development, the likes of which have been in the works since 2021.
In February, Ontario planning firm Bousfields Inc. filed a Site Plan Control application with the City on behalf of real estate development and investment firm Block Developments. The application outlines plans to construct an eight-storey mixed-use building at 1494-1502 Dundas Street West, situated on the northwest corner of Dundas Street West and Dufferin Street in Brockton Village.
READ: "Hit and Miss" Brickwork, Mass Timber Proposed for Historic Site in the Junction
If realized, the proposed development would bring 57 new residential units to the area. In addition to 3,900 sq. m of residential gross floor area (GFA), 407 sq. m of non-residential GFA is proposed, to be used to accommodate a retail component. Also proposed are indoor and outdoor amenity spaces, 18 stacked parking spaces, and 57 bicycle parking spaces.
The application includes renderings by Toronto architectural studio RAW Design depicting a sleek brick front facade with inset picket railing balconies and bird-friendly, spandrel glazing on the base component, as well as clear glazing, precast panelling, and architectural louvre on the uppermost levels.
Renderings also show a series of tiered terraces and green roofs, also slated for the uppermost levels.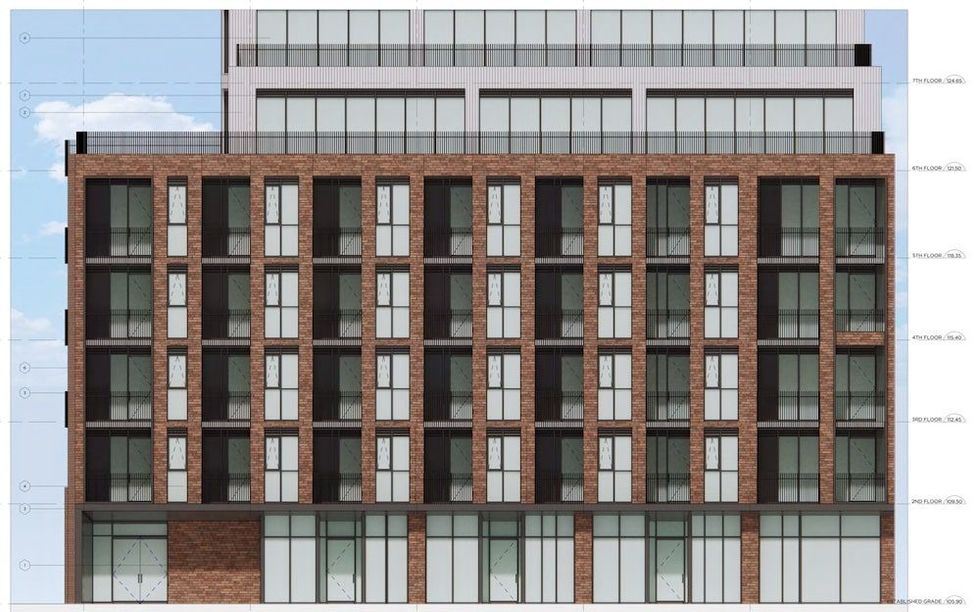 RAW Design
The proposed Dundas West development has been a long time coming. In March 2021, a Zoning By-law Amendment application was presented to City Council with respect to the subject site, and in May 2021, Council green-lit the site for redevelopment. The associated Zoning By-laws 952-2021 and 953-2021 were adopted by Council in October 2021.
A second development, at 646-648 Dufferin Street and 1-3 Boland Lane, is also underway at an adjacent site. Also eight-storeys in height, the building will contain 135 residential units.
Both developments have been approved and the Site Plan Control applications are currently under review by the City.
Toronto