---
A developer has set its sights on a historic site in the Junction, once occupied by the now-demolished Peacock Hotel.
In early February, zoning by-law amendment and site plan control applications were submitted to the City of Toronto by urban planning and design firm WND Associates, proposing a new six-storey building at 2760 Dundas Street West.
READ: 8-Storey Mass Timber Build Proposed to Integrate With 100-Year-Old Church on Danforth
The mid-rise complex -- to be developed by Sierra Communities -- would reach a height of 20.7 m, excluding the mechanical penthouse. Of the 2,068 sq. m of total gross floor area (GFA) proposed, 126.3 sq. m along the Dundas Street West frontage would be used for retail and 1,941.8 sq. m would be dedicated to residential, to be located on floors two to six.
If the proposed is realized, 28 condominium units will be added to the area -- a mix of eight one-bedrooms, 18 two-bedrooms, and two three-bedroom. Also proposed is a residential lobby along Dundas Street West, 16 parking spaces to be located at the rear of the development within a fully-automated stacker system, and 32 bicycle parking spaces within a bicycle storage room on the ground floor.
The application includes renderings by Gabriel Fain Architects, depicting three core built-form features -- projecting brick dormers atop "hit and miss" brickwork in the middle of the structure and brick corbelling at the base -- "each of which draws upon a diverse range of architectural cues from the Dundas Street West context," according to the planning rationale prepared in support of the application.
The rationale also states that the developer is exploring mass timber construction techniques, which will be reviewed throughout the resubmission process.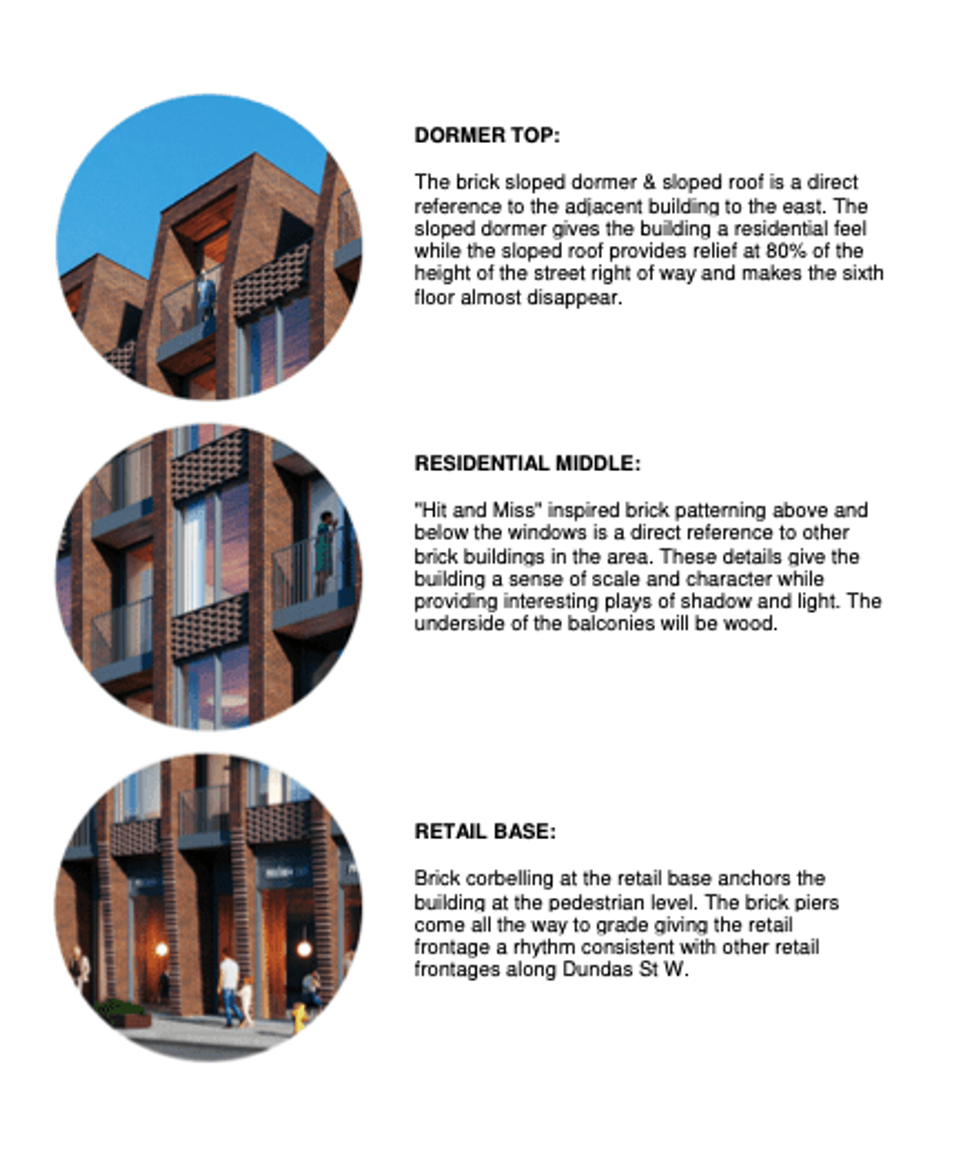 The proposed development is a chance to reimagine the historic site. Built in 1890 and designed by Toronto architect James Ellis, the Peacock Hotel was a treasured Junction landmark until it collapsed in 2019 after a fire. It was demolished in 2020 and the site is currently vacant.
Toronto