---
Since opening to the public 20 years ago, Bessarion subway station has had the dubious distinction of being one of the least-used subway stations in Toronto. The Line 4 stop's ridership woes have almost attained mythic status in the city; someone was even inspired to satirize it in a documentary, Finding Bessarion, which seeks to confirm that Bessarion does, in fact, exist.
Well, the planning consultants responsible for a new development application to build a mixed-use high-rise just steps from Bessarion are clearly aware that the lowly TTC station in Bayview Village could handle more than a few additional riders.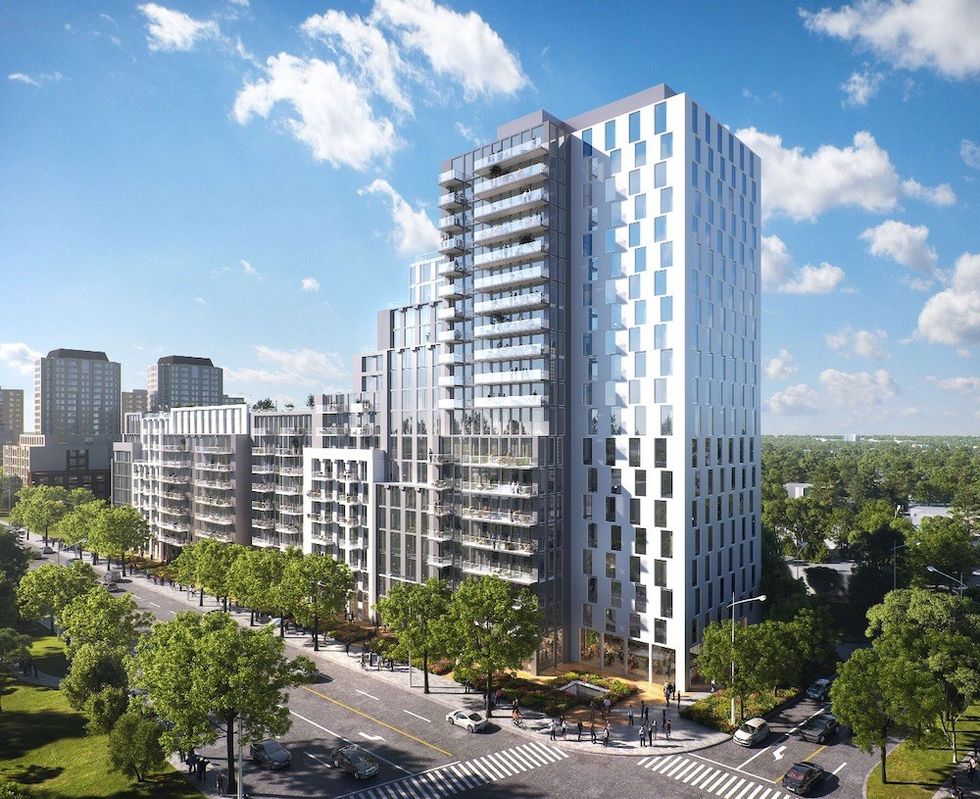 Rendering: Kirkor Architects + Planners
In the application, which Brutto Planning Consultant Ltd. recently submitted to the city on behalf of One to One Global Ltd., consultants make multiple references to the station's modest ridership.
"It is evident that Bessarion Subway Station is an underutilized subway station," reads the application's planning rationale, which cites a 2018 report that suggested just 2,990 commuters passed through the station daily, making it "the fourth least utilized TTC subway station."
"As such," the rationale continues, "the proposed development will provide a significant opportunity for the Bessarion Station to be used at its highest and best use by developing a transit oriented mixed-use building with reduced parking supply, ground-oriented retail fronting the public streetscape, and immediate pedestrian access to the station."
Specifically, the development, as proposed, would soar to 20 storeys at its highest point and contain 432 residential apartments (the project data sheet included in the application package identifies the dwellings as condos, not rentals). Plans present a mix of apartment sizes: 259 one-bedroom units (including 130 with dens), as well as 125 two-bedroom suites and 49 three-bedroom dwellings.
The project, known as Burbank Heights, would also serve up approximately 1,414 sq.m of retail. Parking, as the rationale noted, is limited to 281 parking spots, including 217 for residents. Bicycle parking is more generous, with room for 348 bicycles.
The site in question combines 690-692 and 696-720 Sheppard Avenue East, where a vacant lot abuts a row of seven semi-detached houses, and is kitty-corner to Bessarion station.
As well as (presumably) boosting TTC fares, the development aims to contribute more green space to the neighbourhood. "Most importantly, an outdoor park will be developed and situated on 690 Sheppard Avenue East, which is on the west side of the proposed development," the rationale says.
On its own, a 1,135 sq. m strip of grass might not look like much on paper, but, the document notes, it could connect with a future 747 sq. m public park on the eastern edge of the neighbouring site at 680-688 Sheppard, where a 22-storey rental tower is being proposed.
Kirkor Architects + Planners have designed the building so that it peaks at the northwest corner of Sheppard Avenue East and Burbank Drive before tapering down to a mid-rise form running west along Sheppard.
The blueprints put the 1,420 sq. m of indoor amenities on the first, second, and 10th floors, with 1,755 sq. m of outdoor space on the second and 10th levels.
Residents would be able to take advantage of Bayview Village's bevy of existing and future amenities, including a revitalized Bessarion community centre, too. Expected to open next year under the new name Ethennonnhawahstihnen' Community Recreation Centre & Library, the complex hosts a childcare centre, aquatic facility, library, and more.
An added bonus for residents who commute: they're all but guaranteed a seat on the subway.
Future Developments