---
As Canadians well know, the last two years have brought with them a rapid rise in real estate prices all across the country. But not all markets were hit evenly during the pandemic, with home prices in some inflating significantly more than others.
A new report from Zoocasa takes a look at exactly which regions have seen the greatest -- and smallest -- changes since early 2020.
Although southern Ontario has infamously seen overwhelming raises in its average home prices throughout the pandemic, it's actually not home to the market with the largest dollar increase. That honor goes to British Columbia's Fraser Valley.
Real estate in the southwestern BC region has been in high demand over the past two years, with the average home price jumping up a whopping $534,263 from January 2020 to February 2022. According to the report, the average home price there now sits at $1,285,439. This change comes alongside a staggering 94% increase in the number of sales from January 2020 to February 2022, with a sizable 1,752 transactions taking place in February.
The always-expensive Greater Toronto Area followed not too far behind, with the average home price there shooting up $495,205 since January 2020 to a new average of $1,33,4,568. Sales here have increased even more than in the Fraser Valley, jumping up 99% to 9,095 in February of this year.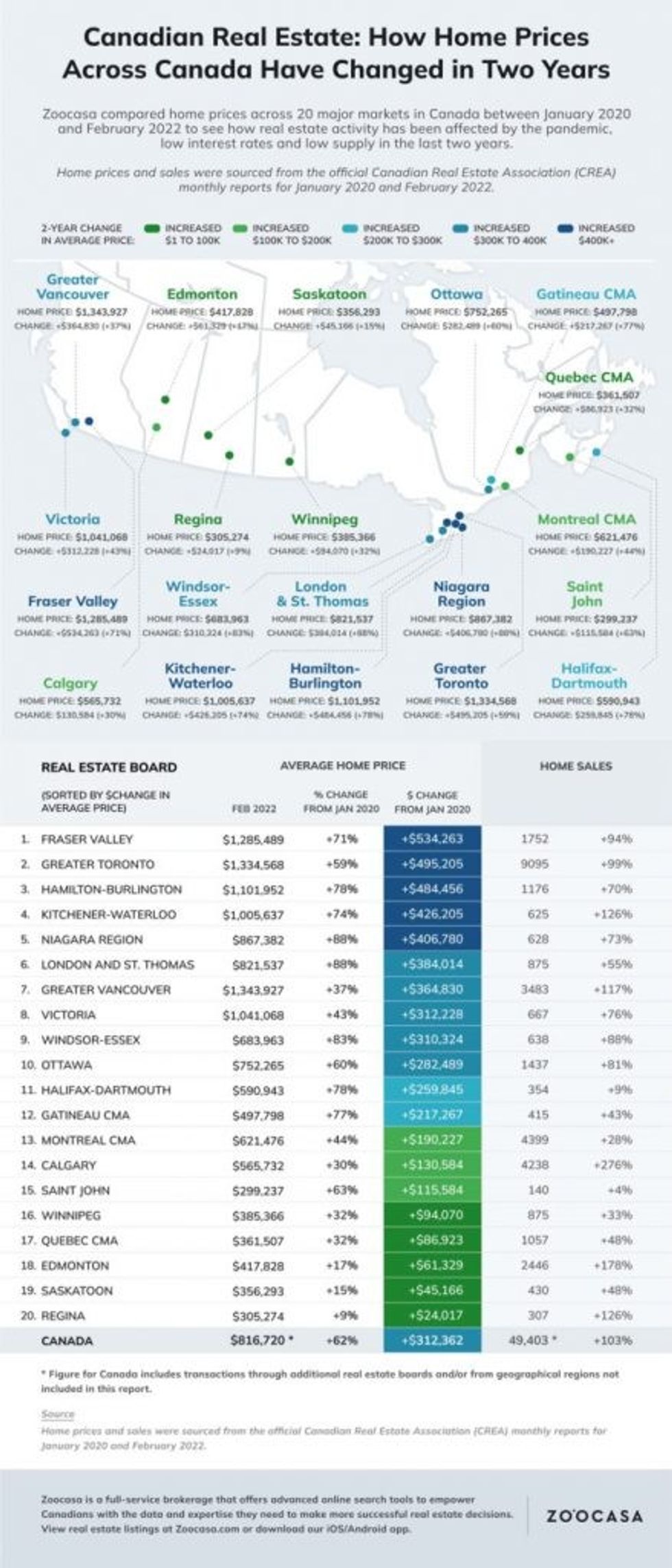 Zoocasa
The neighbouring Hamilton-Burlington market followed suit with a $484,456 increase in the average home price, bringing it up to $1,101,952. The number of sales also increased substantially, up 70% from early 2020 to 1,176 in February.
Interestingly, two of Canada's markets that saw the largest percentage increases in the number of sales -- Edmonton and Regina -- also experienced some of the smallest dollar increases in their average home price. Edmonton, where sales grew 178% -- the second highest in Canada behind Calgary's 276% -- has seen just a $61,329 change in the average price. In Regina, sales are up 126% but it holds the smallest dollar increase at just $24,017.
Ontario's Kitchener-Waterloo region has been hit from all sides, seeing large amounts of both price and sale increases, according to the report. Average home prices there have gone up $426,205 since January 2020, with sales spiking 126%.
With the Bank of Canada having introduced its first rate hike last month after interest rates sat at a historically low 0.25% since March 2020, further increases are expected to come throughout the year. This, the report says, "means a downward pressure on price growth could be on the horizon."
Real Estate News