Owen Sound
Real Estate News
Is Owen Sound, Grey Bruce the Hottest Real Estate Market in Ontario?
Every region in Canada saw a surge in home prices over the past year during the pandemic, as many residents working work from home traded their city views for more space in rural and suburban areas, snatching up limited inventory and driving up prices in the process.
New data from Century 21 Canada found that while real estate is most often dependent on the local market, the past year has seen widespread increases in prices from coast to coast, particularly in Atlantic Canada and more recreational locations.
The data is from the real estate company's fifth annual Price Per Square Foot survey, which compared the PPSF of properties sold in five regions between January 1 and June 30 this year, compared to the same period last year.
"Looking at the prices across Canada, there isn't one region that hasn't seen price growth in the past year," says Brian Rushton, Executive Vice-President of CENTURY 21 Canada.
"When the pandemic began in 2020, the market became unchartered territory. But because of low inventory and high demand from buyers looking for a larger space, prices have steadily climbed for the past year, particularly for detached homes outside of urban centres. That shifted as the year went on, with growth in home prices slowing and condo prices starting to increase again. It's still a seller's market from Victoria to St. John's."
READ: It's Not Just Canada: Global Housing Sees Biggest Boom in Decades
However, following an initial dip in demand during the early months of the pandemic, pent-up demand for housing, particularly for detached homes, pushed prices higher due to the lack of supply.
As shown in the data, prices in central major metros have been softer than those in traditionally less expensive markets like Owen Sound.
According to the report, between 2019 and 2020, housing prices in Ontario did see modest growth, though, over the past year, there have been much more significant increases. Most notably, PPSF for detached homes in Owen Sound and Grey Bruce are now up more than 80% — the greatest annual changes in the province — as more people moved to suburban areas.
In Owen Sound, PPSF for a detached home are up 86.77% year-over-year, from $167 in 2020 to $312 in 2021, while in Grey Bruce, PPSF for detached homes trailed slightly behind, up 82.87% year-over-year from $195 last year to $357 this year.
According to the Realtors Association of Grey Bruce Owen Sound (RAGBOS), the benchmark price for a single-family home in the region was $521,500, a substantial gain of 40.9% on a year-over-year basis in July.
What's more, suburban cities have also seen double-digit increases in prices, with the highest recorded in communities that are just a little outside a regular commute, with the PPSF for a detached home in Windsor up 40.48% year-over-year to $295. In contrast, London saw its PPSF increase 44.80% during the same period.
In comparison, prices for condos in downtown Toronto (-7.45%) and Ottawa (-16.98%) were down for the first six months of the year but are now coming back strong. Century 2021 Canda noted that while the new year started with lower prices seen in the early days of the pandemic, prices have since increased as the year went on.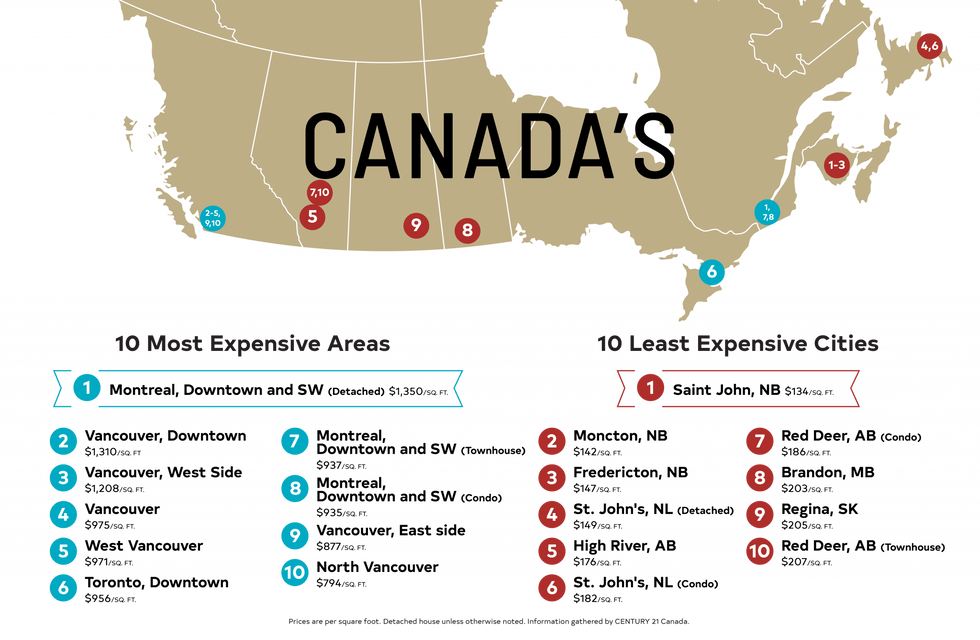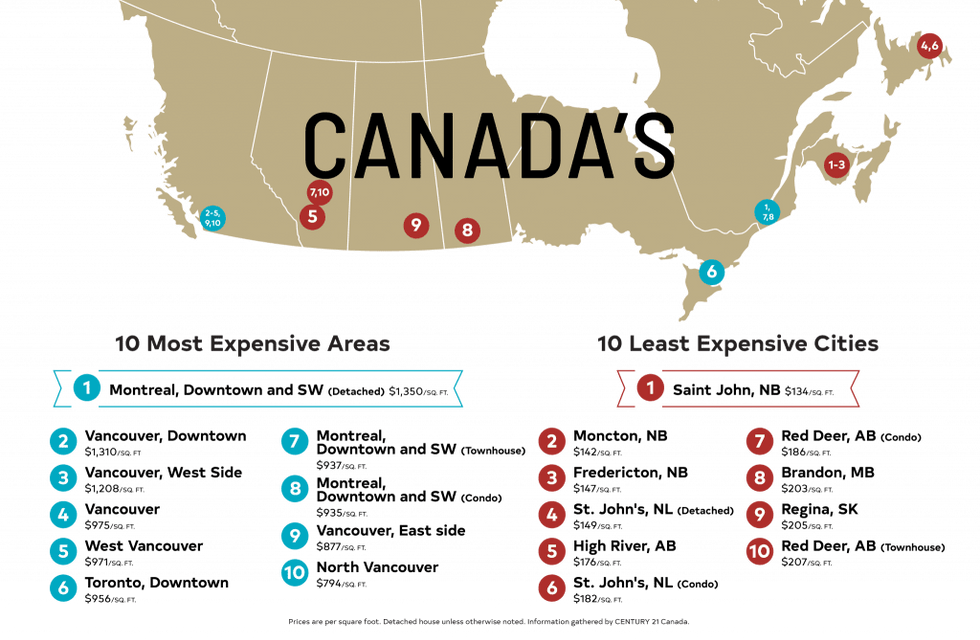 "This is the fifth consecutive year we have done this survey and while previous years showed that real estate is a local story, we have seen widespread increases across the country this year," said Rushton. "Real estate is security— both emotional and physical — and after the pandemic, people continue to want to invest in the places they want to spend the most time."
While this summer has surely been slower for real estate (especially compared to last summer), with home prices moderating over the past couple of months, all signs are pointing to another busy fall as inventory across the country continues to be low with plenty of buyers waiting to make a move as soon as they can.