Ontario residents will soon have pricier electric bills, as fixed pricing is coming to an end.
The Ontario Energy Board (OEB) announced Tuesday new electricity prices for households and small businesses, which will become effective November 1, under the Regulated Price Plan (RPP).
---
The province's electricity regulator has released new time-of-use pricing and says the rate for the average residential customer using 700 kWh per month will increase by about $2.24 or 1.97%.
This percentage is reached after accounting for the bill relief provided by the Ontario Electricity Rebate (OER) — a total (pre-tax) bill credit that appears at the bottom of electricity bills. The Ontario government has increased that rebate from 31.8% to 33.2% effective November 1.
READ: Major Real Estate Associations Call for Suspension of Open Houses
As of the beginning of November, customers will be able to choose between time-of-use and tiered pricing.
"Time-of-use electricity rates vary by time of day and are comprised of three different rate periods of off-peak, mid-peak and on-peak pricing. Tiered electricity rates provide customers with a set rate for electricity up to a certain level of consumption," the OEB said in a release.
Rates for time-of-use plans will be 21.7 cents/kWh during peak hours, 15 cents/kWh for mid-peak use and 10.5 cents/kWh for off-peak use.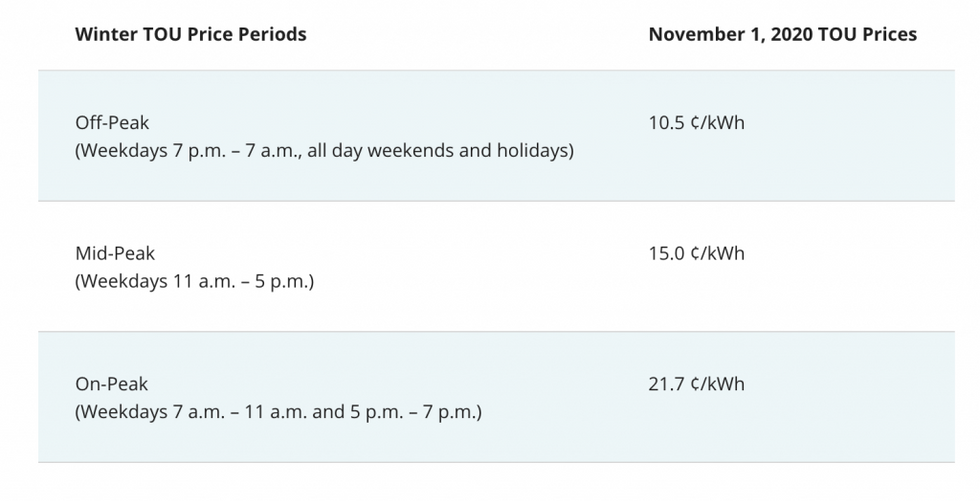 Customers that choose tiered pricing will pay 12.6 cents/kWh for the first 1000 kWh each month and then 14.6 cents/kWh for any power they use beyond that.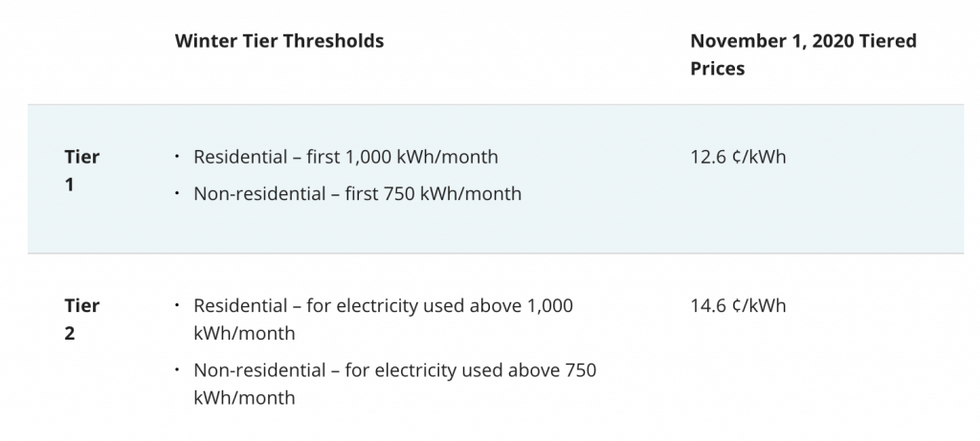 The energy board says the increase in pricing reflects "a combination of factors, including those associated with the COVID-19 pandemic, that have affected demand, supply costs, and prices in the summer and fall of 2020."
Toronto