Nothing stirs up emotion in Toronto residents quite like the city's infamous bike lanes. 
---
In recent years, Toronto has seen the addition of bike lanes on 10 major city streets and has the wheels in motion to build more. In June, the City of Toronto approved a handful of new bike lanes that will span 8.6 km, including a stretch of Bloor Street West between Runnymede Road and Kipling Avenue. It will also bring new cycling connections to Bartlett-Havelock-Gladstone and Cabbagetown, as well as to the complete street along Sheppard Avenue East, and on Superior Avenue. 
From 2018 to 2022, more than 96 km of new bikeways have been installed, according to the City of Toronto. Last year, 18 km of new bikeways were installed and 21 km were upgraded. Today, 17 km are under construction across the city -- and this is either a cause for celebration or concern, depending on who you ask. The great bike lane debate centres around whether they help or hurt congestion in an increasingly dense city.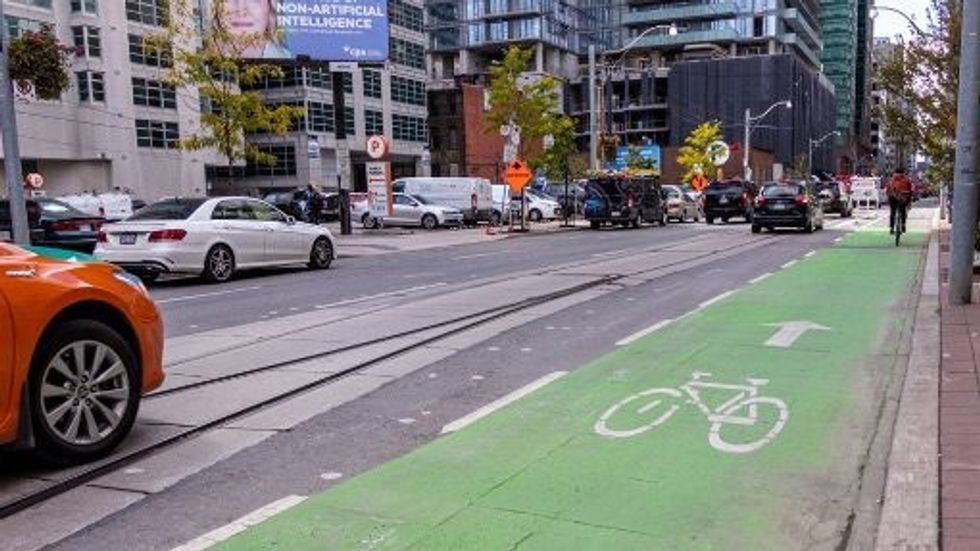 Pro-bike lane advocates point to the success of the ActiveTO Midtown Complete Street Pilot, which added protected bike lanes to Yonge Street between Bloor Street and Davisville Avenue in April 2021, reducing four car lanes to two in the process. Statistics released by the City showed that cycling increased by 193% between May 2021 and June 2022 at the intersection of Yonge Street and Rowanwood Avenue. Pedestrian activity also shot up. Yet, there wasn't a dramatic increase in car congestion. According to the research, it takes 1.5 minutes longer to drive northbound during the midday hour than it did before the project was implemented, and there has been less than a one-minute change in car travel times all other times of the day. The project has since been made permanent. 
Another study released earlier this year revealed that Bike Share Toronto usage was soaring, even as parking levels remained below pandemic levels. In fact, Ride Share Toronto reported a record-breaking 4.6M trips in 2022. What's more, the company sold more memberships than ever before. 
Meanwhile, an advocacy group called Keep Toronto Moving -- which has a loud and clear agenda to dial back the city's bike lanes on its major roads to reduce congestion and improve access -- says that the total percentage of cyclists who commute has not changed in 10 years, remaining at roughly 2%. This is despite $76.9M in infrastructure spending between 2019 and 2022. Pointing to 2021 Statistics Canada census data that shows that the percentage share of commuters who bike is lower than five years earlier, the organization is calling for a moratorium on the total projected $238M bike lane infrastructure spending budget. 
Naturally, the fate of Toronto's bike lanes was a hot topic during the city's recent race for mayor. Two of the top runners, former Toronto Sun columnist Anthony Furey and former police chief Mark Saunders, both promised to remove some of the city's cycling infrastructure. In the weeks leading up to the big election, Saunders said that he would do away with the existing bike lane on University Avenue and quash plans for the creation of additional ones on city streets. Meanwhile, Furey had promised that there would be "no more bike lanes on major city roads," potentially including Yonge Street, if he was elected. Like Saunders, Furey said that the city's Hospital Row on University should be free of bike lanes to better accommodate emergency vehicles. 
An avid cyclist herself, Toronto's newly elected mayor, Olivia Chow, is a champion for bike lanes, promising to build 200 km of bike lanes in four years. "When we talk about safety, why don't some candidates talk about cyclist safety?" wrote Chow on Twitter in the weeks leading up to the election. "When we remove bike lanes, roads get worse. There are deadly consequences to removing cycling infrastructure. I support Vision Zero."
The Vision Zero Road Safety Plan is an action plan focused on reducing traffic-related fatalities and injuries on Toronto's streets. 
Naturally, many passionate cycling advocates are happy with Chow's win. This includes Toronto urban planner and the city's former Chief City Planner, Jennifer Keesmaat. Keesmaat took to Twitter to celebrate Chow's win and its impact on the future of Toronto's cycling culture. She hopes we will see improvements in Toronto's cycling infrastructure. 
"We've been laggard in building cycling infrastructure, even though we already have a very robust cycling constituency and culture in Toronto," says Keesmaat. "The infrastructure has been lagging behind the interest in cycling as a form of transportation. So, there's an opportunity to bring those two things into better alignment, which in turn will create a safer city for cyclists, improve mobility, and make cycling more of a choice for more people."
Keesmaat says that many would-be cyclists simply won't chose the option in the absence of safe cycling conditions. "In many parts of the city, the conditions just aren't safe," she says. It's that simple. 
"Cycling is another choice in the suite of mobility options in a very urban environment – there's also walking, transit, or ride share," says Keesmaat. "That's why Bike Share is so important to our city. The problem is that if you don't have the option, people can't choose it. So, you have this incredible chicken and egg problem. You can say, 'Well, people aren't cycling,' but, of course they're not cycling because it's not a safe and viable option. The truth is – particularly in the downtown core – there are a significant amount of cyclists, but we need to make 100% of the trip safe."
When it comes to cyclist safety in Toronto, David Shellnut (AKA "The Biking Lawyer") is a champion for the cause. The Toronto-based lawyer represents cyclists and passionately advocates for the city's cycling set. 
"We are honoured to have a 365-day-a-year cyclist in the mayor's office, not to mention her compassionate and progressive views on other areas of city life that intersect with people who ride bikes," says Shellnut. "We know Mayor Chow will have to make compromises and face tough, often ungrounded, opposition. We encourage her to be bold and lead us all towards a safer, greener, and more inclusive Toronto."
In theory, bike lanes give people more options to move around the city and help combat car congestion, making sense in a rapidly densifying and forward-thinking city. Not to mention, they are an environmentally-friendly option. Toronto-based urban planner Naama Blonder is a vocal advocate of a largely car-free future for Toronto that prioritizes pedestrians, transit, and cyclists. She lives downtown in a condo with her young family and doesn't own a car. 
"As the average cyclist, I found out that it's faster — incredibly faster — cheaper, and better for the environment, and that's why I cycle whenever I can," says Blonder. As an average cyclist, however, she says she doesn't feel safe riding on streets without dedicated bike lanes. "On many of the streets where a lane doesn't exist and I don't feel safe, I get on the sidewalk," she says. "I have a term for it: 'balking,' where I walk with my bike on the sidewalk, because I have two young children at home and don't want to get killed. So, I am 'balking' where I should be easily biking."
According to Blonder, it isn't the cyclists who are contributing to Toronto's relentless traffic, as voices like those behind Keep Toronto Moving suggest. "Bike lanes actively mitigate traffic in downtown Toronto by providing an alternative way to move around," says Blonder. "The real issue is the automobile infrastructure throughout the city and the absence of a solid and well-connected cycling network."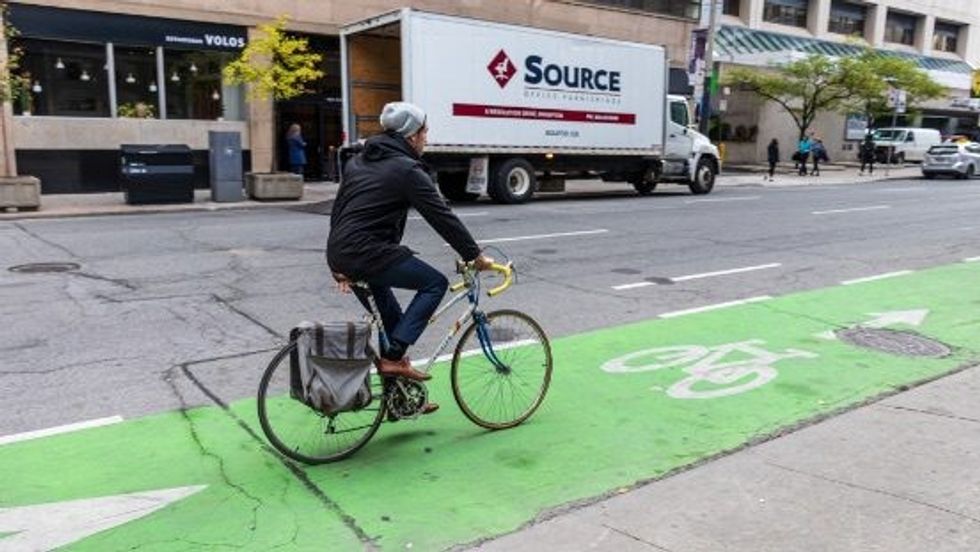 In a city that's currently moving in the direction of Manhattan when it comes to its relationship with the car (or lack thereof) -- something that's reflected in everything from a dramatically shrinking number of parking spots in towering new residential developments, to the widespread investment in transit in the Greater Toronto Area -- they certainly sound nice in theory. After all, the world's most progressive cities boast strong cycling networks.
But not everyone is on board with the idea of a car-free city core, with critics calling it unrealistic for many Toronto residents (think: having your kids' hockey practice, soccer game, and ballet recital all in one day) and harmful for both people and businesses. 
"The idea of a 'car-free city core' does little to improve the life of suburban Toronto residents, and will lead to a more divided city," said Toronto City Councillor Stephen Holyday (Etobicoke Centre). "Downtown will become farther away, and it will impact businesses, schools, services, and entertainment, and separate families and friends." Holyday is also a vocal opponent of the newly approved Bloor Street bike lanes in his ward. 
Keep Toronto Moving says that Toronto's bike lanes are hurting small businesses, who are still trying to dig themselves out of the ramifications of the pandemic lockdowns. This spring, the organization teamed up with Oracle Research to survey 204 small business owners and found that less than 10% of businesses on dedicated bike lanes say there's been a positive impact on their establishments. At the same time, it should be noted, a City of Toronto study reported a positive economic impact to the businesses along Bloor Street after the bike lane installation.
Economics aside, there's also the issue of access. In June, senior and disabled Toronto residents held a protest against the city's bike lanes. They believe bike lanes on arterial roadways like Yonge Street have increased congestion and made their access to businesses more difficult and unsafe.
With that said, Keep Toronto Moving supports building safe bike lanes on less congested and safer streets. "Our streets need to accommodate all road users, including cyclists and drivers. Poorly thought-out bike lanes help no one," said Trevor Townsend, founder of Keep Toronto Moving.
When it comes to the hot topic of Toronto's bike lanes, one thing that everyone can agree on is that the current cycling situation isn't ideal. 
"On the one hand, the City is adding much needed pieces to our cycling grid and more people are riding bikes," says Shellnut. "On the other, we've seen ActiveTO on Lake Shore West cancelled, half measures at High Park, and an utter fiasco with the bike lane change on Adelaide. We also see terrible driver behaviour and anti-cyclist rhetoric proliferating across our city."
Shellnut is vocal in calling out the challenges to Toronto's current cycling infrastructure. "The general public has been met with staggering traffic, non-stop construction, and infrastructure changes without a ton of consistent messaging and support in navigating new bike lanes," says Shellnut. "The success of cycling in Toronto hinges in large measure on bringing the entire City on board with the statistically proven benefits to business, traffic flow, and safety that comes with bike lanes and safe infrastructure."
Keesmaat highlights that the challenge for Toronto's cycling culture is a lack of a cohesive network. "There are some things you can't do incrementally in this city, and building out cycling infrastructure is one of them," says Keesmaat. "You need to build out cycling infrastructure comprehensively, extensively, and quickly in order for it to truly be a transportation choice -- a layer in the suite of options people have."
The problem is that Toronto's bike lanes have been built incrementally. "It will be more of an option when we have the infrastructure," says Keesmaat. "We've seen in the city, that if you build safe infrastructure, people will use that choice. But we haven't done it in an ambitious enough way. The good news is that Olivia Chow is not only a cyclist -- she's been a cyclist for the vast majority of her adult life -- she also makes the connection between safe cycling infrastructure and equity and environmental sustainability. She has a very strong climate action mandate in her platform, and linking transportation choice to that mandate is critical."
Holyday, however, cautions about politicizing the bike lane issue. "When a bike lane proposal appears to be ideologically or politically driven, it can erode public confidence and raise questions about prioritizing scarce resources," says Holyday. "It is important to challenge proposals that cause congestion by removing travel lanes, or ones that are placed where there is little or no cycling demand. There is very strong demand for multi-use trail improvements, which is often overlooked in favour of questionable on-street proposals."
Reducing city congestion should be the top priority, he says. "Combating congestion is essential to support businesses and the quality of life of citizens," says Holyday. "It drives increased cost to goods, services, and housing, and it affects personal choices, freedom of movement and can leave people excluded. I hope that the Mayor-elect will keep focus on the needs of businesses and the public across the City rather than special interest groups pushing an agenda."
Toronto