Urban Living
Mayor Tory Says ActiveTO is Causing Too Many Traffic Woes
Well, it was a nice idea in theory (and in the thick of the pandemic).
But now, Toronto Mayor John Tory says the city could re-evaluate its ActiveTO program due to traffic concerns, as CP24 reports.

Launched once the warmer weather hit Toronto in 2020 (when much of the city remained under strict COVID-19 restrictions), ActiveTO closes major roadways like Lakeshore Boulevard on weekends so they may be used by cyclists, pedestrians, and runners.

At a time of gym restrictions, capacity limits on patios, and zero large scale city events, the program was designed to encourage Torontonians to leave their homes and be (safely) active in the fresh air. It came at a time when Toronto's automobile traffic — and subsequent pre-pandemic congestion issues — had dropped significantly.
But, as life returns to normal on the pandemic front, Toronto's maddening traffic is back in all of its bumper-to-bumper and swearword-provoking glory. And, sadly, ActiveTO is only compounding the problem for city drivers.
Things like weekend concerts, festivals, and baseball games already put an incredible amount of pressure on Toronto's roadways in the summer months (especially if more than one is happening at the same time).
So, we have an issue — particularly when it comes to the infamously congested Lakeshore Boulevard on the weekends.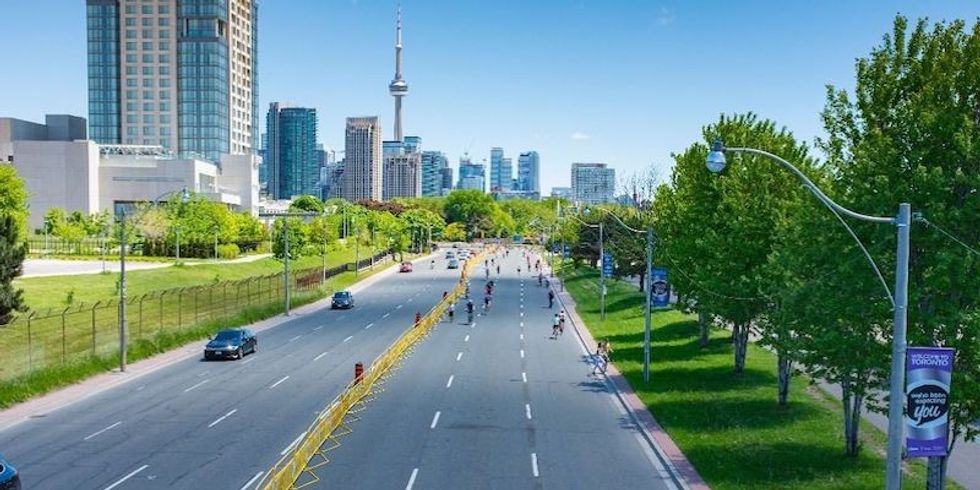 "I have the traffic data, there's no question that it had a bigger adverse impact on traffic during that time," Tory told CP24 of ActiveTO closures. "All I can say is we are very carefully examining all of those results, data, and actual real evidence as opposed to stories. We will be coming out with something that takes into account all of those considerations."

While there are no shortage of anecdotal stories of traffic-related headaches as a result of ActiveTO, there's indeed also hard evidence of its inconvenience to drivers. Data collected by the City of Toronto in 2021 — before the city really opened back up a la summer 2019, nonetheless — suggested that travel times on the Gardiner Expressway and the Queensway double or even triple on ActiveTO days compared to days with no ActiveTO closures or provincial lockdown measures in place. 

According to Tory, the program won't be eliminated completely — he has celebrated the program for its incentive to get people outdoors — but will instead be amended to reflect a better balance between relief for drivers and allowing residents to enjoy the car-free use of city streets. 

A previously requested staff report will likely guide any upcoming changes to the program. 
"We have to have a balance in the program and have a city that can from time-to-time close roads for big events and just for people to have the joy of being outside," Tory told CP24. "But we also have to be mindful that people have to get around, business has to carry on, neighbourhoods have to be kept safe and people should be able to come and go from their own houses."

The reevaluation of ActiveTO comes just a couple of months after Toronto City Council gave the green light to a massive expansion of Toronto's cycling routes — something that's not without its own critics. As the wheels are in motion to find a better way to deliver ActiveTO, the great car versus cyclist debate continues in this city — especially at a time of collective reevaluation as to how we want our post-pandemic city to function into the future.

If sky-high gas prices persist, however, we'll likely see more bikes on city roadways — whether drivers like it or not.