---
The wheels are officially in motion to expand Toronto's cycling network. 
Yesterday, Toronto City Council approved the Cycling Network Plan: 2022 Cycling Infrastructure Installation -- First Quarter and 2021 ActiveTO Cycling Network Expansion Project Updates report. 
The move will add 10 kilometres of new bikeways, improvements on five kilometres of existing bikeways, and extend two temporary ActiveTO Cycling Network Expansion projects. According to the City, the expansion will improve safety and mobility options by providing revamped cycling connections to transit, parks, local schools, businesses, and residences. 
"To be truly committed to the future of cycling in our city, we must continue to connect, grow, and renew Toronto's cycling infrastructure. As Toronto grows, it's imperative that we offer options to get around in the city that we live, play and work in," says Councillor Jennifer McKelvie (Scarborough-Rouge Park), Chair of the Infrastructure and Environment Committee. 
The projects are planned for installation from 2022 to 2024 and include Bartlett-Havelock-Gladstone cycling connections, College Street upgrades, Douro-Wellington cycling connections, Knox Avenue cycling connections, Sentinel Road safety improvements, Steeles Avenue East complete street, and Sheppard Avenue-Willowdale Avenue road resurfacing opportunities.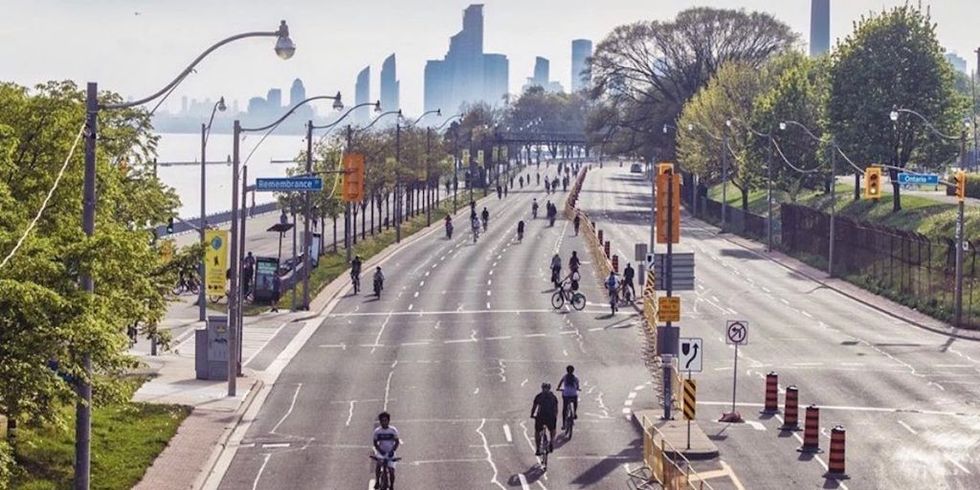 @ontariocyclingnews/Instagram
Furthermore, City Council approved extending the pilot periods for two temporary ActiveTO Cycling Network Expansion projects on Midtown Yonge Street and Bayview Avenue East for the rest of the year. At that point, transportation services will report to the Infrastructure and Environment Committee and City Council on additional data, evaluation, and recommendations on the future of the two temporary projects.
"The ActiveTO Midtown Complete Street pilot on Yonge Street implemented cafés, cycle tracks and other streetscape elements in July 2021. The expanded CaféTO program provided urgent support to local restaurants, while the ActiveTO bikeways provided a new safe connection that mirrored the Line 1 (Yonge-University) subway line," reads a City-issued press release. 
According to the City, community consultation has taken place both before and during the pilot with local businesses, four Business Improvements Areas, several neighbourhood associations, and area residents. Further feedback will be gathered before making a recommendation on whether the pilot should be made permanent next year, says the City. 
Meanwhile, the ActiveTO pilot on Bayview Avenue East was implemented between Front Street East and River Street to provide a safe and direct detour to the Lower Don Trail closures. Construction of the Lower Don Trail project is expected to start this year. "Extending the pilot period would allow staff to monitor the trail construction project and report back with recommendations based on findings," reads the press release. 
The 2022 cycling infrastructure installation comes after unprecedented expansion of bikeways over the past three years in Toronto. From 2019 to 2021, including ActiveTO routes, 65 kilometres of new bikeways have been installed, as well as 47 kilometres of upgrades and enhancements to existing bike routes.
It also comes at a time of sky-high gas prices, when opting for the bike over the car may be more attractive than ever.
Toronto