---
Well, the maddening traffic has returned to Toronto streets -- and it's only going to get worse. 
With the easy, breezy days of summer now behind us and lockdown a distant memory (for now), the city is experiencing a noticeable increase in cars on the roads. 
As a result, the City of Toronto has unveiled a traffic congestion plan designed to "safely and proactively" tackle the issue this fall. 
A data inspection by City officials revealed that Toronto traffic is now back to about 75% of its pre-pandemic level, with that level only expected to increase as city residents continue to return to work and school. This comes after daily car traffic in the city dipped as low as 45% of pre-pandemic volumes. 
Pre-pandemic, Toronto had the second-worst traffic in all of Canada, based on stats from 2019.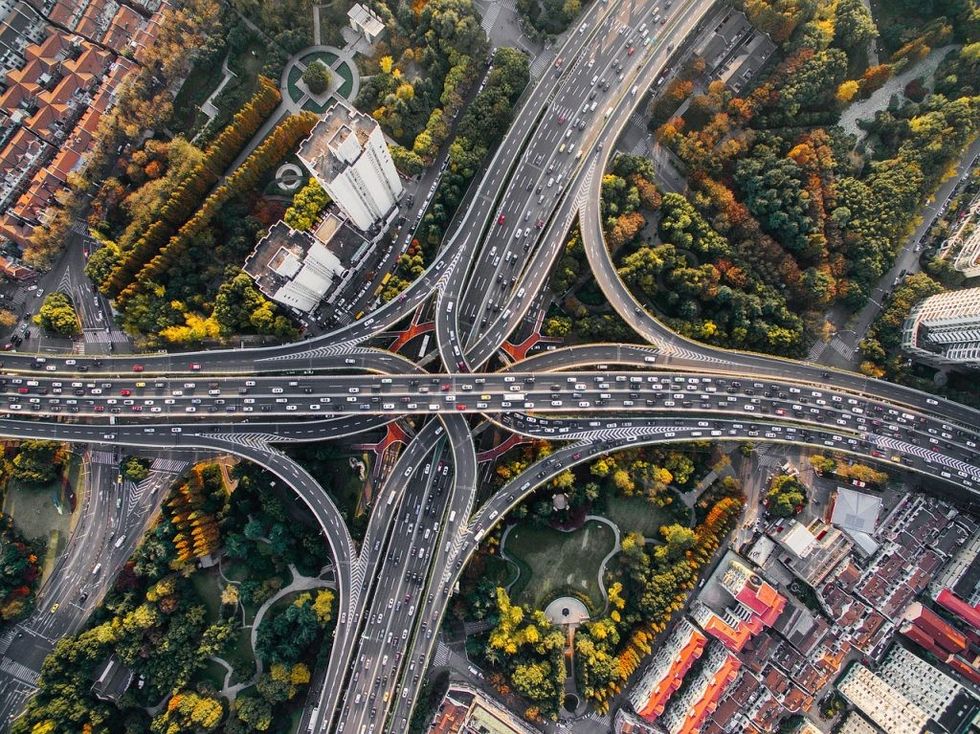 Pedestrians (including the inevitable slow walkers) have also returned to city streets. In the depths of the pandemic and lockdown measures, pedestrian traffic fell to 15% of its pre-pandemic normal, but is now back to 35%, with a further increase expected as we return to "business as usual(ish)." 
Naturally, traffic is returning to school zones, where traffic volumes are at about 80% of the pre-pandemic level compared to 66% earlier in the pandemic. 
"The lives and livelihoods of Toronto residents depend on being able to move around our city each day. I am confident that as Toronto residents return to normal activities any resulting traffic congestion is being managed effectively," said Toronto Mayor John Tory. "We are examining the traffic data and making any operational improvements necessary to ensure people can move quickly, reliably and safely through the city."
So, what's the plan of attack? The City has revealed a list of measures being put in place by the Action Team:
Actively monitoring of traffic cameras around the city, especially at congestion hot spots to provide real-time problem solving.
Increasing the number of RESCU (Road Emergency Services Communications Unit) Operators monitoring and overriding traffic signals to manage congestion related to incidents.
Deploying all City traffic agents to the hottest congestion hot spots, including Lake Shore Boulevard and Gardiner access points, University Avenue, Front Street and Bay Street.
Reducing the number of rush hour construction exemptions issued (more exemptions were granted during the low-traffic periods of the pandemic).
Returning to pre-pandemic policies for construction near school zones to increase safety and ensure local schools are aware of any nearby construction.
Pausing new non-essential utility cut work during the first two weeks of September.
Deploying School Crossing Guards at 765 locations, improving safety as students return to in-class learning.
Activating 'Smart Signals' at 17 intersections to independently adjust to real-time traffic conditions and synchronize with other smart signals to alleviate congestion.
Accelerating and completing maintenance and connection of more than 900 pieces of technology that detect vehicles and provide valuable congestion insight.
Based on data, the Action Team has zeroed in on some downtown routes that will be actively monitored using as many proactive measures as possible to help keep traffic moving. These busy routes include focused measures on Lake Shore Boulevard and Gardiner access points, University Avenue, Front Street, Bay Street, Yonge Street and Avenue Road. Even with additional measures in place, those travelling can expect some delays during peak periods, says the City. 
The City is also working closely with Toronto Police Parking Enforcement to actively patrol for no-stopping and no-parking violations city-wide to reduce congestion. Proactive enforcement of bike lanes is also continuing, and Police have indicated a 190% increase in violations for stopping or parking in a bike lane when compared to pre-pandemic levels.
On the back-to-work front, the City is encouraging businesses to provide flexibility for their employees in how and when they commute to the office. 
The plan on the congestion front comes after the City announced it would amp up its service to accommodate the anticipated increase in ridership. This includes 25% more subway trains on Line 1 and Line 2 at peak traffic times on weekdays. 
Toronto