---
Silver bells, silver bells…it's Christmas time in the city. 
The holiday season is officially in the air in Toronto. This past weekend, the city ushered in the festive season with the arrival of Toronto's official Christmas tree and the announcement of the annual Cavalcade of Lights festivities. 

On Saturday, the 55-ft tree made its grand entrance at Nathan Phillips Square. The naturally grown spruce tree comes from Baldwin, Ontario and took a crew of seven people to install over eight hours. After taking three days to settle, it will be decorated with more than 300,000 energy-efficient lights and 500 ornaments tomorrow. The inevitably stunning tree will remain on display throughout the holiday season and will then be recycled into mulch for tree planting in the spring.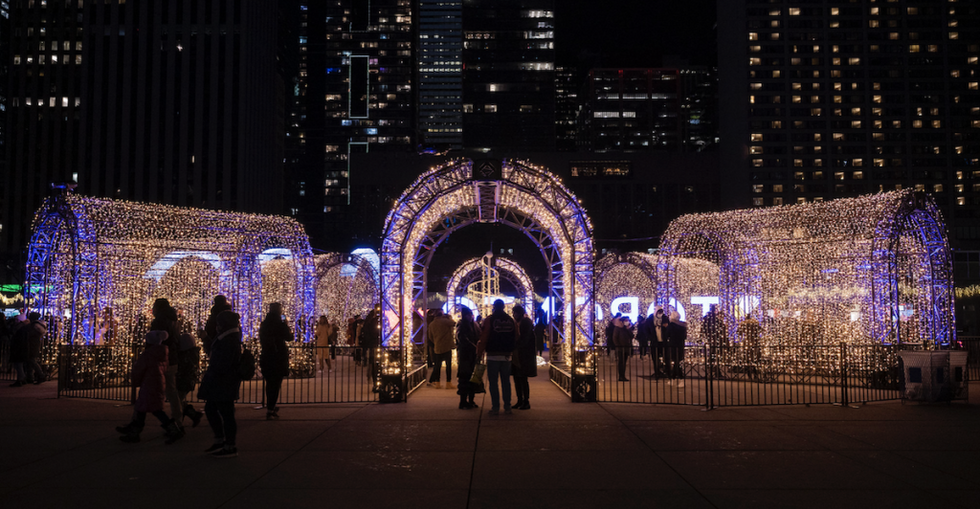 But the grand tree is just the beginning of the festivities. The annual Cavalcade of Lights will kick off on Saturday, November 26 and run until Saturday, January 7. Presented by Desjardins Financial Group, the event transformed the exterior of City Hall into a winter wonderland, with a bustling skating rink front and centre. Special opening day programming begins at 3 p.m. and runs until 11 p.m., with the tree and square lighting ceremony taking place at 8:30 p.m. Guests can expect skating presentations, food vendors, and live performances. 
Programming includes:
•  Ice-skating performances by Toronto's Trinity Synchronized skating team and Olympic gold medalist Canadian figure skater Gabrielle Daleman 
•       Canada's top a cappella talent Countermeasure Holiday Singers
•       Contemporary African dance music with Asiko Afrobeat Ensemble 
•       Traditional Québécois songs mixed with electronic music by Mélisande [Electrotrad]
•       Performances by Indigenous artists: Hoop Dance by Theland Kicknosway and Abenaki and Franco-Ontarian folk music by Mimi O'Bonsawin
•       Lunar Lanterns of Indigenous Lights, in partnership with Lunarfest GTA, connecting Asian traditions and Indigenous cultures  
•       The ECHO -- an interactive installation that will allow participants to explore the power hidden behind their voices produced by Desjardins.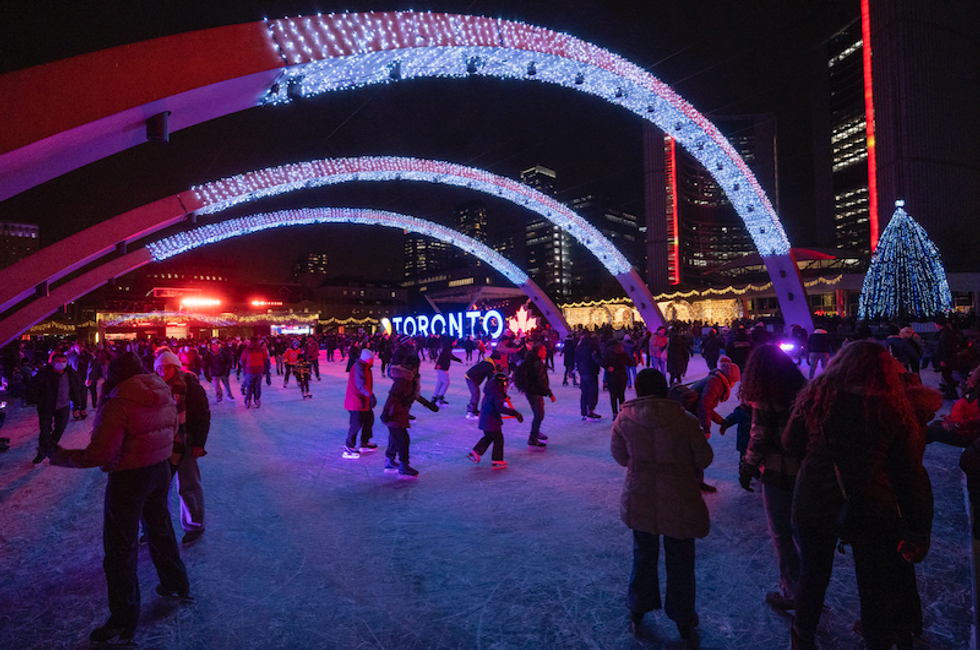 Following opening day, Cavalcade of Lights will run until January 7, showcasing twinkling light displays and festive décor alongside public skating on the Square. This year, the event takes inspiration from light festivals and cultural celebrations around the world and features elements from a variety of holiday traditions associated with light, lantern, and fire for new lighting installations. 
Entertainment