---
July marked the slowest month on record for newly-constructed single-family home sales, though the new condo market continued to perform strongly, according to the Building Industry and Land Development Association (BILD).
A scant total of 97 houses -- which include detached, linked, and semi-detached homes and non-stacked townhouses -- sold during the month. That's an 88% year-over-year decline, and also comes in 88% below the 10-year average. In fact, it's the first time that monthly sales of new single-family homes dropped below 100 since the year 2000, when BILD started tracking the data.
Meanwhile, a total of 1,777 new condo units sold, up 5% annually, and 3% above the 10-year average. BILD attributes the differing sales trends for home types to shrinking inventories as well as rising benchmark prices, which are driving homebuyers to the most affordable entry points to the market.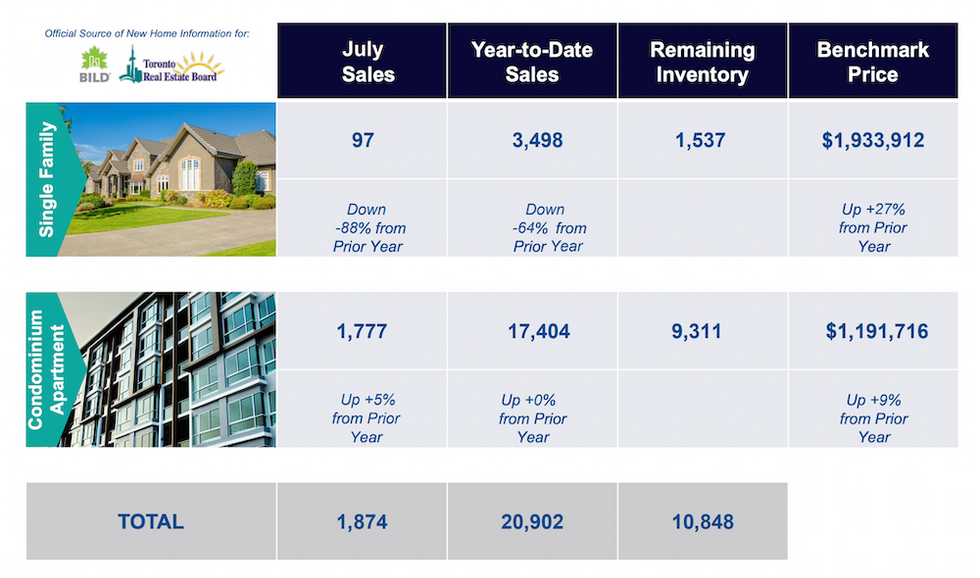 Building Industry and Land Development Association
"New condominium apartment sales posted a robust July, buoyed by buyer resiliency and stable prices," said Edward Jegg, Research Manager at Altus Group, who provides the data for BILD's report. "In contrast, new single-family sales posted a record low in the face of slowing demand and a shortage of inventory."
However, despite slumping sales, house prices are still on the rise, with the benchmark coming in at $1,933,912, a YoY increase of 27.4%. New condo prices rose 9.2%, to a benchmark of $1,191,716.
Very tight supply remains a factor behind price growth; the overall number of new homes for sale continues to shrink on a monthly basis, due to very few new project openings. There were just 10,848 new homes for sale in July -- including 9,311 apartments and 1,537single-family homes -- representing 3.4 and 2.4 months of inventory, respectively. According to BILD, a balanced market would have nine to 12 months of inventory.
READ: Home Prices in Toronto Have Dropped More Than $500,000 in 6 Months
"As BILD has said all along, the long-term demand for new homes is not going anywhere, despite short-term market trends," said Dave Wilkes, BILD President & CEO. 

"We have a monumental challenge ahead of us: to build the 1.5M new homes Ontario needs to address the housing crisis, which is centred on the GTA. To help municipal and provincial governments take steps toward this ambitious target, BILD and OHBA recently released a five-point plan for bringing balance to the housing market. In the lead-up to the municipal election on October 24, all residents of Ontario, especially those in the GTA, need to ask their candidates how they will champion concrete steps to address the housing challenge."

BILD is also working closely with incumbent Toronto mayoral candidate John Tory, who made his own five-point housing plan announcement yesterday, promising a slew of measures should he be re-elected. These include dropping development fees for new builds with less than four residential units, allowing for more missing middle home types to be build in the city's yellowbelt, as well as implementing a "use it or lose it" policy for developers sitting on lots that have been approved for housing development.
Real Estate News