---
The pace of new housing construction picked back up in July, as shovels hit the ground on 264,426 units, an increase from the 257,862 homes kicked off in June.

This trend is a measure of the six-month moving average of monthly seasonal adjusted annual rates (SAAR) of housing starts, which is used by the Canada Mortgage and Housing Corporation in addition to the trend measure to account for "considerable swings" in the monthly estimates and to get a "clearer picture of upcoming new housing supply." Only analyzing the SAAR data can skew results, says the CMHC, as the multi-unit segment -- such as condo construction -- largely drives the market and can vary significantly on a month-to-month basis.
READ: Residential Construction Investment Falls for the First Time in Nine Months
According to CMCH, the standalone monthly SAAR of total housing starts across Canada rose 1.1% from June. Urban starts, however, fell by 0.8% to 254,371 units from the previous month. Of that, multi-unit urban starts fell even further, to 195,987 units, while single-detached urban starts decreased by 2.3% to 58,384 units.
"Monthly SAAR housing starts in Canada's urban areas declined in July, driven by lower single-detached starts," stated Aled Ab Iorwerth, CMHC's Deputy Chief Economist, in a release. "However, Vancouver and Toronto both registered much stronger declines in multi-unit starts than in single-detached starts, while Montreal saw similarly large declines in both unit types."
Despite the MoM downward movement, new construction starts continue to perform strongly; monthly numbers have consistently clocked in above 200,000 since 2020, according to Ab Iorwerth.
READ: Vancouver Presale Projects Still Going Strong Despite Market Slowdown
The rate of new construction differed greatly by province last month. Nova Scotia experienced the largest YoY uptick in new units percentage-wise, with a 38% increase at 7,303. That's followed by Newfoundland and Labrador which, with 860 started units, increased by 17%. Alberta is also experiencing an uptick of 9% with 41,195 units. Of course, volume-wise, Ontario leads the nation in sheer numbers with 92,122 started, though that's flat on an annual basis. In British Columbia, starts have plunged by 14%, with 45,527 units.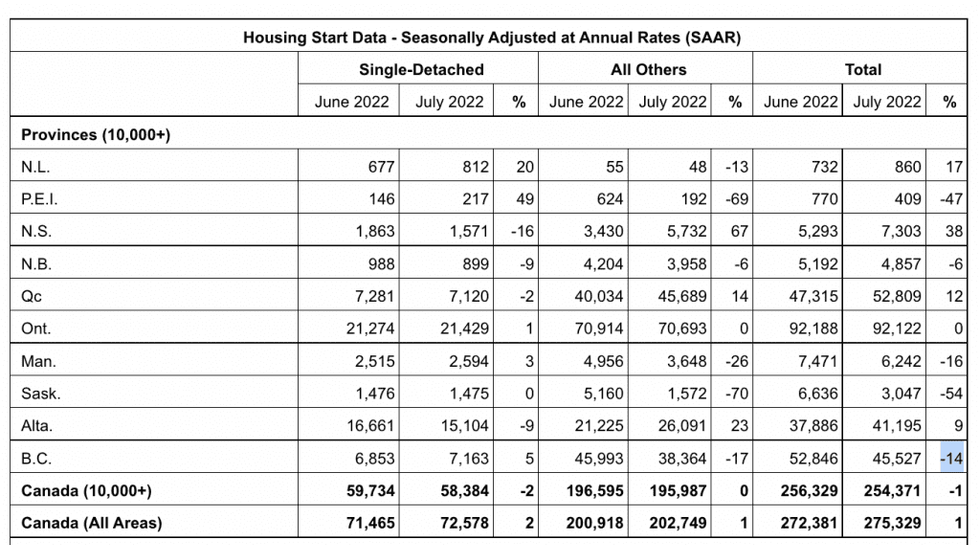 Canada Mortgage and Housing Corporation
Real Estate News