New home prices rose ever so slightly in August, but elevated borrowing costs, hesitant buyers, and cautious builders have weighed on the measure over the last year.
According to Statistics Canada, the New Housing Price Index saw a modest increase in August, edging up 0.1% on a monthly basis.
---
The greatest contributor to the national increase was Calgary, which saw new home prices rise 0.6% from July to August. The jump, spurred by rising construction costs, marked the fourth consecutive monthly price increase for the Calgary Census Metropolitan Area (CMA).
From Q1 to Q2, the cost to construct a new single-detached home in Calgary increased 1.1%, while the cost to build a new townhouse rose 1.3%.
Of the 27 CMAs included in the index, only four others recorded monthly price increases in August, including Vancouver (0.5%) and Sherbrooke (0.4%). Six CMAs experienced declines, while prices were unchanged in the remaining 16.
Saskatoon and Oshawa both reported 0.3% monthly dips, but Ottawa, at 1.3%, experienced the greatest decline across the CMAs. New home prices have now fallen for eight consecutive months in Canada's capital.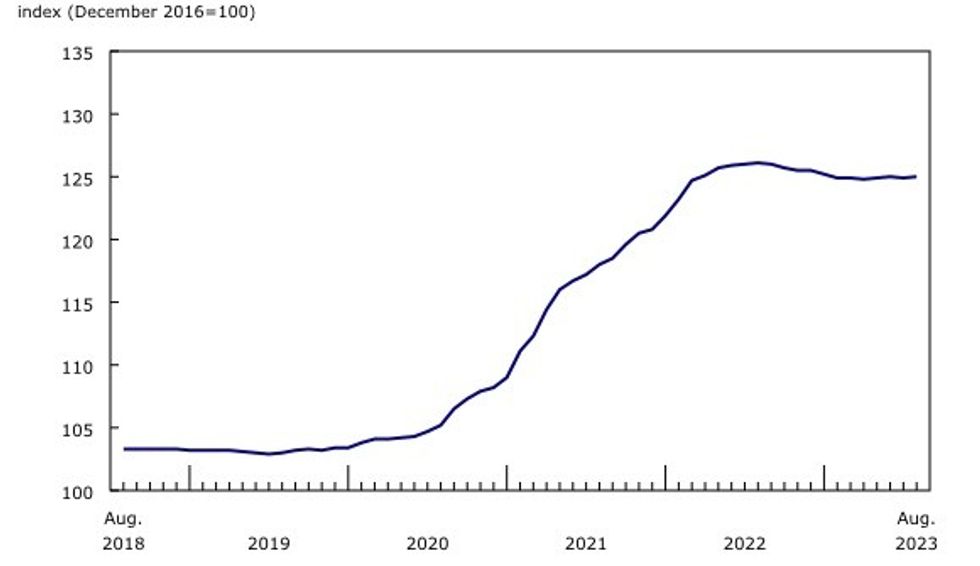 Statistics Canada
On an annual basis, new home prices fell 0.9% nationally in August, largely due to elevated borrowing costs. In August 2022, the Bank of Canada's policy interest rate sat at 2.5%; in August 2023, it had doubled to 5%.
Ottawa again led the decline on a local level, recording a 3.9% annual decrease in new home prices. High mortgage rates have slowed the new housing market in the city, with the Canada Mortgage and Housing Corporation reporting more than a 50% annual increase in unabsorbed single-family home inventory in August.
Meanwhile, the largest annual increases were experienced in Québec, Calgary, and St. John's, with the CMAs seeing new home prices jump 3.5%, 2.0%, and 1.6%, respectively, in August.
Contributing to the national price decline is a lack of confidence on the part of builders in the residential construction sector. An increasing number of builders have reported challenges with converting prospective purchasers into successful sales. In some cases, builders have given discounts in order to secure a sale.
According to the Canadian Home Builders' Association's latest Housing Market Index, confidence in the single-family sector stood at 65.7 out of 100 in Q2 2022, but had dropped to 39.9 as of Q2 2023. In regards to the multi-family sector, the confidence ranking fell from 59.9 to 41.0 over the same time period.
Affordable Housing