Summer might be drawing to a close, but housing starts in Canada continue to heat up.
Based on a recent update by Canada Mortgage and Housing Corporation (CMHC), the construction of new homes was up month-over-month in July, with a total of 204,376 reported across the country.
---
This is up from 199,778 units in June 2020.
What's more, CMHC says this trend measure is a six-month moving average of the monthly seasonally adjusted annual rates (SAAR) of housing starts.
READ: CMHC Forecasting Market Won't Return to Pre-COVID Levels Until 2022
According to CMHC, this increase is a reflection of multi-family starts in some of Canada's major urban areas; this includes in Toronto, Vancouver, and most oil-producing regions in the prairies, which helped boost the national level.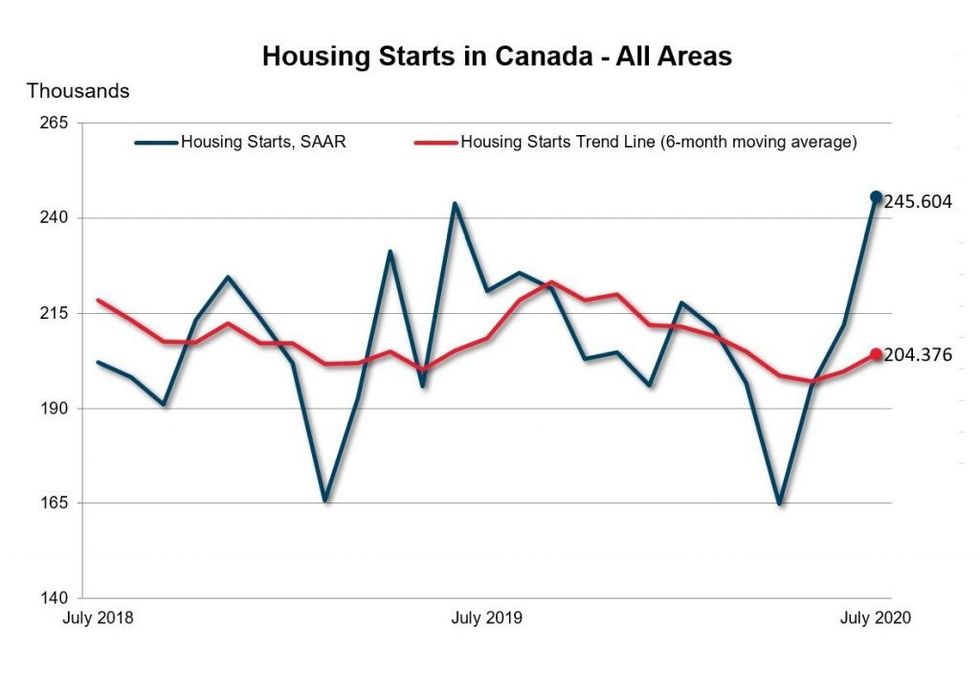 CMHC July 2020
"Following declines in previous months from COVID-19 measures, higher activity in June and July leaves the trend in housing starts in line with the long-run average level of housing starts. We expect national starts to trend lower in the near term as a result of the negative impact of COVID-19 on economic and housing indicators," said Bob Dugan, CMHC's chief economist.
CMHC also released an update on the Seasonally Adjusted Annual Rate (SAAR) of housing starts, which allows you to compare monthly levels to annual levels for different months of the year, while also giving you a sense of the relative strength of monthly activity.
In July, the standalone monthly SAAR of home construction launches for all areas in Canada was 245,604 units -- an increase of 15.8% from 212,095 units in June. What's more, the SAAR of urban starts increased by 17.4% in July to 231,995 units. Multiple urban starts also increased by 18.8% to 184,431 units in July, while single-detached urban starts increased by 12.3% to 47,564 units.
As for Canada's largest city, there were 652 new single-detached housing starts in July, up 43% year-over-year. Last month, there were also 3,469 new starts for all other home-types, an impressive 50% increase from the same time last year.
Real Estate News