---
In the thick of interest rate hikes, homeownership continues to be out of reach for many Canadians, leaving the rental market to absorb the demand. As such, rental rates continued to escalate in October, with the national average rising 2.2% month over month and 11.8% year over year to $1,976 across all property types.
This is according to a new National Rent Report by Rentals.ca and Urbanation, and based on data from RentFaster.ca.
The report also revealed that October's average is 7% higher than the pre-pandemic high in October 2019, and up 9.2% since interest rates began to rise in March. The report notes that the latter figure "compares to a nearly equivalent 9.9% decline in benchmark resale prices between March and October," according to data from the Canadian Real Estate Association.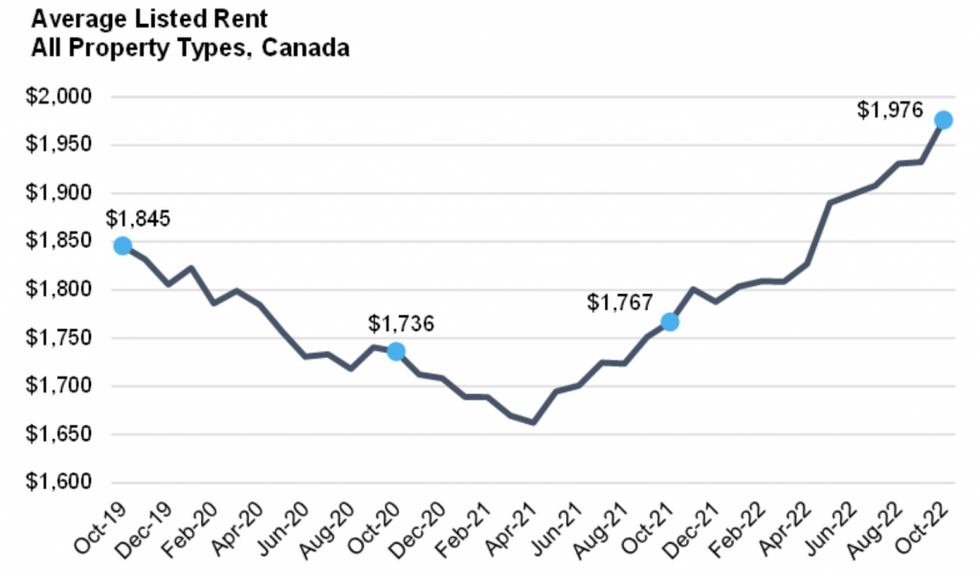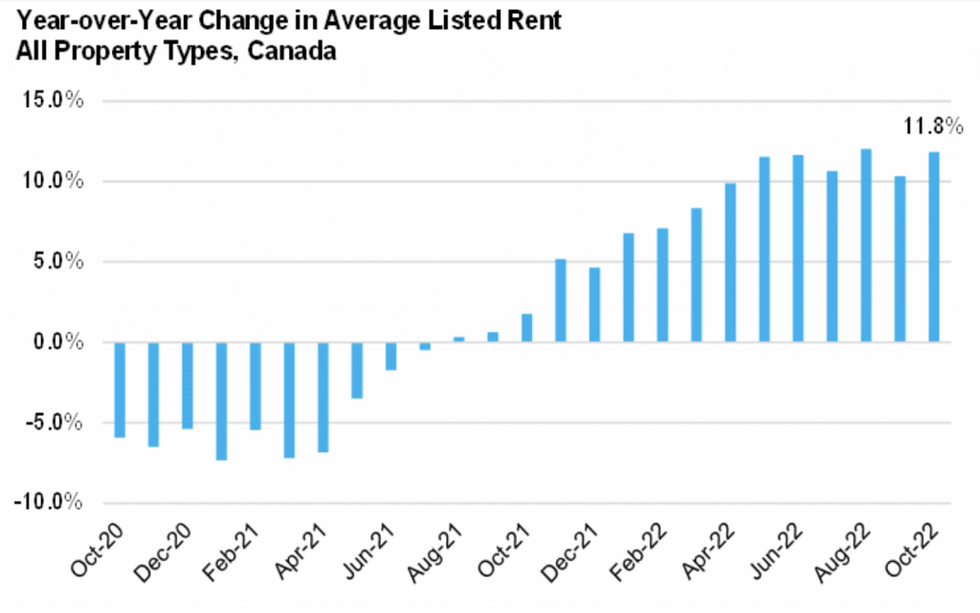 Of all property types, rents for purpose-built rental and condominium apartments saw the most notable growth in October, climbing 10.8% YoY. Of all unit types, two-bedrooms led the pack in price growth, up 10.9% YoY, followed by one-bedrooms, up 9.9%. Studios and three-bedrooms saw "relatively slower rates of annual rent growth," rising 7.0% and 7.5% respectively.
Meanwhile, wages simply aren't keeping up. The latest annual increase for rents more than doubled the annual increase in average hourly wages, which clocked in at 5.6% in October, according to data from Statistics Canada.
Regionally, rents increased most notably in Atlantic Canada -- 32.2% YoY for purpose-built and condominium apartments -- with Ontario lagging behind for rent growth at 17.7%. However, the average rate in Ontario continued to soar above all other provinces at $2,372, second only to the average rate in British Columbia, which was $2,433.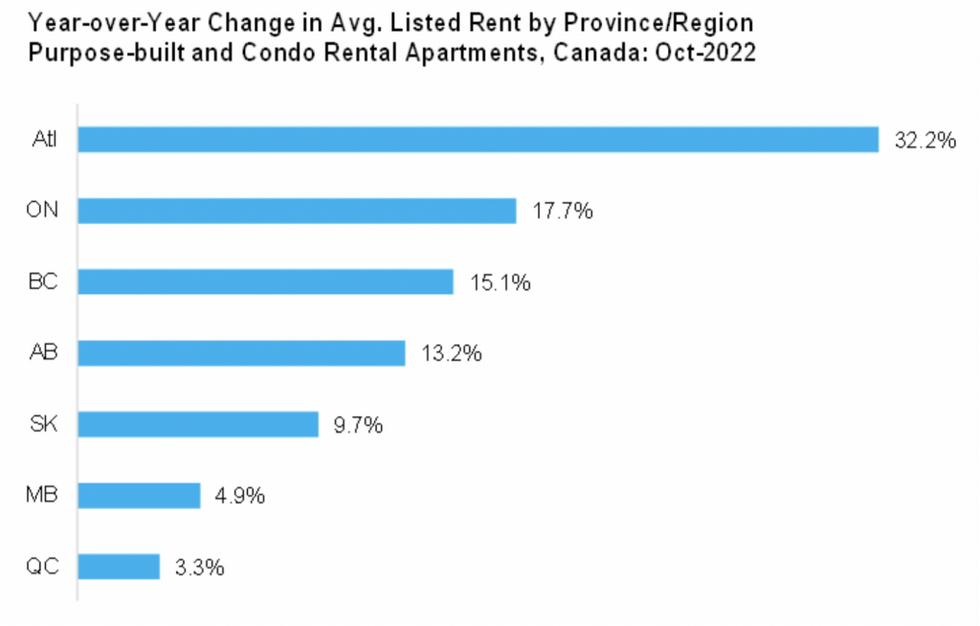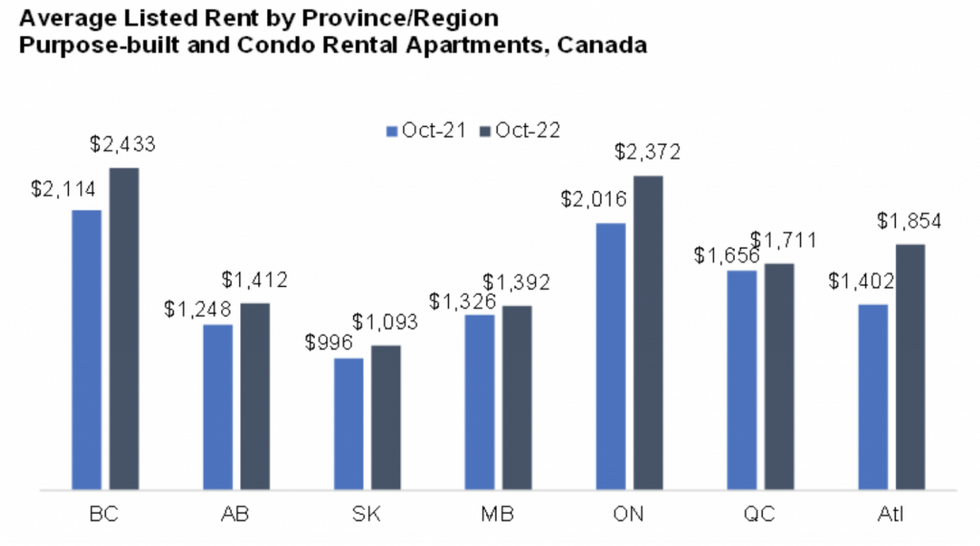 "The fastest growing provinces for rent inflation also experienced the fastest rates of population growth over the past year to Q3-2022," the report explains, adding that the provinces with the slowest rates of rent growth -- Saskatchewan, Manitoba, and Quebec -- recorded below-average population growth.
In keeping with the months-long trend, rents in Vancouver and Toronto continued to top the National Rent Rankings, with the average rents seeing substantial YoY appreciation in both markets. However, Vancouver's average has slipped 3.5% since August, while Toronto's has stayed stagnant since September. Rents in Ottawa surged 7.6% MoM in October, while Montreal, Calgary, and Edmonton all saw nominal monthly increases.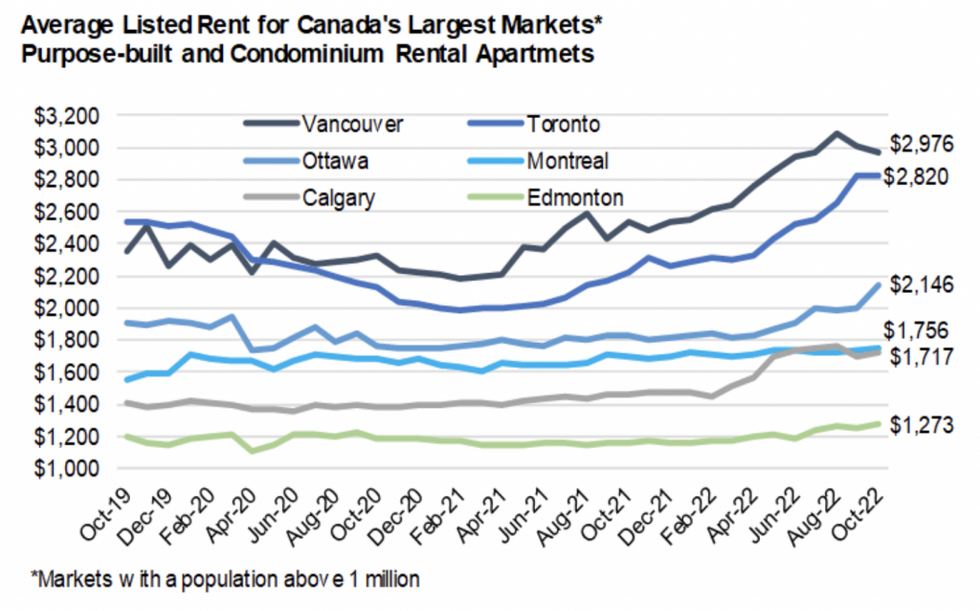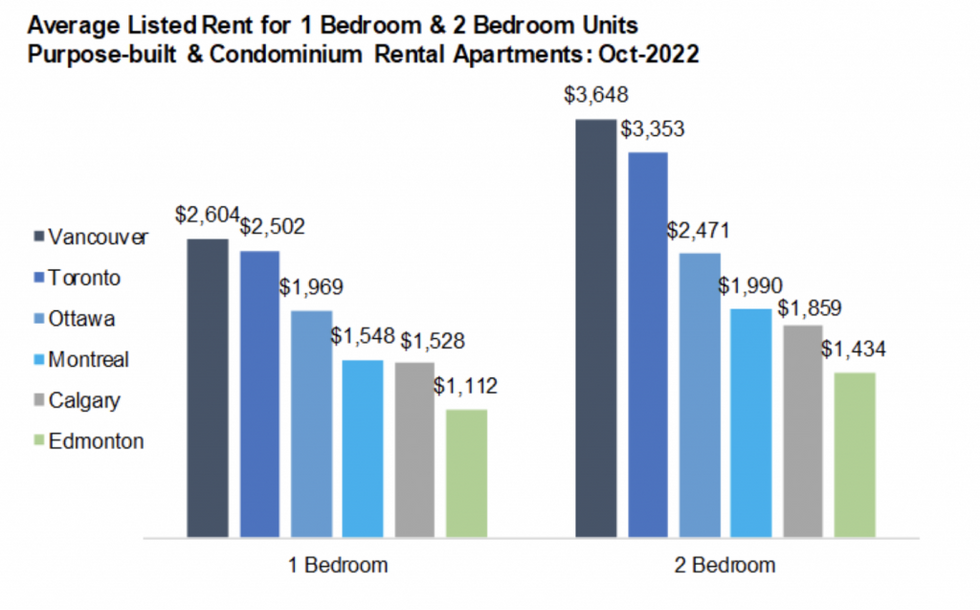 Renting