As cities become increasingly denser, the need for infill developments rises.
---
The purpose of infill developments is to develop vacant or under-used parcels within existing urban areas that are already largely developed. As you can imagine, in large, urban cities, where room to build is increasingly becoming harder to find, builders, are turning their sights upward to take advantage of the limited space by building narrow homes.
Built to be tall and skinny, these narrow homes serve as a popular housing alternative in areas where land is limited.
Of course, some are also opting to build narrow homes for aesthetic reasons (you'll see what we mean below) or to take advantage of the surrounding views.
READ: Toronto 'Skinny Home' Finally Sells for $1.75M
Whether you're dealing with a tight site or looking for some future home inspo, we hope to entice you to consider building up rather than out with our curated selection of narrow homes across Canada.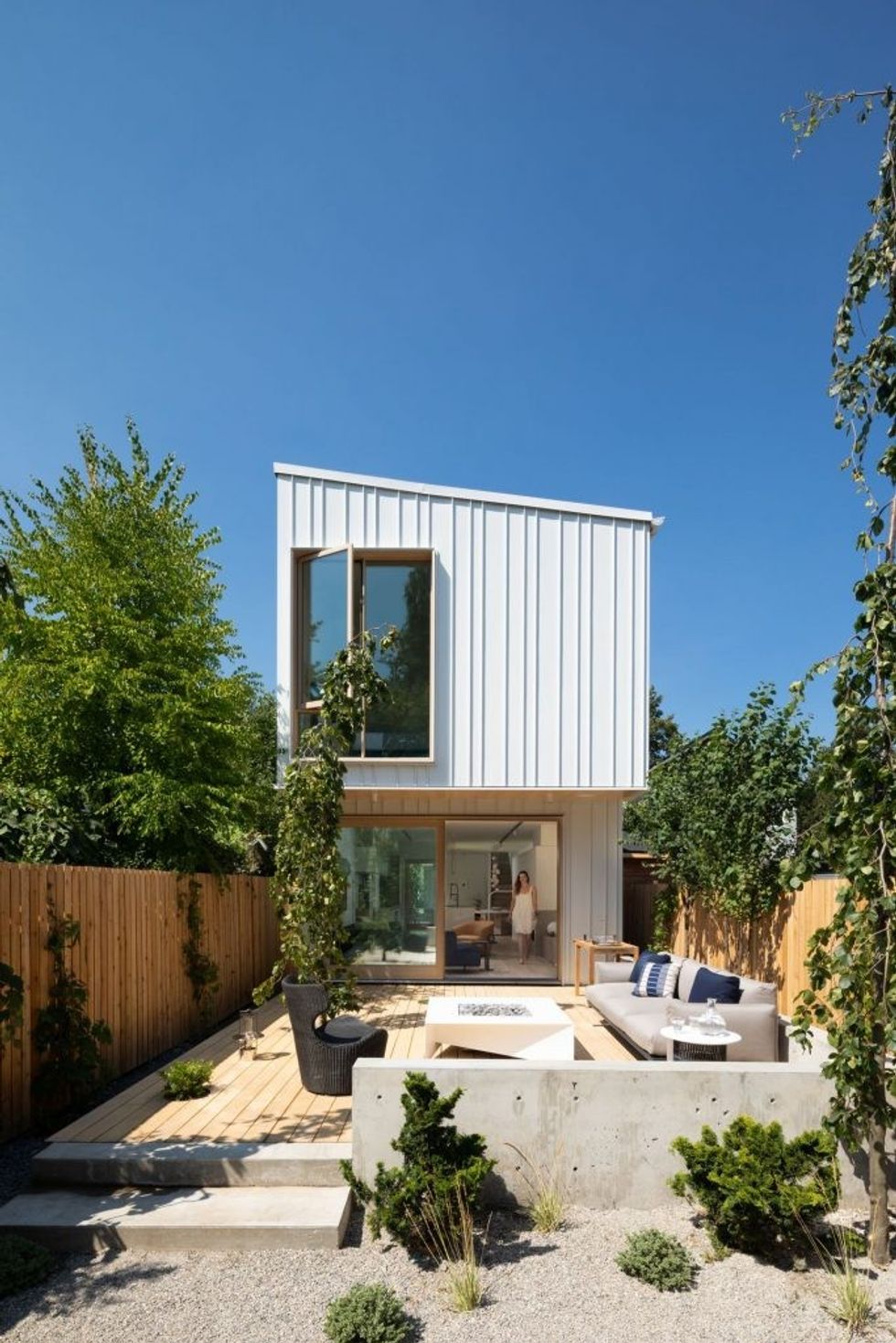 The Rockel Group
Located just three blocks from Vancouver's buzzing Main Street, the 2-storey St George house features a high-end modern design and serves as a personal oasis on a lot that spans 20' × 197'-feet. The thin home has 11 skylights, three bedrooms, three bathrooms, a study and library, plus plenty of thoughtfully built-in storage. While there's no denying the home is narrow, it's also very long and boasts over 2,000-sq.ft of living space, while large windows flood the home with natural light, making it feel even larger.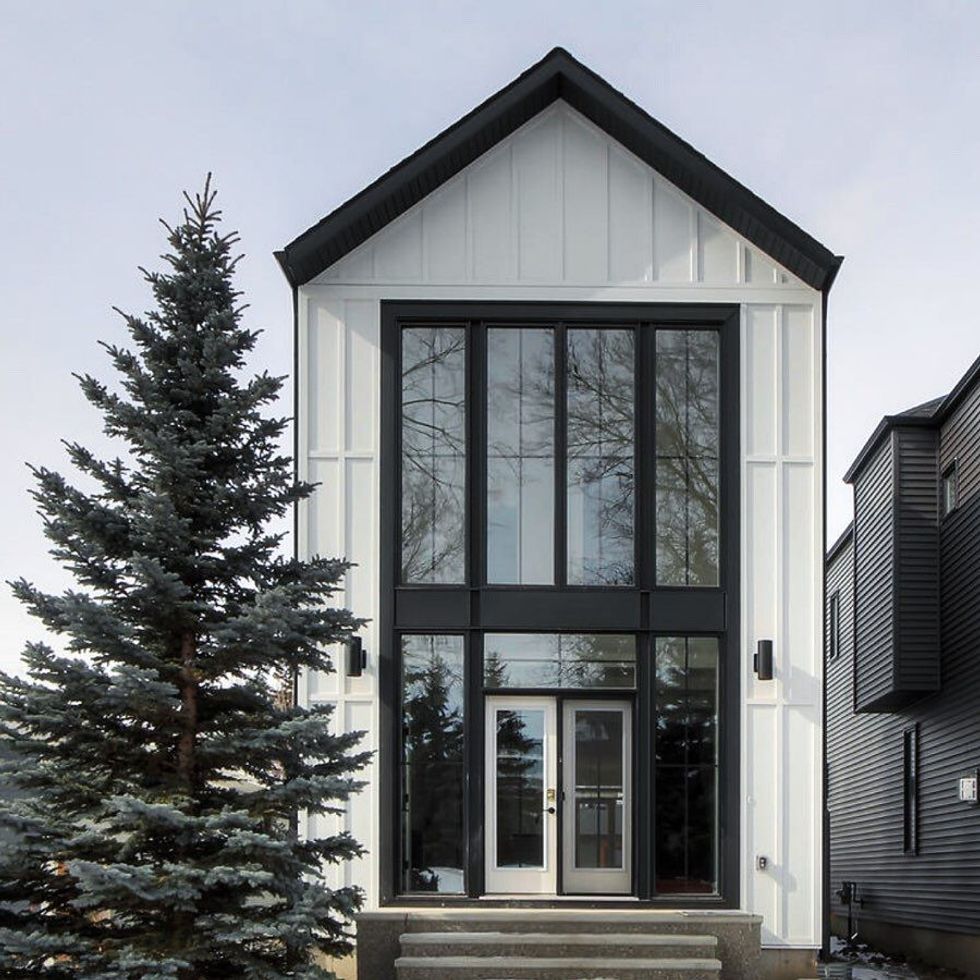 Accent Infills
Designed to be a skinny home, this humble abode from Accent Infills features 1,900-sq.ft of pristine living space spread across two floors. Boasting a contemporary farmhouse design, the home features an open space with floor-to-ceiling windows that allows for more natural daylight throughout.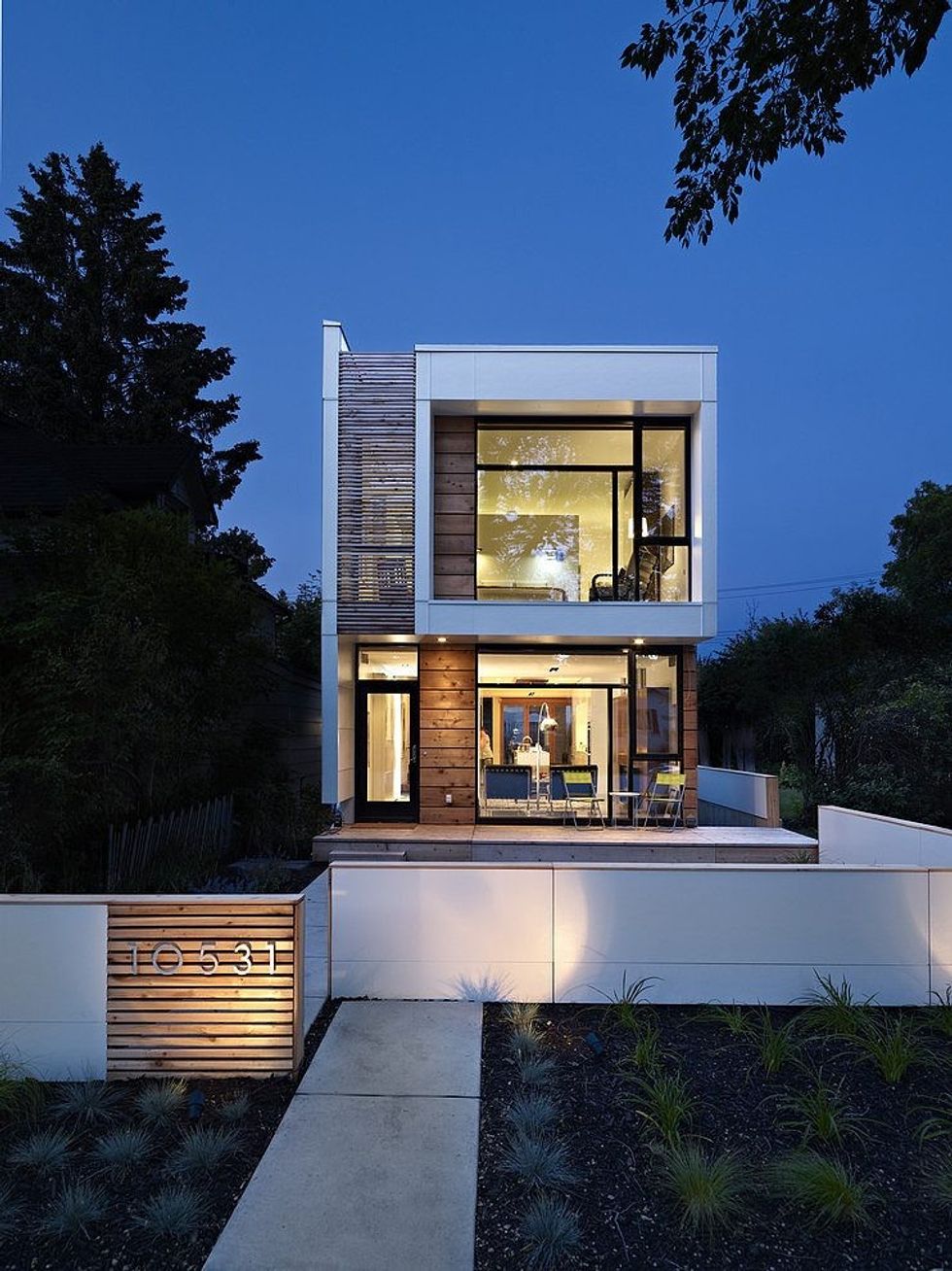 Thirdstone
Dubbed the 'LG House,' this ultra-thin home in Edmonton spans just 17-feet across to make the most of its compact 25' x 140' infill lot. Local architect, Thirdstone, took advantage of the small space by building the home two stories up, which drastically increased the living space. Boasting large floor-to-ceiling windows, the homeowners will hopefully find privacy from the surrounding garden and trees.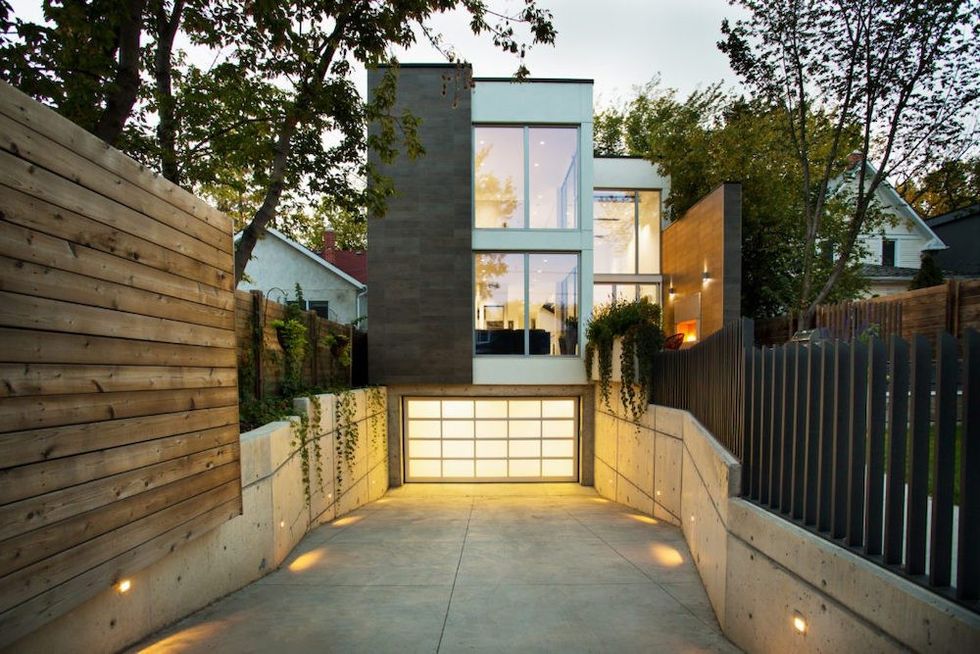 Bone Structure
Located in the heart of Saskatoon, this narrow infill project features a modern design with "revolutionary" features inside and out. Despite its slim appearance, the builders packed 4,300-sq.ft of living space into two sleek stories, which also includes a basement and an attached garage. Expansive windows enhance the flow of sunlight throughout the space, while the white exterior surrounding the windows adds a pop of colour to the facade.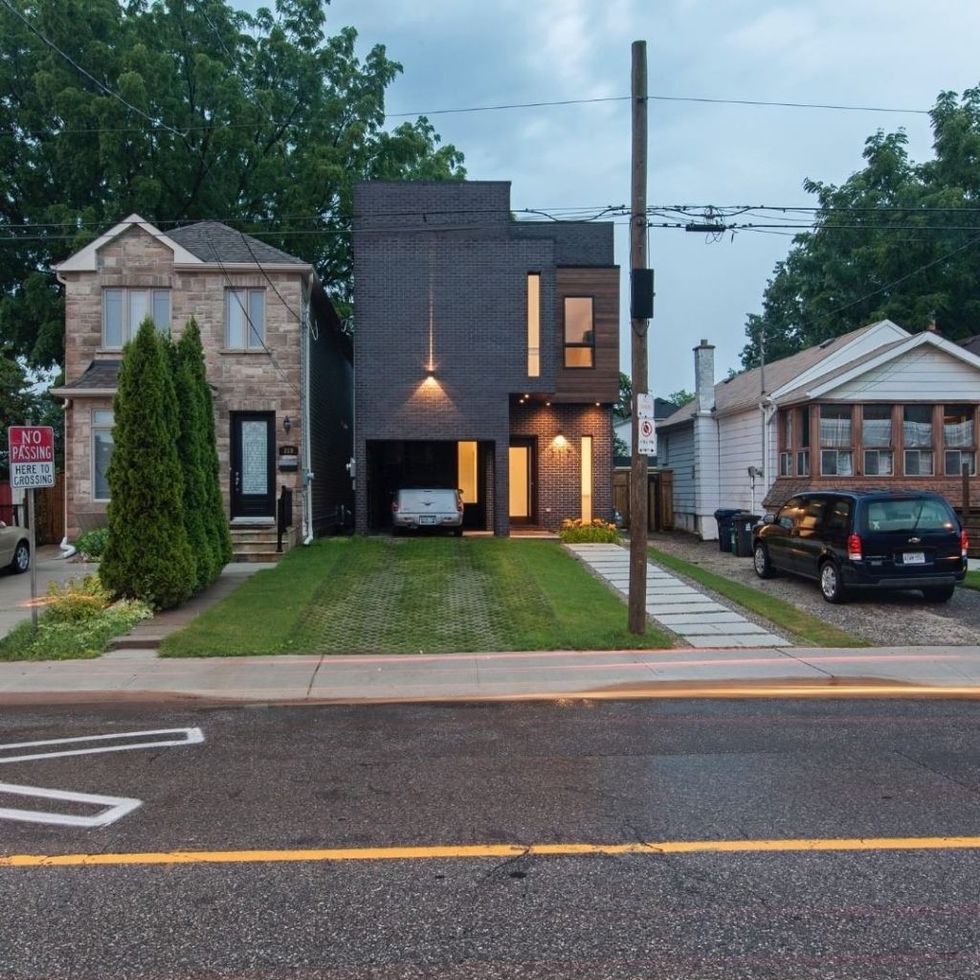 atelier rzlbd
Toronto's 'Totem House' is a modern and minimal infill home designed by atelier rzlbd that's anything but ordinary. Inspired by a totem, which is described as a sculpture within a sculpture, the home serves as a vertical gallery that displays the homeowner's souvenirs that they've collected from around the world. The home, which spans 21-feet, sits on a 25-foot wide lot, yet it still feels expansive due to the home's towering demeanour.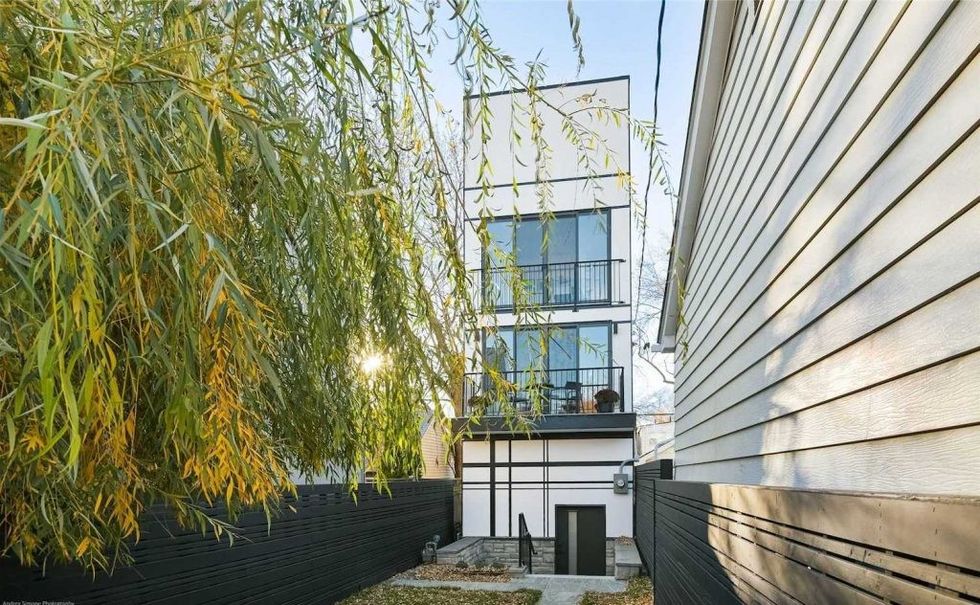 154 Hamilton Street/Zolo
Located in Toronto's South Riverdale neighbourhood, this detached, 4-storey home is set back from the curb and is tucked effortlessly between the neighbouring properties on a lot only 15-feet across while towering over the tops of the houses surrounding it. Featuring an innovative steel frame cantilevered construction with radiant heated concrete floors and an individually zoned cooling system, the space will ensure residents are consistently comfortable at home. Designed by Gordon Kipping and Sustainable Blackwell Engineering, the multi-level home perfectly suits Toronto urban dwellers.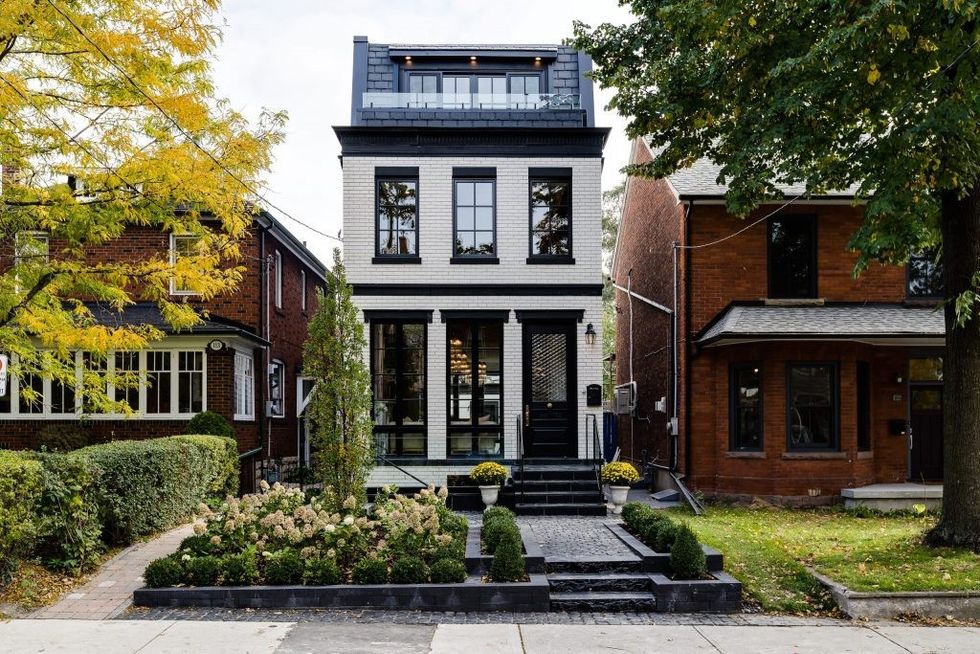 2B Design Build
While this narrow lot in Toronto's Trinity Bellwoods neighbourhood was once home to a small detached home, today, you'll find a 3-storey micro-mansion that boasts a modern interior in its place. While narrow in size, the home boasts 11-foot ceilings on the main floor and 3-bedrooms, 4-bathrooms, and parking for two vehicles. A major highlight of the home is the principal bedroom that occupies the third floor with a Juliette balcony that boasts skyline views.
Super-Skinny Townhome, Montreal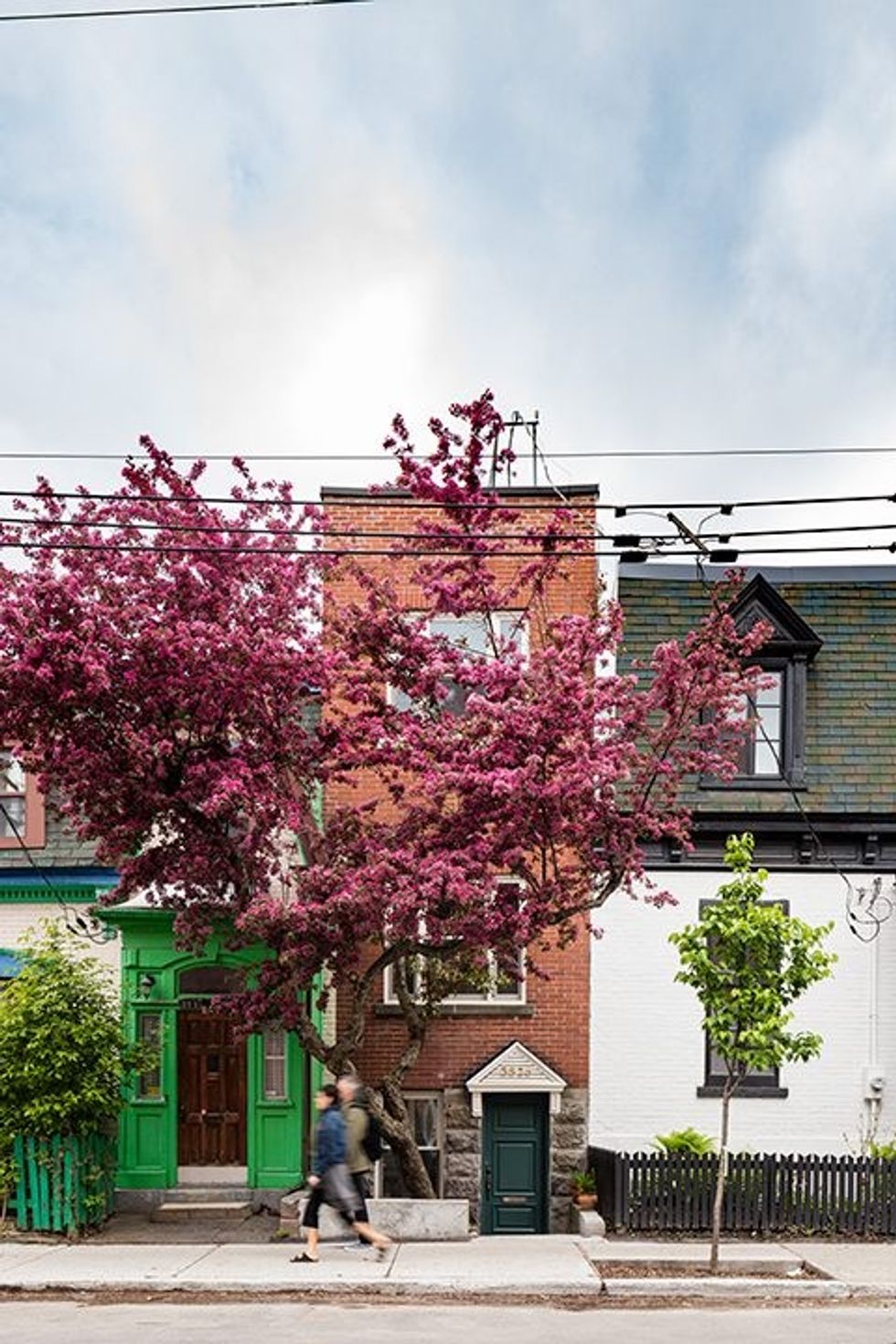 Michael Godmer/Maxime Brouillette
Located in Montreal's Plateau Mont-Royal neighbourhood, this super-skinny townhome is sandwiched between the two larger neighbouring buildings. Spanning just 12-feet across, the 3-storey home still feels vast with its depth of 49-feet. Owned by interior designer Michael Godmer and his architect husband Mathieu Turgeon, the home, known as Maison Boutique Coloniale, was formerly built in 1885. Today, following an impressive renovation, you'll find a clean, well-lighted space suitable for both work and home.
Homes