---
As the Bank of Canada's next rate decision fast approaches, a new poll from Angus Reid Institute (ARI) shows that rate realities are already hitting Canadians hard. Almost half (45%) of mortgage holders and over half (54%) of renters report that they are already finding their respective monthly housing payments "tough" or "very difficult to manage."
"Interest rates have risen significantly since the beginning of 2022 as the Bank of Canada has tried to cool rising inflation. This has affected both homeowners with mortgages as the cost of borrowing has gone up and renters, many of whose landlords are affected by the interest rate increases," says the national non-profit in its latest economic outlook, published Monday.
READ: Canada At Highest Risk Of Mortgage Defaults: IMF
As well, compared to year-ago measures, "both renters and owners are more likely to report difficulties paying their rent or mortgage," says ARI.
An infographic provided by the institute shows that, amongst mortgage-carrying respondents, the share reporting some degree of difficulty affording their monthly mortgage payments is up 12 points from June 2022.
A lesser uptick has been observed amongst renters, with the proportion finding it "tough" and "very difficult" to manage their monthly rent has risen by one point in the course of a year. (It's worth noting, however, that the share that is finding it "very difficult" is up five points.)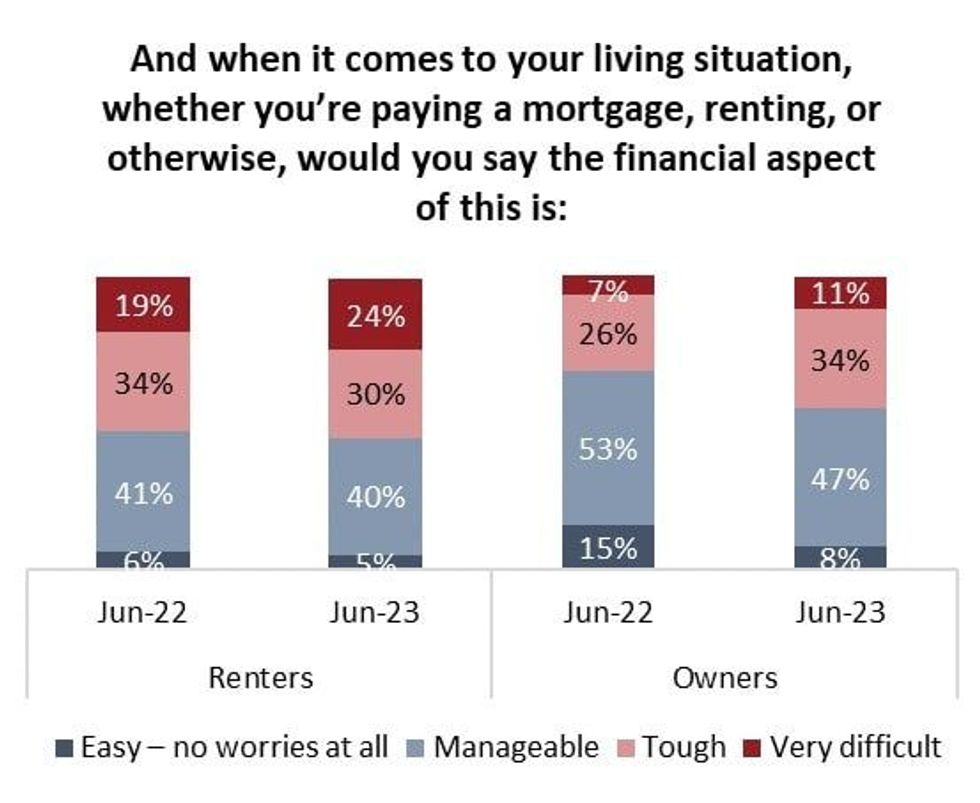 Angus Reid Institute
ARI also analyzes these groups across its Economic Stress Index. This index analyzes variables relating to household costs, debt, and stress, as well as financial self-reflection, optimism, and pessimism among Canadians, and gauges whether respondents are "struggling," "uncomfortable," "comfortable," or "thriving."
According to the index, 58% of mortgage carriers report that they are struggling or uncomfortable, alongside 62% of renters who say the same. In contrast, 67% of homeowners who own their homes and do not have mortgage payments to contend with say they are comfortable or thriving.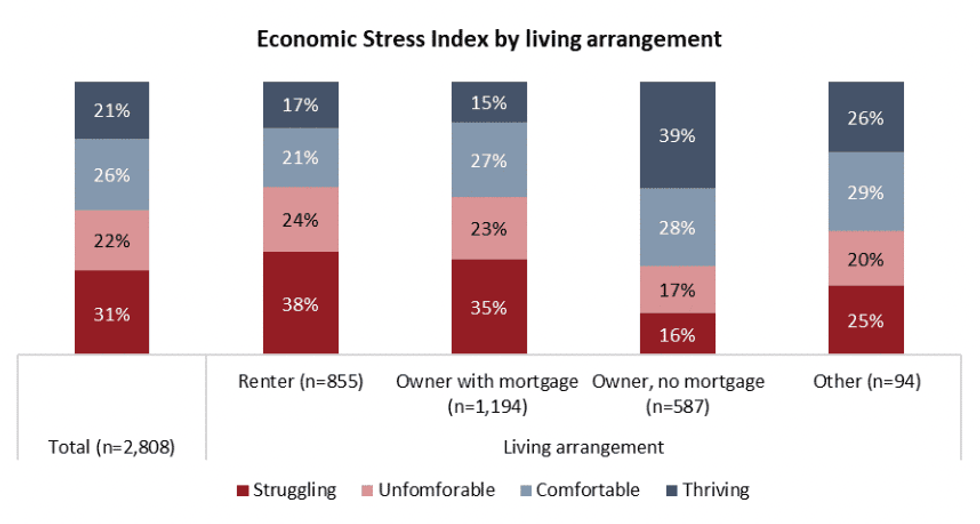 Angus Reid Institute
In a similar vein, 81% of homeowners who are actively paying a mortgage and 71% of renters report facing some degree of stress surrounding their debt. Renters and owners with mortgages are three times as likely as owners who have paid off their homes to report finding their debt levels to be a major source of stress.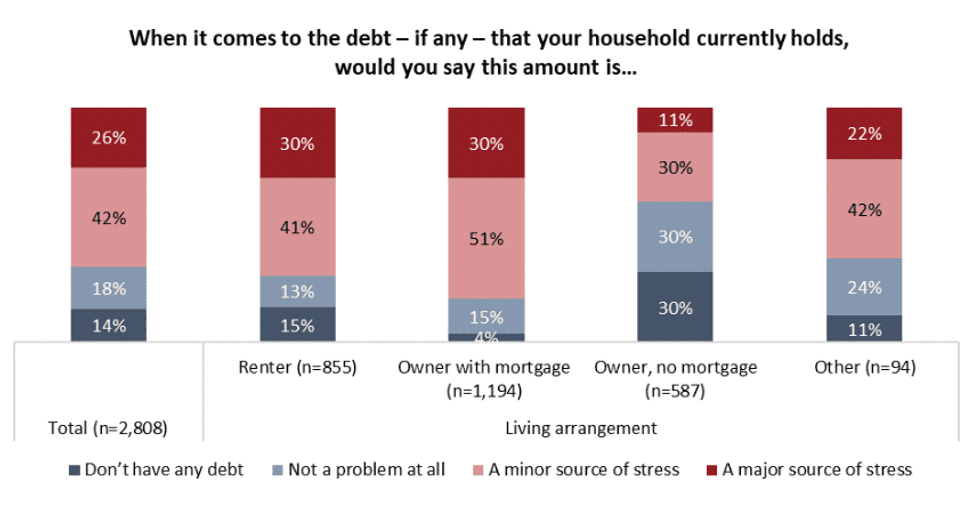 Angus Reid Institute
These latest insights from Angus Reid are based on an online survey conducted between May 30 to June 2, 2023, and reflect the sentiments of a randomized sample of 2,808 Canadian adults who are members of the Angus Reid Forum.
Mortgages