In a world where everyone's in a rush to get ahead, modular construction offers nothing less than a shortcut to the future. Prefabrication can reduce the time it takes to build a structure from endless years to mere months. Better still, the final product is exactly as planned, promised and promoted.
---
For someone like Toronto architect Daniel Ling, whose portfolio includes a number of social housing projects, compressed construction schedules make dealing with nervous neighbours, overburdened bureaucrats and paranoid politicians a whole lot easier. Not that it eliminates the usual resident complaints about living next door to a building full of formerly homeless residents, but it does allay understandable worries about the inconvenience of endless construction: noise, traffic, muck, mess, garbage, danger.
"There are always NIMBY issues," says Ling, a partner at one of Toronto's leading architectural practices, Montgomery Sisam Architects. "People have safety and security concerns, especially when social housing is next to single-family housing. But we wouldn't have taken on these projects if we didn't think we could win a humble competition and do something great with it. We believe we can deal with these issues and still do great design within an economy of means."
Montgomery Sisam Architects
"A Real Need for Speed"
One reason for Ling's confidence is modular construction. "It's pretty new to us," he admits. "We've been doing housing for years, but not the usual condo stuff. We like architecture that has some sort of social value to it."
As Ling points out, he started working with modular technology in 2020, and is already working on his ninth project. The most recent is a pair of affordable social housing developments on Macey Ave and Harrison St in Toronto's west end. Incredibly, the first was started and finished in 2021. Construction began in May, and in December residents moved in, just eight months after city council approved the proposal. The second development, also launched in May, was finished in January of this year. As well as 100 units, the buildings include rooms for dining and gathering, and space for offices and programs. 
If that sounds faster than just about anything that normally happens in Toronto, you're right. A number of factors combined to make these cases unusual. To begin with, the city is fighting a serious homelessness crisis. In addition, the city wanted these buildings to serve as demonstration projects, to illustrate what could be accomplished when the parties involved join forces to build something quickly and efficiently. In doing so, it also showed off the considerable potential of modular construction.
"The city selected modular construction because we were able to get the first building done in eight months," Ling explains. "The shelter system is overloaded. There are a number of ways to go, but there's a real need for speed. "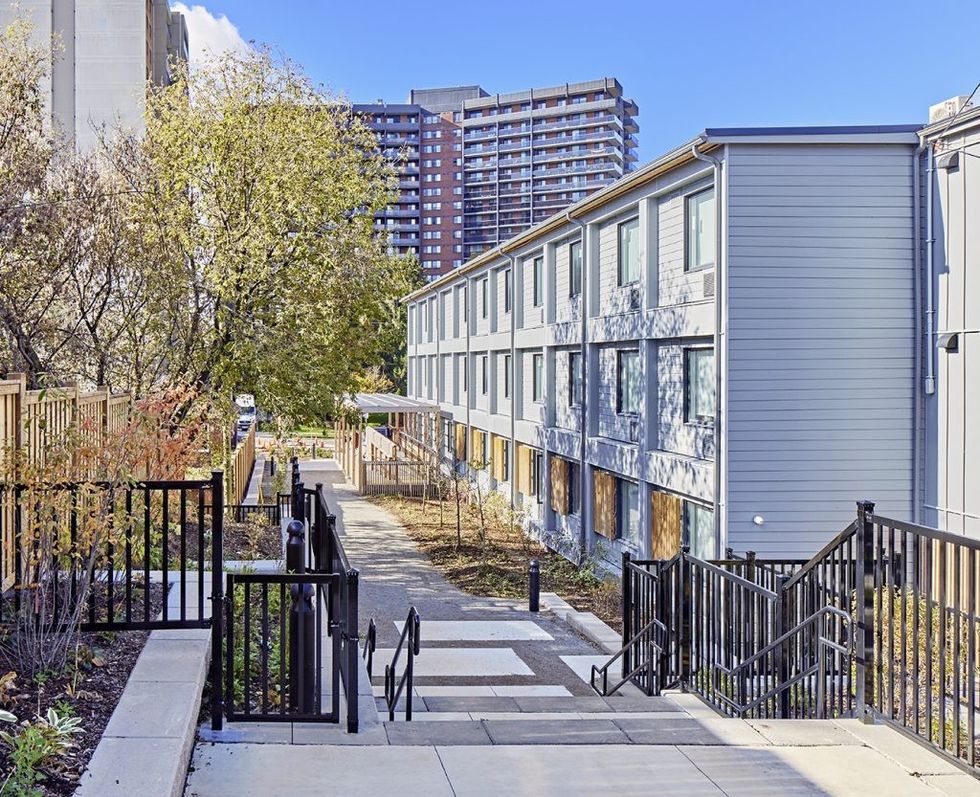 Montgomery Sisam Architects
Darren Richarz, vice-president of sales at NRB Modular Solutions, worked with Ling on both projects. "Speed is absolutely the first reason people decide to go modular," he says. "Really, the sky is the limit, but the sweet spot for affordable housing is three to five storeys. Basically, we provide a space with everything, including furniture, included. It's like a Lego set. The other main reason people choose modular is that the quality is higher. In modular units the walls are straighter and the floors are straighter. Modular buildings are built a little bit better. They're more robust. Because we're usually working in fairly dense environments, speed and quality are priorities."
Neighbourhood Pushback Can Derail Plans
Technological advances have made modular construction more neighbourhood friendly than ever, but Richarz laments, "NIMBYism can't be avoided." One need look no further than 175 Cummer Avenue where a self-appointed gaggle of neighbourhood guardians, dubbed the Voices of Willowdale, have managed to stall the construction of yet another Montgomery and Sisam/NRB project. Originally planned to open last December, it now appears stalled indefinitely. Perhaps to avoid angering locals, the province has ignored the city's request for a Ministerial Zoning Order. As one VOW member said, "It's just another dumb idea that is destroying the fabric of Willowdale." 
Despite the setbacks, modular construction is becoming as popular in Canada, which is fast catching up to Europe and the US, where it is well established. Thanks in part to COVID and the resulting labour shortage, the modular industry has taken off in the last two years. NRB grew an impressive 20% in 2021 and expects similar growth this year. Last May, the firm opened its second Ontario facility, a large 125,000 square-foot factory in Cambridge, to keep up with demand. 
Richarz credits the CMHC's Rapid Housing Initiative (RHI), which only funds projects that came with a one-year timeline, with giving modular the boost. That deadline limited eligibility to either modular or retrofit projects. 
Both Richarz and Ling are adamant that the next big thing in sustainable modular construction will be a three-storey, 24-unit residence on King William St. in Hamilton. It will also include spaces for community activities. Most importantly, however, it will also incorporate photovoltaic cells to generate all the electricity that residents need, with the goal of Passive House Certification. The building will be ready for tenants this fall. If the future seems closer than ever, it may be because of the speed of modular housing.  
Hume with a View