Real Estate News
Mid-Rise Mixed-Use Condo Building Proposed for Cabbagetown South
A former commercial plaza  at 401 Dundas Street East could see new life if plans to build a mixed-use condo building is approved by City planners.
Right before the Christmas holidays, developer Plaza Partners submitted a Rezoning application to the City to build a 10-storey mixed-use condo building with 92 units, two levels of below-grade parking, and commercial and retail space in Toronto's Cabbagetown South community.
The subject site is located on the south side of Dundas Street East, just west of Parliament Street, in downtown Toronto with frontages on Dundas Street East, Berkeley Street, Milan Street, and a rear public lane called Coatsworth Street.
Currently, the subject site — which spans 13,720 square feet — is home to a 2-storey commercial building that includes an auto service business, other retail businesses, and a surface parking lot that runs along Dundas Street.
READ: 42-Storey Mixed-Use Tower Proposed to Neighbour Mel Lastman Square
The proposed mid-rise building, designed by BDP Quadrangle, would encompass 73,043 square feet of gross floor area, with the ground floor dedicated to service space, and a 3,210 square-foot retail space bordering Dundas Street East.
As per the project proposal, the residential lobby would be accessible off of Milan Street, sharing the ground floor with a lobby, visitor bicycle parking area, dog wash area, parcel room, and an indoor amenity space.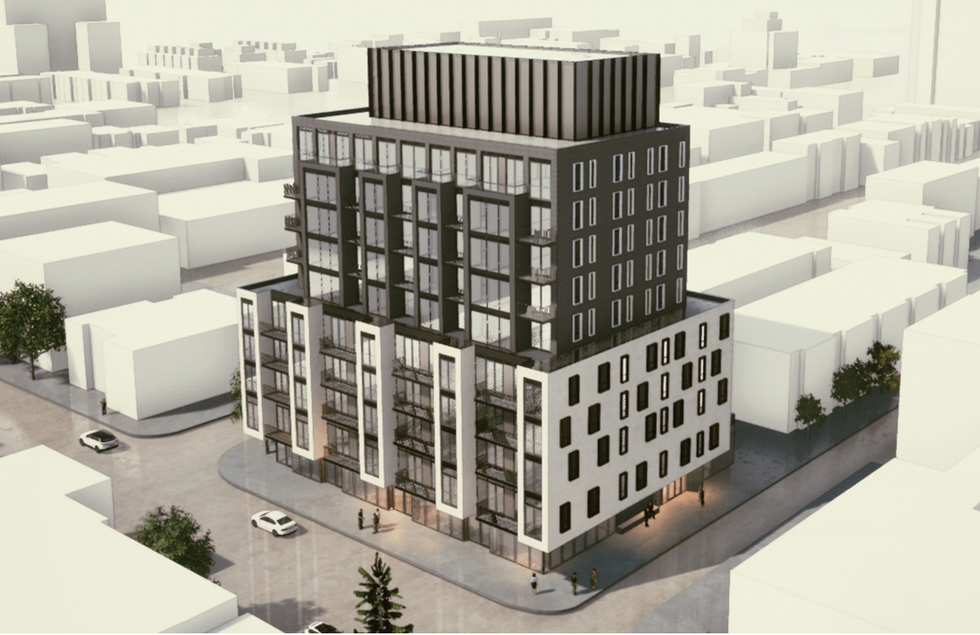 The condo building would have space for 92 units, which is broken down by 16 bachelor suites, 30 one-bedroom, 18 one-bedroom-plus-den, 17 two-bedroom, one two-bedroom-plus-den, and 10 three-bedroom units. According to the application's project data sheet, suite sizes would range from 445 to 1,194 square feet.
The building would also have space for 403 square metres of indoor and outdoor amenity space, which is broken down by 326 square metres and 77 square metres, respectively.
The indoor amenity space includes 46 square metres proposed on the ground floor with a total of 280 square metres proposed on the second level of the building.
Finally, a 2-level underground parking garage is also proposed, with space for 37 vehicles: 30 residential and seven for visitors, in addition to 98 bicycle parking spaces.