Milton is having a moment – and one that's going to last, as the town thoughtfully paves its way into the future.
The once lesser-known, formerly rural southern Ontario town today offers a charming, small-community appeal and well-rounded lifestyle for people of all ages. In recent decades, the word has gotten out: the town was the fastest growing municipality in Canada between 2001 and 2011, and has been designated as a celebrated place to both do business and raise a family.
---
With home prices in the Greater Toronto Area skyrocketing in recent years, Milton has only increased in popularity — a fact reflected in its climbing real estate values. With this demand, there is very low inventory in Milton, especially in the rental market. In fact, the town had the lowest vacancy rate in Halton Region last year, with openings in just 0.6% of private townhomes and apartments.
But things are set to change.
The once car-dependent community is getting connected like never before, thanks to transit-centric condo developments that are full of opportunity for both residents and investors — especially those who purchase pre-construction.
With the anticipated arrival of Milton's Mobility Hub, the bustling town makes for an even more attractive spot to live and invest. In February 2022, Milton Council passed policies to manage growth and development around the Milton GO station. These will guide the development of buildings, homes, businesses, roads, and public spaces set to transform the area into a vibrant — and highly walkable — community, all within a 10-minute walk from the GO station. The end result is a major urban destination, complete with all the conveniences of city life, while Toronto's lights, sounds, and flavours are just a quick GO Train ride away.
According to key recommendations, the new transit-centric neighbourhood will transform Main Street East from an auto-centric street to a green corridor, with widened sidewalks and better cycling infrastructure. This past summer, Milton asked its residents and local business owners for insight on the long-term future of Main Street, and the town will take this feedback into account when ironing out the details of the massive undertaking. The innovative new neighbourhood will add some 25,000 new residents, plus a handful of shiny new condo developments for them to call home.
Stationside from Neatt Communities – a future-forward development team with over 30 years of experience building thoughtful and celebrated communities in the Greater Toronto Area (GTA) – is one of the most anticipated developments in this Mobility Hub. Slated for occupancy July 2027, Stationside, rising at 135 and 145 Nipissing Road, will be comprised of two sleek, easy-on-the-eyes towers (19 and 23 storeys tall). The buildings will be complete with a six-storey podium, and will feature 613 suites ranging in size from one-bedroom to two-bedroom plus dens.
A suite of appreciated amenities will include a 30,000-square-foot outdoor terrace with barbecues, a gym, a party room, a yoga room, a bocce ball court, a co-working space, and a coffee bar (Stationside Social). The building will also feature 613 bike spaces and 669 parking spaces — 544 residential, and 123 visitor.
Removing the need for a car from the equation, however — once unheard of in a smaller GTA town — Stationside will sit just steps away from the upcoming GO expansion, which will provide 15-minute rush hour service and 30% more trips. And, while downtown will be extremely accessible, the surrounding neighbourhood will offer all residents' modern-day needs and desires within walking distance, creating 4,000 new jobs in the process.
Stationside will be an attractive place to call home for everyone, from students to young families to the older generation looking to right size. Just six minutes from Stationside, the upcoming 400-acre Milton Education Village will house a joint Wilfred Laurier University and Conestoga College campus, along with the MEV innovation centre. Milton is also a coveted home to the lovers of the outdoors. While the neighbourhood will introduce an urban essence to Milton, just outside of the downtown area, the Niagara Escarpment offers a quality dose of nature and a fresh air fix, complete with scenic hiking trails.
"We're thrilled to introduce Stationside to Milton, a project that seamlessly blends convenience, culture, and connectivity," said Mike Vernooy, Principal of Neatt Communities.
"Positioned at the heart of Milton's mobility hub, Stationside is set to redefine the town's future as the GTA's next major transit hub. This marks only the beginning of Neatt Communities' long-term commitment to Milton, where we envision creating a vibrant urban centre that brings modernity and tradition together, shaping a bright future for this community."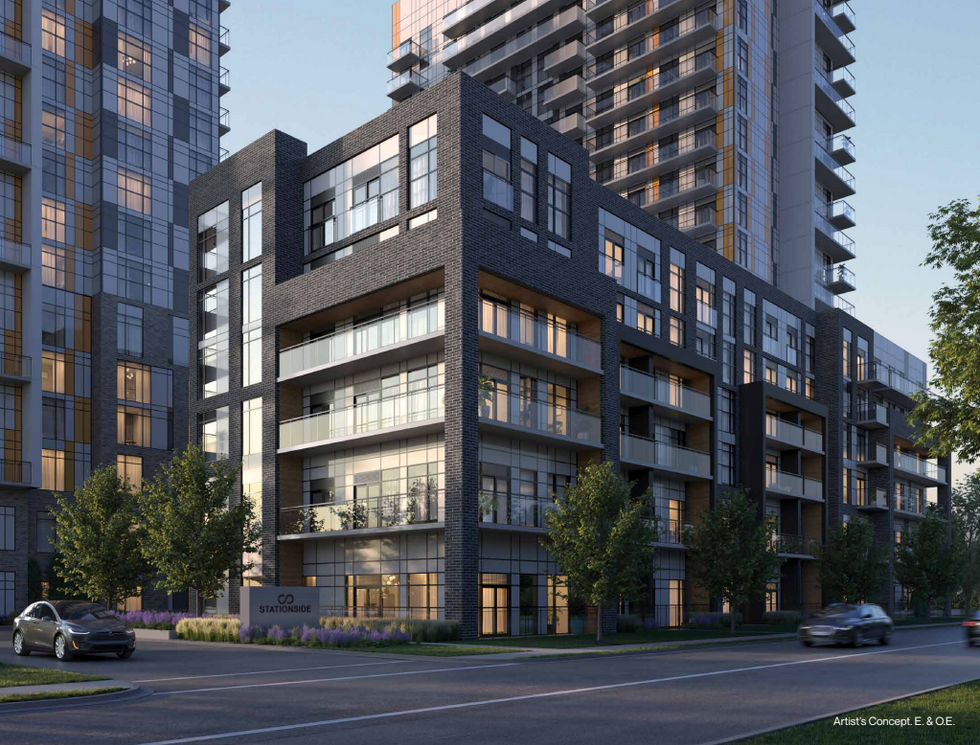 Stationside (rendering)
The development is an attractive one for real estate investors who are looking for great value on high-order transit. The financial benefits of investing in transit are proven with each new transit-centric development that materializes in the GTA. Direct access to transportation can lead to pre-construction units appreciating up to 34% more than similar products on the market. In Milton, condo investors can benefit from a secondary market with a low-vacancy risk, strong capital appreciation, and stable returns.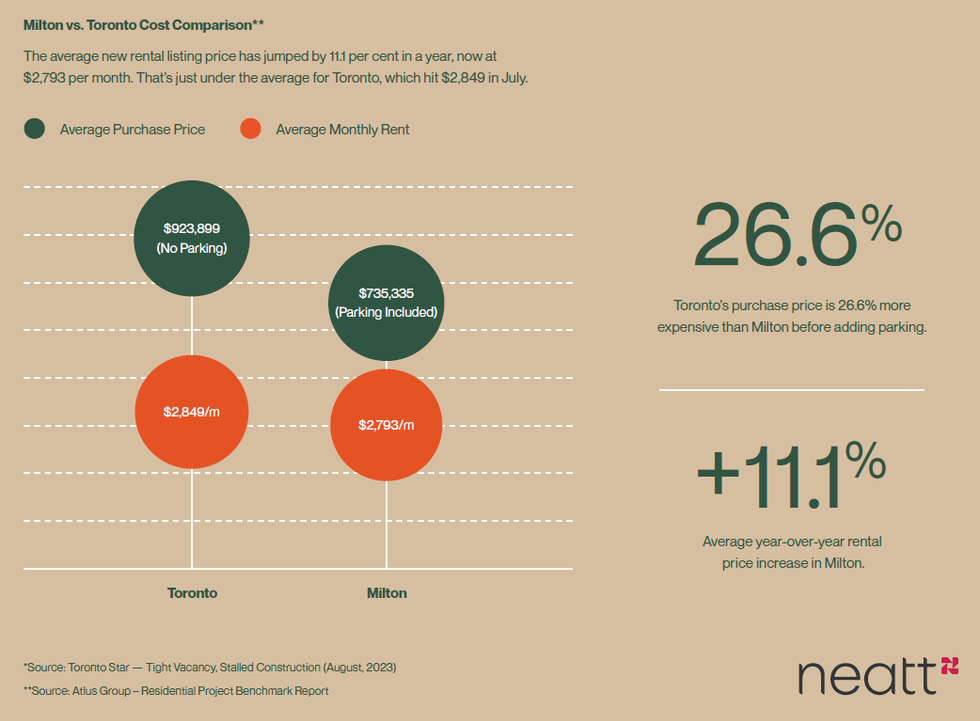 And, like in many parts of the GTA, Milton's rental market is robust. The sought-after town has experienced an average 11.1% year-over-year rent price increase. Milton's average new rental listing price has jumped by 11.1% in a year, now at $2,793 per month. That's just under the average for Toronto, which hit $2,849 in July.
For those weighing options for investment properties, it's important to note that Toronto's purchase price is 26.6% more expensive than Milton's before adding parking.
Stationside's pricing starts at $487,990, with an average starting price per square foot of $1,048.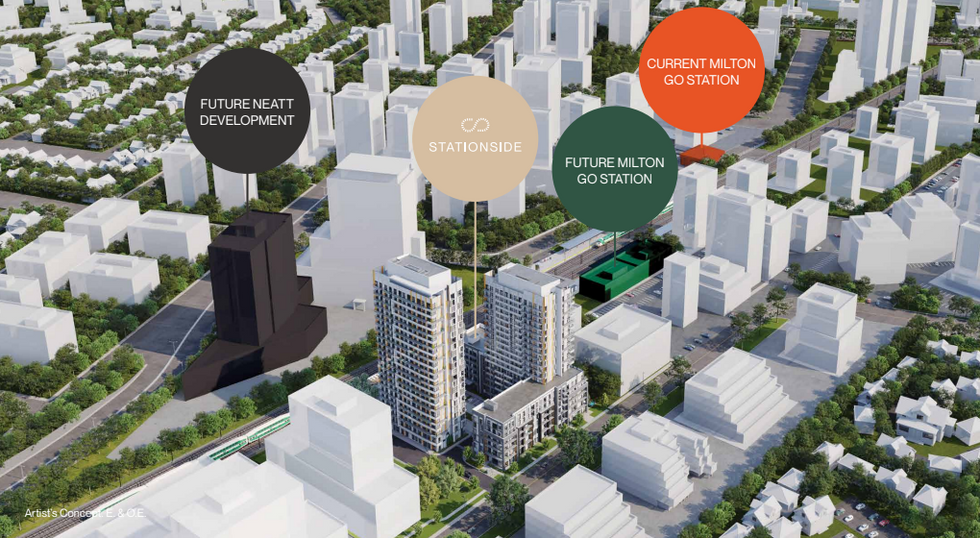 Stationside location (rendering)
Indeed, from its present-day charm to its promise of an even more deeply connected future, the Milton-investment train is not one to let pass you by.
For first access to Stationside, register here.
________________________________________________________________________________________________________________________________
This article was produced in partnership with STOREYS Custom Studio.
Future Developments