---
With the Spadina-Front GO Station slated for completion by 2024, the next focus -- naturally -- is on intensifying the surrounding area.
As such, Metrolinx has announced that they will be working with Dream Unlimited Corp. and Kilmer Group -- the two have recently partnered as Dream Kilmer -- to create a high-density mixed-use development that will connect to the forthcoming station.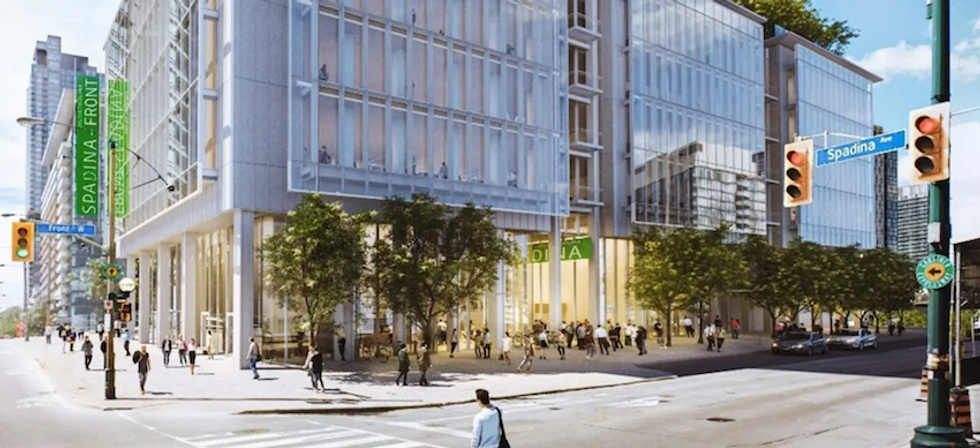 The development will be built on a 1.01-acre site at 433 Front Street West, near the intersection of Front Street West and Spadina Avenue. It will replace an existing GO train layover facility known as the North Bathurst Yard. Metrolinx has stated that this is an opportunity to better utilize the land.
"Integrating transit into the places people live, work, shop and play is the smart, forward-thinking approach that creates convenient and reliable ways to connect more people to transit," a blog post by Metrolinx reads. "This is exactly what Metrolinx is planning to do at the southwest corner of Front Street West and Spadina Avenue in downtown Toronto to increase housing supply and spur new economic opportunities."
Dream Kilmer came on to the project after Metrolinx issued a two-stage Request for Qualifications (RFQ) and Request for Proposals (RFP) in October 2021. A top priority for Metrolinx was to secure a partner that would be equipped to deal with the complexities of building on a tight parcel of land on an active rail corridor.
"Dream Kilmer is a highly qualified group with experience in mixed use and infrastructure development," Metrolinx's blog post goes on to say. "The proposal by Dream Kilmer integrates the at-grade GO station within a new mixed-use development, with station entrances connecting onto Front Street West and Spadina Avenue. Selecting a development partner is just the first step in the process."
The plans will be hashed out over a two-year GO Expansion development phase, in which Dream Kilmer will be working with Metrolinx, ONxpress, and the City of Toronto to ensure due diligence.
The Front Street development is in line with a multi-billion-dollar investment into the GO Expansion promising to transform GO rail service across the Greater Toronto and Hamilton Area.
Transportation