Two years ago, the city announced Toronto would be getting one of Canada's largest urban linear parks by repurposing a massive plot of unused land.
---
[Want to see more stories like this? Sign up for our weekly newsletter!]
The park, which has been named The Meadoway, is a 16-kilometre stretch of land that runs from the Don River Ravine to the Rouge National Urban Park in Scarborough. The space is barren and only exists to house the hydro lines running across the city.
And now, newly released renderings show what the sprawling park might look like when construction is complete.
The Toronto and Region Conservation Authority (TRCA) partnered with Perkins+Will and Future Landscapes to develop a 'visualization toolkit' that demonstrates the potential future look and feel of the urban linear park.
"The goal of the toolkit is to amplify and celebrate The Meadoway through a compelling visual identity and narrative. It includes conceptual renderings, sketches, and animations."
The toolkit includes a series of conceptual renderings that offer a before and after look at various sections of the park.
READ: Toronto Is Getting One Of The Largest Linear Urban Parks In Canada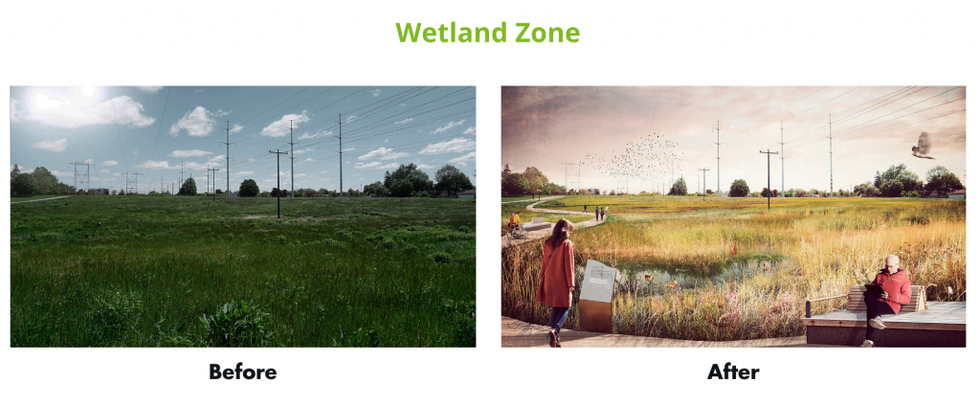 Rendering of Wetland Zone/The Meadoway
For example, a conceptual rendering of the 'Wetland Zone' shows added trails, seating areas, a pond, and plants.

Multi-Use Trail Intersections/The Meadoway
Throughout the park, where various trails intersect, it looks like seating areas, new walkways, and plants will also be added.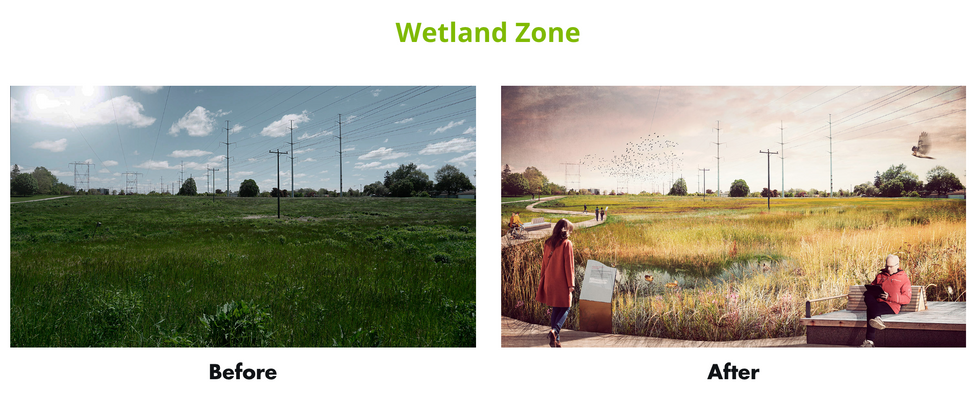 Rendering of Highland Creek/The Meadoway
A conceptual rendering of 'Highland Creek' shows the addition of various trails, and added plants and flowers.
The Meadoway touts itself as "Community Powered Green Spaces." The intention is to repurpose the existing land so bicyclists and pedestrians can travel from downtown Toronto to the Rouge Park in Scarborough, without leaving a natural environment.
According to its website, the green space will connect four ravines, 15 parks, 20 kilometres of trail, 34 neighbourhoods, 500 acres, and more than 1,000 diverse species of flora and fauna through one long linear park.
The project is expected to cost about $85 million and nearly 40% of that budget is already pledged from the W. Garfield Weston Foundation, according to the TRCA.
Parks