---
The increasing trend toward massive multi-phased development is adding a special kind of complexity for the volunteer strata councils that keep their residential buildings running, according to a strata association spokesperson.
Strata ownership is so common in BC that it's hard to believe it's only existed since the late '60s. Before stratas, most residents lived in detached houses and apartment buildings.
With strata ownership, condominiums proliferated, particularly in the Lower Mainland. To date, BC has 32,344 stratas, which are corporations that are formed to operate the buildings, with each unit separately owned. 
But most stratas had formed in order to operate standalone buildings and townhouse complexes. By 2020, 54% of all stratas in BC were only two to four units in size. Today's emerging "mall city" culture, with its sprawling multi-tower developments, is changing not only the way housing gets built and how people use urban space, but also the nature of strata ownership. 
For the people who buy into a strata unit, they enter into a potentially confusing legal entity that dictates how their new home will operate, and how much they'll have to contribute as an owner. 
The transformation of shopping malls into complete neighbourhoods within urban centres, such as Vancouver's Oakridge Park, is taking the strata corporation to a whole new level, says Wendy Wall, President of Vancouver Island Strata Owners Association (VISOA). VISOA has been around since 1973.
The large projects unfold in phases. As each new building gets underway, the developer will amend the strata to add additional units, or they might create new stratas. The complexity of these strata arrangements is something buyers need to understand, she says.
"My mom lives in a strata that had 16 phases, and all one strata," says Wall, whose association is one of three that represents BC strata owners. 
While there's a lot of focus on the condo amenities and high-end finishes, Wall says buyers should also be educated on how the building will fit legally into such a massive complex. After all, the way the building is run, and the owner's legal rights, will affect their lives. There's a lot at stake.
"When looking at mall cities, and the value of these separate towers, there are questions I'd like answered early on for the consumer," she says.
If there are multiple stratas, how do they share repair and maintenance of shared spaces, such as roads, parking and amenities? What are the costs of running the amenities that the strata will be responsible for? What's the deductible for water damage? 
"I'd like to see developers and local governments who approve designs and issue permits think about the lives of the people who live in these complexes. Ultimately, the indoor pool or the custom kitchen cabinets don't matter very much," Wall says.
Volunteer-run strata councils are overseeing billions of dollars' worth of real estate, she adds. Thrown into the mix is that a single building can contain rental units, below-market rental units, office space and retail space -- residential and commercial end-users sharing space under the same roof, but operating separately. All stakeholders will need to know their rights.
"It's new so it feels new to a lot of people," says Matthew McClenaghan, Senior Vice President, Development, for Edgar Development. 
The developer has a master-planned community in Port Moody called Portwood underway, as well as a proposal to rezone a seven-acre at-grade shopping mall in downtown New Westminster into a mall city.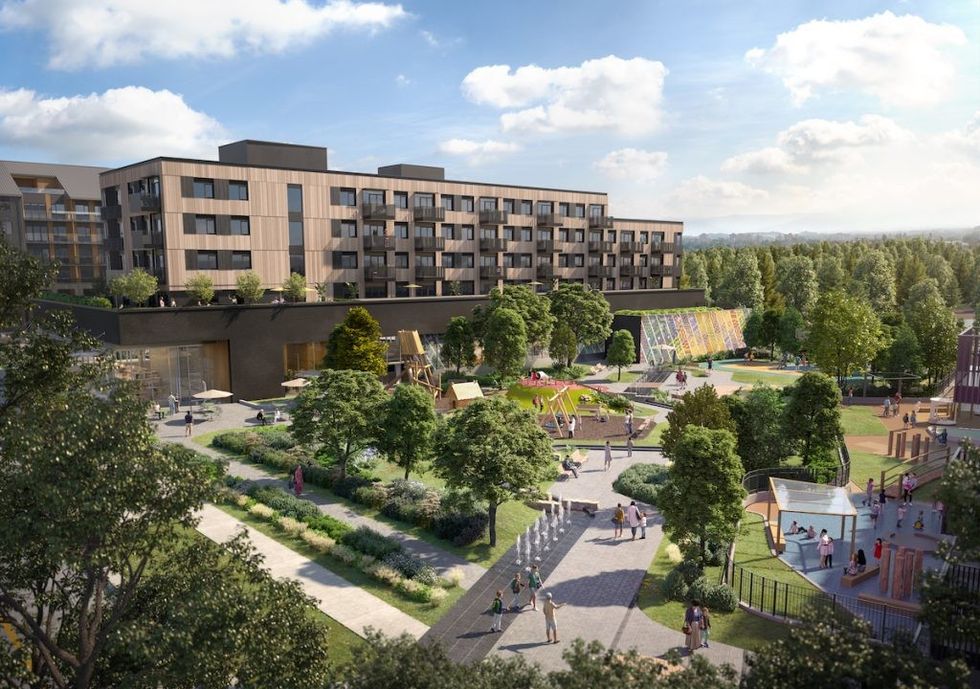 Rendering of the future Portwood development. (Edgar Development)
Strata corporations can be broken down into sections, operating like subsidiaries of a large company. Each section would then have its own executive and rules, budgets and voting. Another popular option is air space subdivision, such as when residential units and a floor of retail space occupy the same tower. An air space subdivision allows them to operate separately, with different rules, and the owner of the commercial space controls that space. 
As buyers move into mall cities, McClenaghan says there's a new audience for these complex but long-standing legal arrangements.
"Air space parcels and phased strata are certainly not new, but they're definitely newer to a lot of homeowners and business owners," he says. "It's navigating through it."
Every project, he says, is unique and will evolve differently. Some will have individual stratas; others will have a multitude of different stratas. But the framework is laid out from the get-go.
"It's complicated, but it's going to be a new way of how we deliver communities… It's a new way of designing and figuring out some legalities and complications behind big master-planned communities."
The shared mixed-use space is not always without its problems, as the owners of Victoria's Ox King Noodles restaurant and the condo residents living above the restaurant discovered. Cooking odors emanating from the ground-floor restaurant into the second floor units led to a civil resolution tribunal two years ago. The restaurant owners have done what they can to fix the issue, but the vent is physically too close to the intake air for the residential space, according to Wall. 
"It's an impossible situation that no buyer could ever have known they were walking into and a problem that could have been prevented with thoughtful building design," says Wall. 
When the developer completes the building and turns the strata corporation over to the new council -- which is a volunteer group of owners -- those residents can be left "shocked" at the learning curve, she says.
"You are left with a brand new set of people who have to operate a project that's a multi-million-dollar asset, or in the case of mall cities, a multi-billion-dollar asset --  with no training. 
"This is nothing against those people. They are often smart, but they are thrown into a situation where they have no experience, and every other owner is relying on them to manage the asset on their behalf.
"So it's this very interesting model of real estate [ownership]. And over the years, it has become more and more complex."
Condos