Love may be everywhere but it's still a shock to find it at the thoroughly unremarkable intersection of Queen's Quay and York Street in downtown Toronto. Until recently, this was where the off-ramp of the eastbound Gardiner Expressway dumped traffic into the city.
Then came Love Park. When it opened in June, it changed everything; a corner long avoided by anyone not behind the wheel of a car is now a place of beauty, an attraction, a destination, and, yes, a locus of love.
---
Thanks to Waterfront Toronto, the tripartite public agency that may yet manage to save the city from itself, this orphan site has become a spot where locals and tourists gather to spend time sitting by the large heart-shaped pond, eating lunch, chatting and staring.
Designed by the brilliant Montreal landscape architect, Claude Cormier, Love Park is the last of his many contributions to Toronto. As was his wont, Cormier, who died of cancer in September, ensured that the new amenity walks a fine line between classism, corn and kitsch. All the traditional elements are present and accounted for – tables, chairs, benches, water, trees and a lawn – but the liquid Valentine of a pool will make it a pop icon, an image of the city.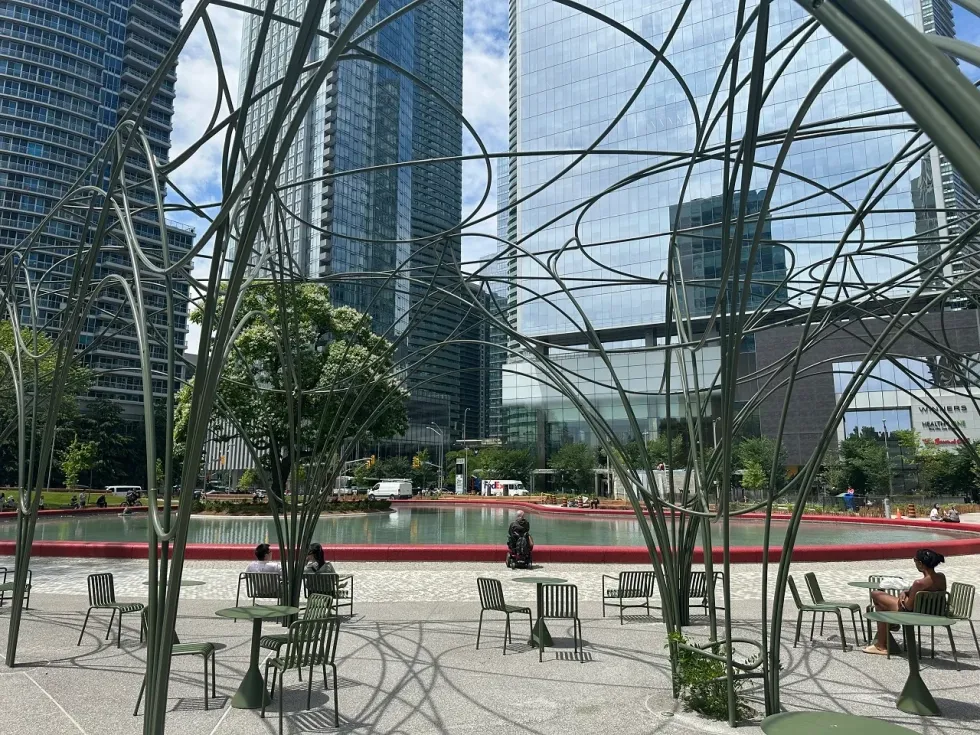 Waterfront Toronto
Nothing wrong with that, of course. Cormier's fabulous dog-and-bone fountain at Berczy Park has been a draw since the moment the taps were turned on back in 2017. Still, his most popular work in these parts is Sugar Beach at the foot of Jarvis St. overlooking Lake Ontario. With its pink umbrellas, white sand and candy-striped boulders, it transformed a dismal stretch of the waterfront from a forlorn industrial after-thought into something unexpectedly joyful and irresistibly sexy.
Love Park can't boast a site on the shore of a lake, but it manages to carve out a slice of peace and quiet in the midst of the sort of traffic madness that now characterises Toronto. With Queen's Quay to the south, Harbour St. to the north, York to the west and WaterPark Place to the east, it isn't a place of solitude. But Cormier's clever use of berms, planting, water and furniture creates the sense of a place apart from the chaos, confusion and craziness of local streets that are also forced to function as urban highways.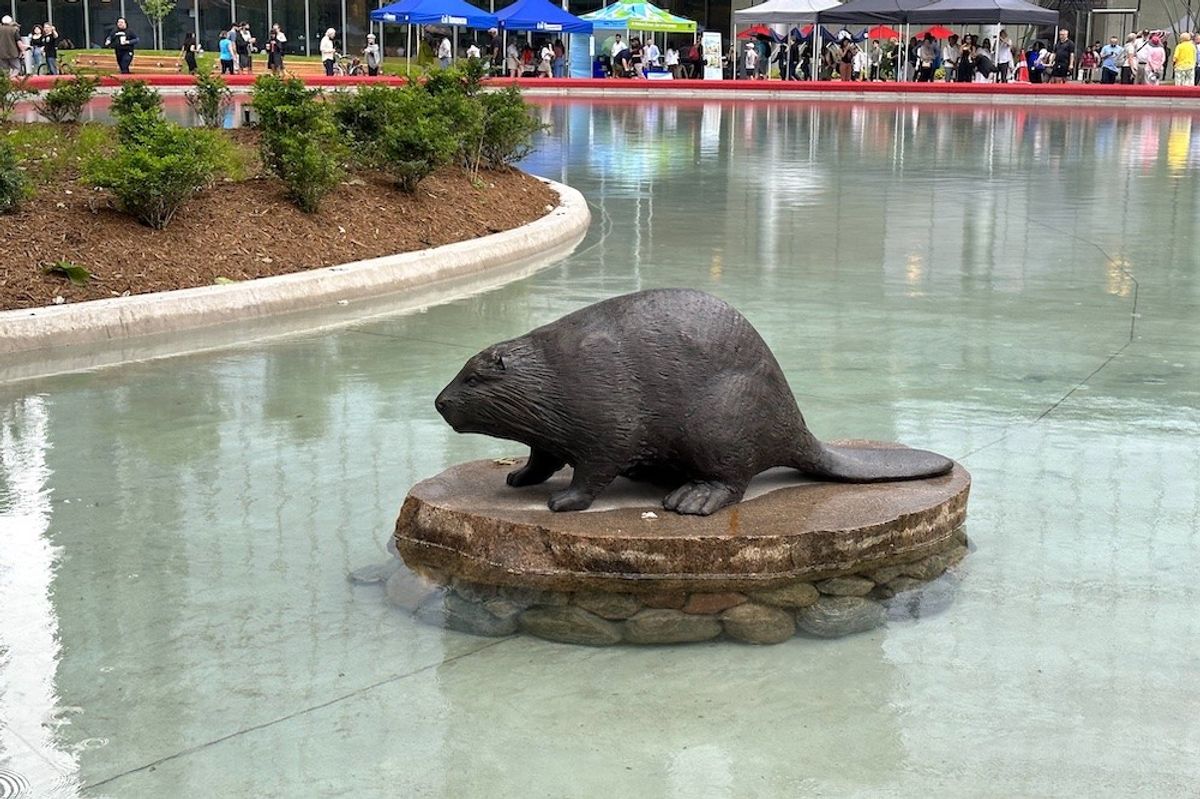 STOREYS
Toronto has always wanted to have it both ways; its roads must serve drivers without completely sacrificing the city. Cormier's genius lays in his uncanny ability to deal with conditions so abrupt that one side of the street might differ totally from the other.
To accomplish this without resorting to walls, tall fences and the like takes some doing. There are no gentle approaches to Love Park; one might wander south from Union Station, for example, dodging the throngs on York St., cross busy Harbour St., and suddenly find oneself in the magical space of the new facility. Organized around a large heart-shaped pond whose raised edge, finished in red mosaic tiles, doubles as a seating area, the park is an invitation to sit, stay and enjoy. A series of animal sculptures – beaver, raccoon, fox, bear – remind us that we humans are not alone. An island in the pond contains a mature catalpa, one of several trees retained from the abandoned parkette that originally occupied the site.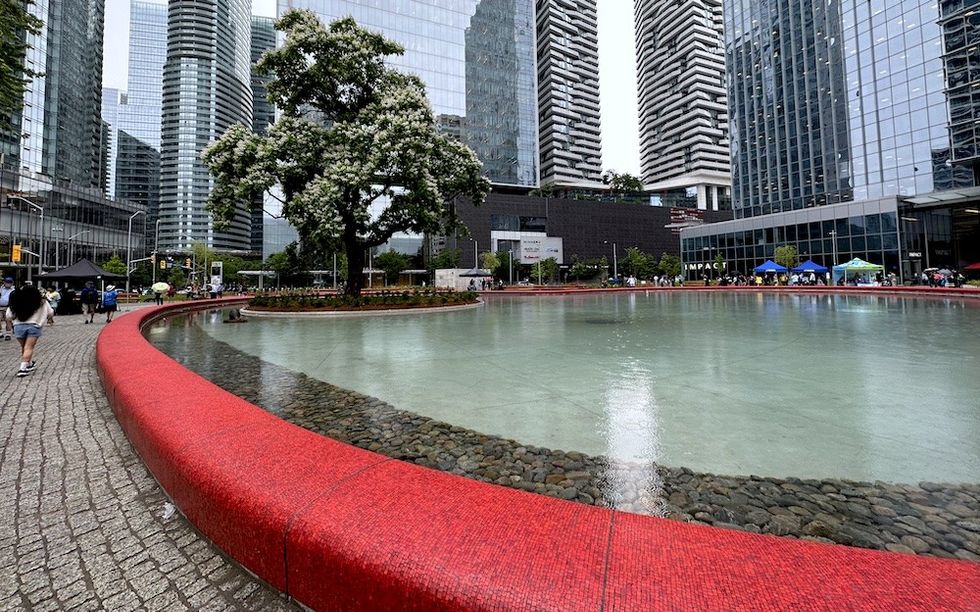 STOREYS
And let's not forget the pergola. Whether it's an arbour, artwork, or an installation, it stands out and above the park, an elaborate metallic creation conceived for no other reason than to give us pleasure. Fabricated by Eventscape, a custom architectural manufacturer based in Etobicoke, it is a happy reminder of the depth of the skills available locally.
It is interesting to compare Love Park with its surrounding that date back as long as half a century. Back then, precious little thought was given to the public realm. Robert Campeau's 1970s concrete bunkers on the south side of Queen's Quay are some of the most depressing structures ever erected in Toronto, let alone the waterfront. They brought almost nothing to the street. The 1990 Residences of the World Trade Centre at Yonge and Queen's Quay reluctantly raised the ante with a charmless hard-surface square that happened to include a major sculpture by British artist Richard Deacon. Though the artwork remains, the square has since replaced by a more garden-like installation worthy of one of the city's most significant intersections.
And to be fair, the 2014 Royal Bank at WaterPark Place, which abuts Love Park, represents major step forward in the willingness of an otherwise conventional office tower to engage in the street life of a city. Lined with striking yellow chairs and tables, the Queen's Quay frontage reads like an extended outdoor café. It's a far cry from the Royal Bank's fortress-like gold-clad twin towers up the road at Bay and Front.
It's early days still, and winter looms, but can there be any doubt that Cormier's wonderful addition will live up to its name? Perhaps the song was right, after all. Maybe love really is all we need.
Hume with a View