Walking around Toronto you'll see the name Jean Lumb in many places. A school in Toronto's CityPlace neighbourhood, a lane east of Spadina Avenue off Dundas Street West and an Ontario Heritage Trust plaque in Old Chinatown. Most recently, her image appeared on an abandoned storefront for a project called "HerStory."
---
Jean was a business savvy individual who shattered glass ceilings, was a champion for her community and an activist. She was on numerous boards, where she was the first Chinese-Canadian women to serve, as well as a patron, producer and director of numerous art associations. She was also the first Chinese-Canadian woman and restauranteur to be inducted into the Order of Canada. Jean accomplished a lot in 83 years and her contributions are still felt today.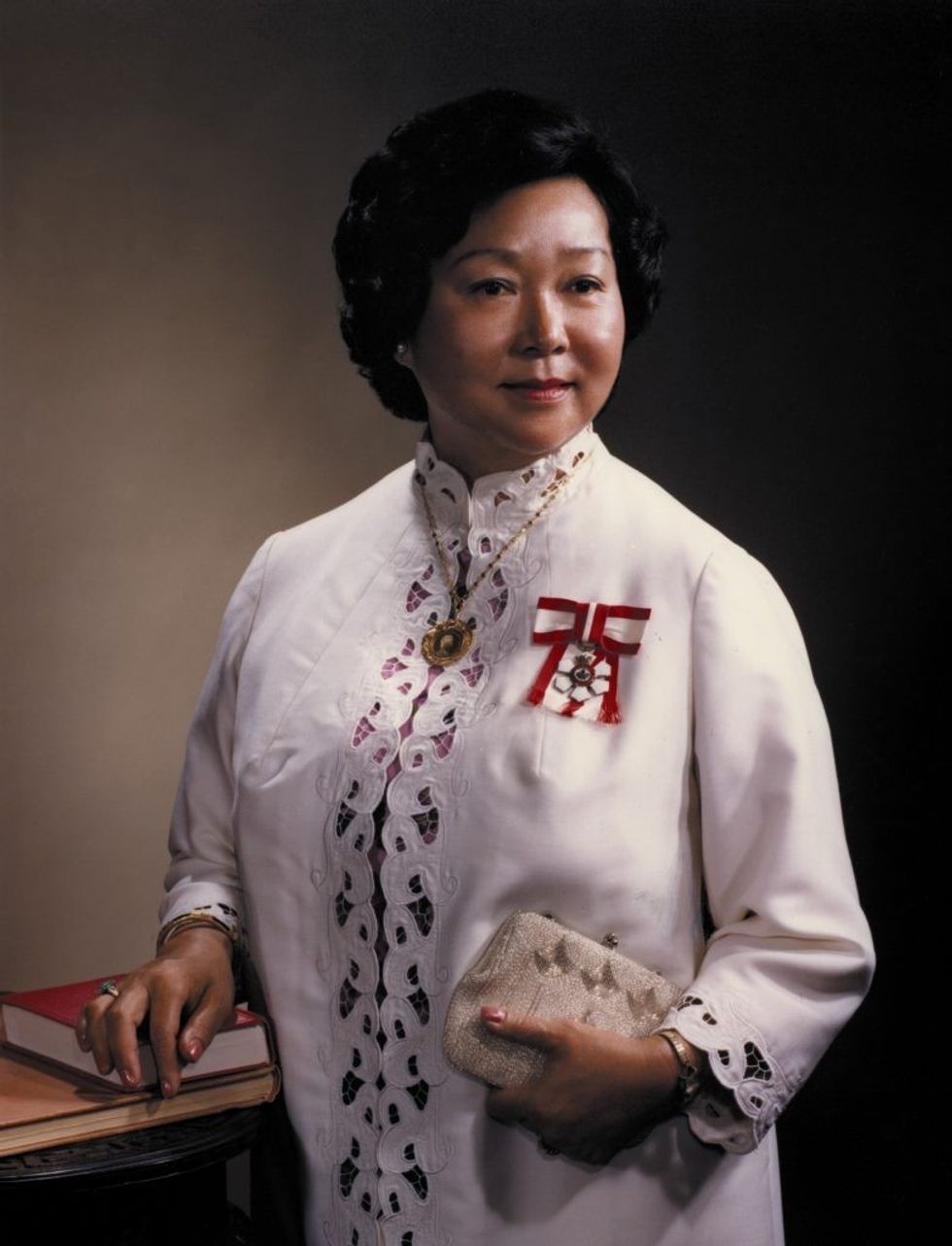 Jean Lumb portrait, photography by Cavouk courtesy of the Jean Lumb Collection
From the West Coast to Toronto
In 1919, Jean Lumb (born Toy Jin Wong) was born in Nanaimo, British Columbia at a time when the province had over 100 anti-Chinese laws and policies. As a pre-teen, she left her segregated school to support her family. She moved to Northern Ontario as a teenager taking a job with her sister and later to Toronto, where she opened a fruit store at Bathurst Street and St. Clair Avenue West called Wong Brothers.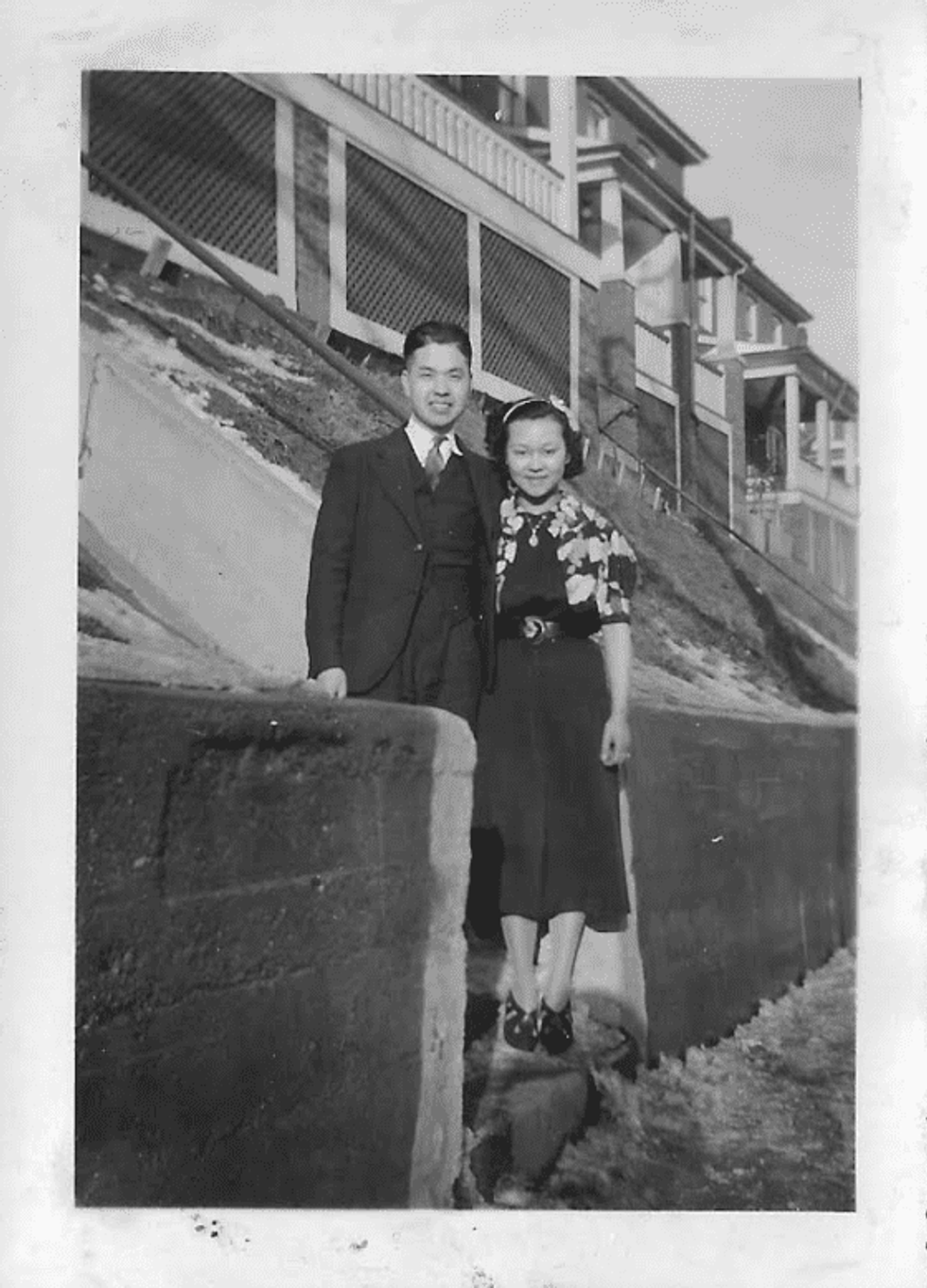 Doyle J. Lumb (left) and Jean Lumb (right) on Davenport Road, courtesy of the Jean Lumb Collection
In 1939, she and Doyle Jennings Lumb were wed after a matchmaker set them up -- they were paired because they both had fruit stores. Shortly after they wed, Doyle took full ownership of Eng's Produce from his partners and it became a family-owned business with Jean until 1959. After closing Eng's Produce, the pair opened the famed Kwong Chow Chop Suey House restaurant on Elizabeth Street. It operated for 26 years welcoming politicians, journalists, celebrities and more.
A Community Leader
Jean not only established herself as a businesswoman, but an activist fighting discriminatory laws and working to preserve Chinese culture. 
In 1885, Canada's Chinese Head Tax was implemented to discourage immigration with amounts ranging from $50 to $500 per person over the years. It was replaced by the Chinese Exclusion Act in 1923, which halted immigration from China until 1947.
While repealed, only Canadian citizens could bring family members over and they had to be a spouse or an unmarried child younger than 18 years-old. This created a disproportionally male Chinese population.
Jean wanted families reunited and in 1957, joined a delegation of other Chinese Canadians on a trek to Ottawa to meet with Prime Minister John Diefenbaker. Jean, the only female delegate, became the spokesperson at the meeting. She spoke about the experience saying, "The questions from the floor were mostly directed to me because of the fact that I was a woman and the issue was family reunion…I feel very lucky that I had the opportunity to be out front as an official spokesperson." Immigration requirements were changed soon after and the reunification of families began.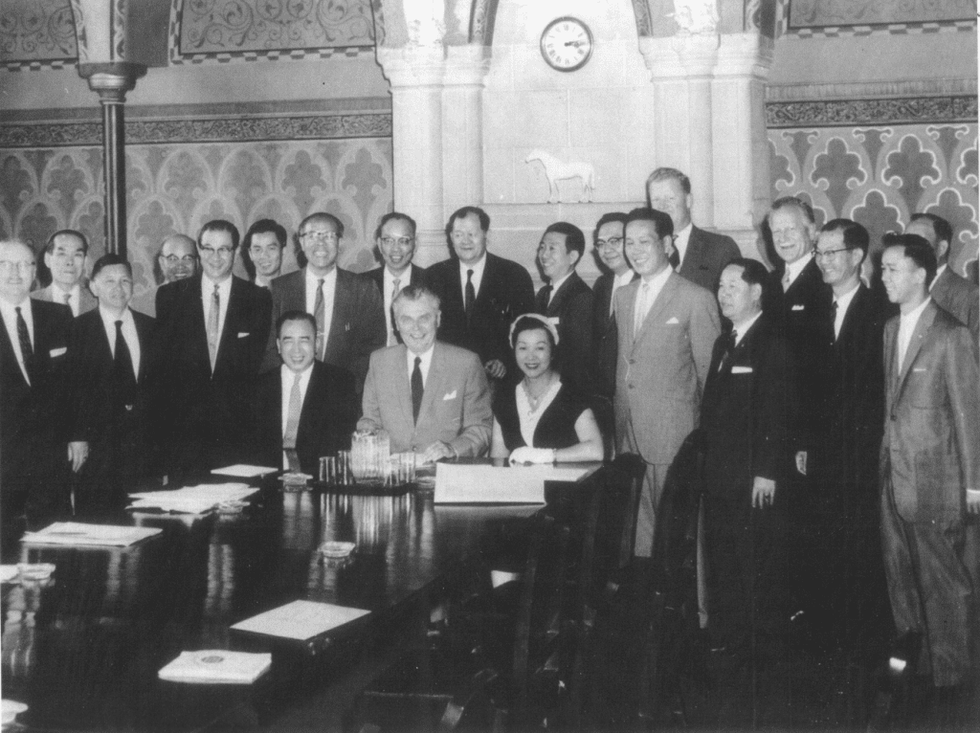 Jean Lumb with Prime Minister John Diefenbaker and delegation fighting for family reunification, courtesy of the Jean Lumb Collection
Jean also founded and chaired the Save Chinatown Committee in the late 60s. She had seen the destruction of the original Chinatown, known as the Ward, for City Hall's development. After the municipal complex opened, more land occupied by the Chinese community was proposed to be demolished.
READ: Legendary Houses: The Toronto Homes of Literary Icon Ernest Hemingway
Jean once said, "A part of Canadian history will go if Chinatown dies." She believed these districts were places where heritage and culture could be celebrated and shared not only amongst the Chinese community, but with all Canadians. With over 40 Chinese organizations by her side, the Save Chinatown Committee was successful in their mission when The Plan for the Preservation of Chinatown was released in 1969. She also extended her mission to Chinatown's across Canada.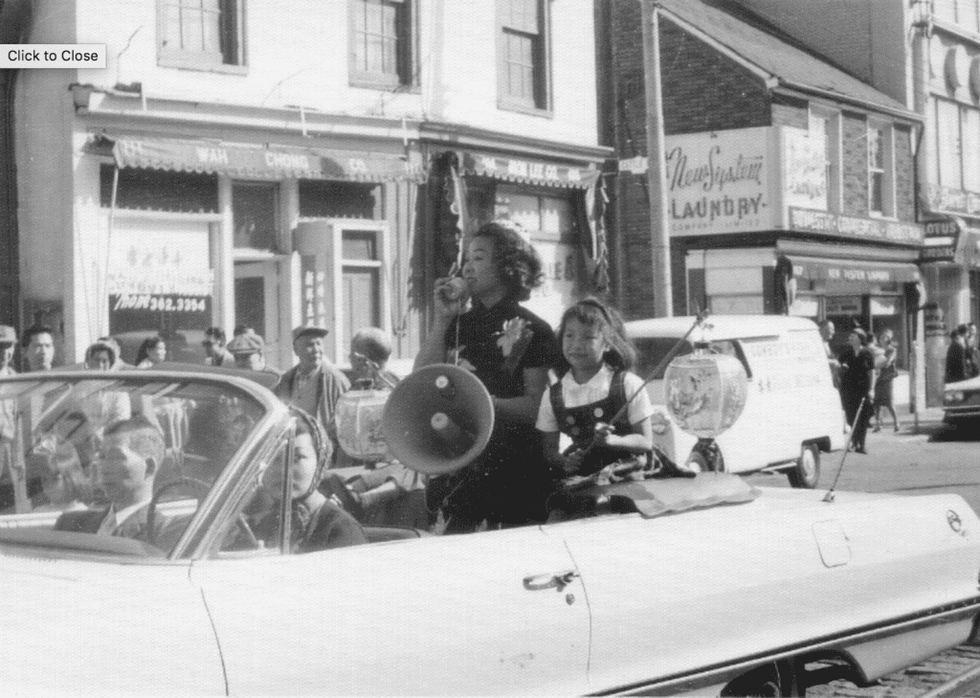 Jean Lumb, courtesy of the Jean Lumb Collection
When the Junction had a Streetcar (1937-1959)
Jean's footprint as an entrepreneur and activist spans across the city, as does her personal one. Her daughter, Arlene Chan, notes five homes still standing.
In 1937, Jean lived at 886 Davenport Road in Toronto's Wychwood Park. The home sits elevated at the bottom of the escarpment that runs along Davenport.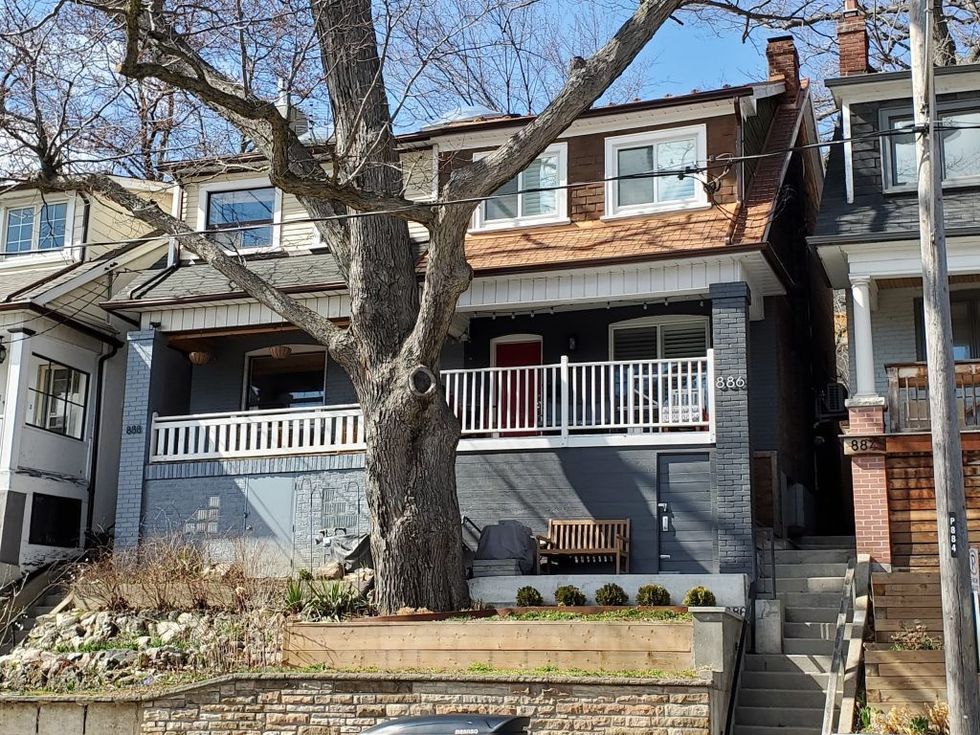 886 Davenport Road in 2022
After marrying Doyle, she moved to 2914 Dundas Street West in the Junction from 1939 to 1959. Jean raised her family in a brown three-storey structure. The first-floor occupied Eng's Produce and a butcher, with wooden stands outside filled with fruits and vegetables.
The second-floor was rented to an export-import business for storage, but it was mostly a family spot. It had a bedroom for the three Lumb boys, a ping-pong table and play area. The third-floor had a kitchen, living room, bathroom and two other bedrooms -- one for the three girls and one for Jean and Doyle. The family had access to the rooftop, which Arlene says "was a favoured spot for taking family photos."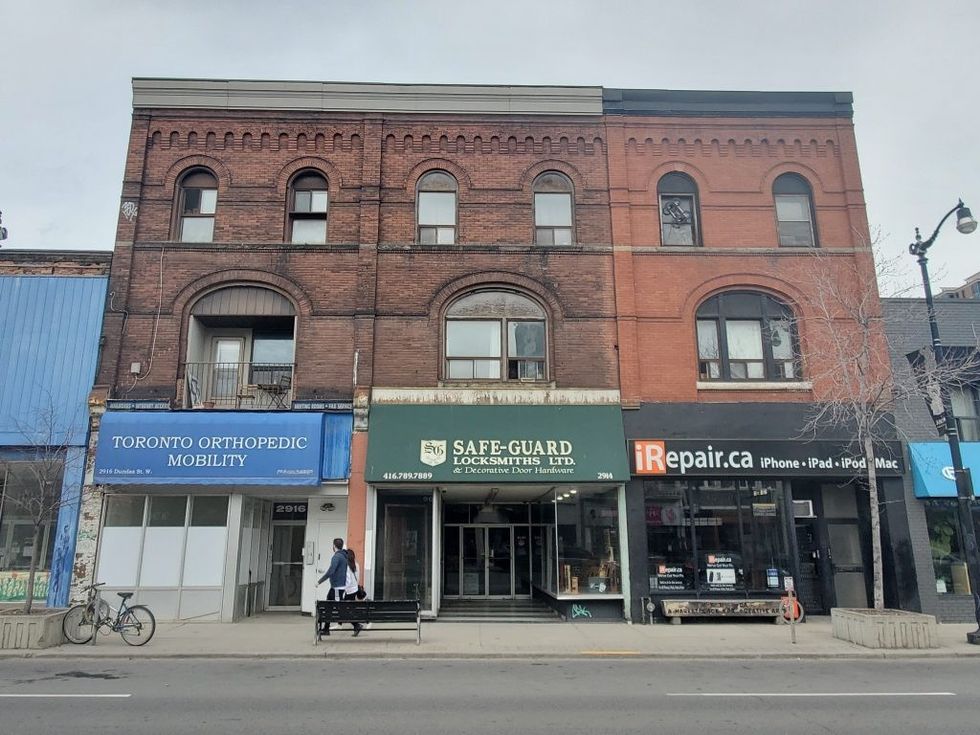 2914 Dundas Street West in 2022, Safe-Guard Locksmiths Ltd. was once Eng's Produce
When the Lumb's lived in the Junction there was a streetcar line that passed in front of the store and a few steps east a piano factory owned by the Heintzman's. The area was also under prohibition -- which was famously lifted just two decades ago.
The Big Red House on the Corner (1959-2002)
In 1959, the family occupied a large home on the southwest corner of Beverly Street and Dundas Street West. Described by neighbours as "The Big Red House on The Corner," the spacious structure had four bedrooms on the second-floor and five on third-floor. The home's main entrance was on the original structure facing Dundas Street West and the property once had a driveway on the corner where the addition and current entranceway now stand.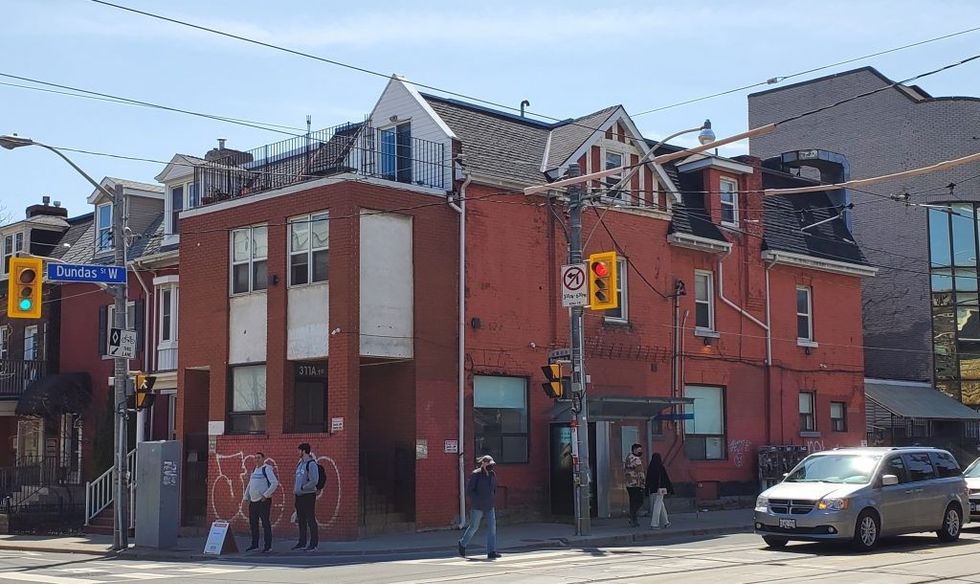 The Big Red House on The Corner at 377 Dundas Street West in 2022
The kitchen was the home's focal point. Not only was it a place for Sunday night family dinners, but a community centre of sorts. Newcomers were always sent to meet with Jean, who provided them advice and connected them with other community members. Arlene recalls other meetings being held at the large oval table that sat in the kitchen.
The Lumbs also witnessed the area's redevelopment. In 1959, it was largely residential with family homes lining the street west towards Spadina Avenue. When Old Chinatown was demolished, the family watched the rapid development of the second Chinatown with homes being converted into storefronts and restaurants. "That was really an important time in our history…to see the growth of our Chinatown west," Arlene recalls.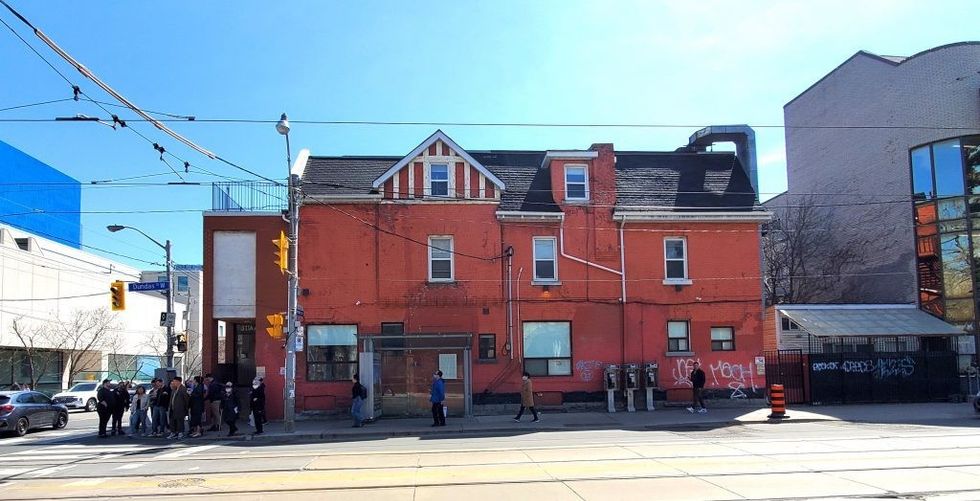 377 Dundas Street West in 2022
In 1973, the Lumbs moved to an apartment complex at 21 Dale Street. Jean and Doyle lived in apartment 244, while the kids had a unit on the ninth floor. After Doyle's passing, Jean sold the apartment and rented a unit at 195 St. Patrick Street, close to Chinatown once again.
A Welcoming Presence
While born in Canada, Jean's citizenship was revoked for almost a decade. In 1939, a women's nationality was defined by her husband. Since Doyle was born in China, Jean lost her citizenship and took his "alien" status. She regained her Canadian citizenship in 1947. It is fitting that one of her final contributions to the community was as a citizenship judge administering the oath of citizenship from 1994 to 2001.
Jean welcomed people from all walks of life whether at her businesses or oval kitchen table. She welcomed them when they first arrived in Canada and when they officially became citizens.
While she passed in 2002, she still welcomes Torontonians from all walks of life as they learn and create friendships at recently opened Jean Lumb Public School.
Special thanks to Arlene Chan, for sharing her memories living in some of these legendary houses.
Legendary Houses