As January draws to a close, it's safe to say that this month was memorable in Toronto because of the weather. Not only did the city have a record-breaking snowfall, it's also been an exceptionally wet 28-day stretch (and counting).
In fact, it's already been the second rainiest January on record in Toronto, according to The Weather Network.
---
This mix of rain and snow was the result of an active storm that was targeting the Great Lakes region for the month, which caused "impactful" storms three weekends in a row. But with a lack of arctic air, some of the storm events resulted in ice or just straight rainfall as opposed to snow, making it a rather messy month for Torontonians.
READ: Toronto has Already Seen 152% of its Average Snowfall for the Season
"Much of southern Ontario has seen 150 to just over 200% of the normal or average precipitation for the month of January," said Weather Network meteorologist Kelly Sonnenburg.
"But with the warmer temperatures, a lot of that precipitation has fallen as rain,"
Currently, this is Toronto's second rainiest January on record with 105.6 mm of rain reported so far, according to The Weather Network. While total precipitation for the month as of January 26 is sitting at 130.6 mm.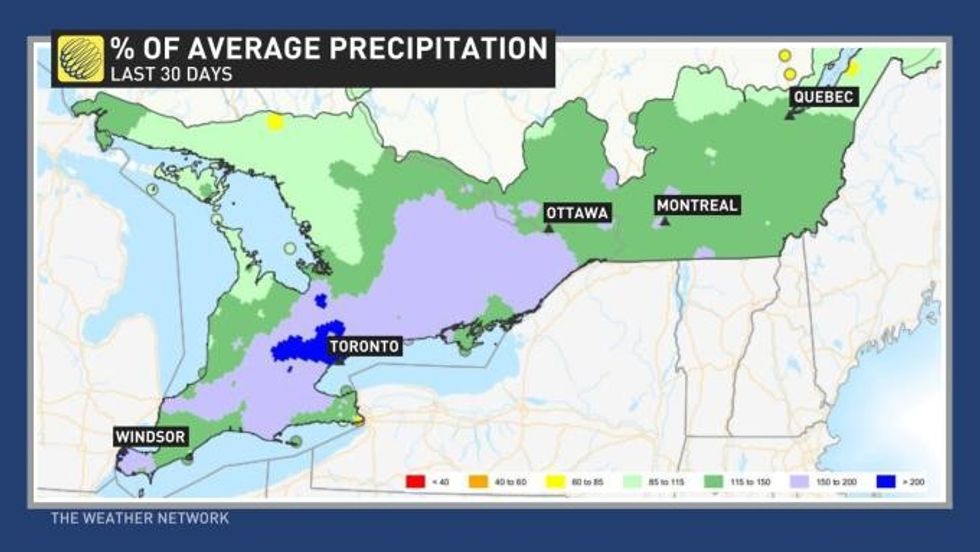 Graphic courtesy of The Weather Network
As we ease into February, the weather is expected t0 stay the same: mostly mild with above seasonal temperatures. Flurries could be possible from time to time, but no accumulation is expected.
This week, daytime highs will begin to drop slightly on Wednesday and into Thursday, before increasing to above seasonal temperatures by Friday and through the weekend.
"The first few days of February will bring a continuation of what we have seen during January -- changeable weather," says meteorologist Dr. Doug Gillham.
"But overall above seasonal temperatures are expected to dominate, though the pattern looks to be much more active and unsettled than how we are ending January this week."
Toronto