---
Jack Diamond, one of Canada's defining architects and co-founder of Diamond Schmitt Architects, passed away Sunday afternoon at the age of 89, a week before his 90th birthday, his firm announced on Tuesday.
Born Abel Joseph Diamond in Pier Retief, South Africa in 1932, "Jack" Diamond studied architecture at the University of Cape Town, graduating in 1956, before later studying Politics, Philosophy, and Economics at Oxford University. He then completed his Masters in Architecture from the University of Pennsylvania, graduating in 1962.
Two years later, Diamond emigrated to Canada with his wife, where he became the Director of the Architecture program at the University of Toronto. He would remain in Toronto for the remainder of his life, being made an Officer of the Order of Canada in 1995 and then the Order of Ontario in 1997.
While living and working in Toronto, Diamond was a proponent of heritage preservation, most notably with an old ceramics manufacturing plant in 1970.
"I tried to persuade people to renovate an old warehouse west of University Ave.," Diamond told the Toronto Star in 2014. "Everybody thought I was crazy. So I bought it, even though I didn't really have the money to do it. It was at 322 King West, on the corner of King and John St. I borrowed money to renovate the building, and used one floor for myself. People came in and loved the transformation and wanted to move in, so I borrowed more money to renovate the rest of it."
Diamond would go on to establish his practice, AJ Diamond Architects, in 1975, before forming a partnership with Donald Schmitt in 1978 and establishing Diamond Schmitt Architects, which now employs over 120 staff and have projects in British Columbia, Alberta, Manitoba, Ontario, Quebec, and even the United States, United Kingdom, Russia, and Israel.
Diamond Schmitt's projects have included academic, civic, residential, cultural, commercial, and healthcare buildings, such as the North York Central Library in Ontario, the Emily Carr University of Art and Design in Vancouver, and the David Geffen Hall at the Lincoln Centre in New York.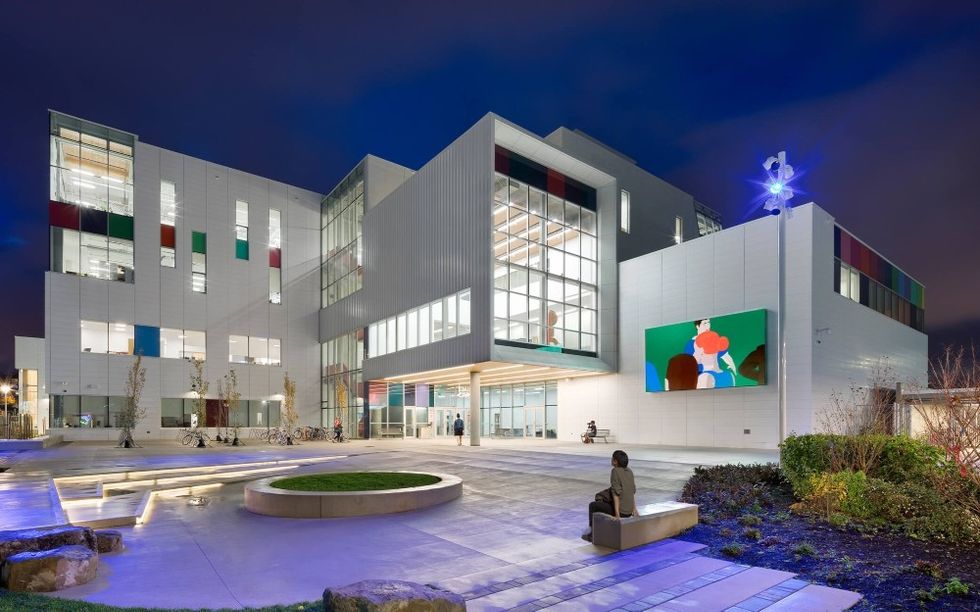 Emily Carr University of Art + Design. (Diamond Schmitt Architects)
Diamond's influence was felt in the urban planning realm as well, as a notable figure in the urban reform movement of the 1970s, a movement that pushed back against the belief that bigger was better when it came to urban planning.
"Jack Diamond's contribution to urban reform was profound," Donald Schmitt wrote in the firm's announcement of Diamond's passing. "He led the implementation of infill housing in Toronto to strengthen existing neighbourhoods at risk. He demonstrated the economic and societal benefits of transforming heritage for new uses. He illustrated low-rise alternatives to high-rise development at comparable land use densities. He articulated the negative impacts of low density suburban sprawl on public transit, servicing costs, social cohesion and the environment."
Jack Diamond also served the Province of Ontario as one of five commissioners to review land use, transportation, taxation, and governance in the Greater Toronto Area, and also served as a commissioner in the Ontario Human Rights Commission.
Diamond Schmitt Architects has announced that they will be hosting a celebration of Jack Diamond's life on Saturday, November 19. The event will be held at the Four Seasons Centre for the Performing Arts, an award-winning building Diamond helped design.
Real Estate News