---
Vacancy rates in the industrial real estate market in Edmonton are getting tighter, but there is good reason to believe they'll be alleviated in the very near future.
According to Avison Young's Q3 industrial report for Edmonton, vacancy rates have now dropped to below 4% in the Greater Edmonton Region. Edmonton's vacancy rate has dropped from 4.2% to 3.9%, while the suburban vacancy rate has dropped from 5.2% to 4.1%, for an overall vacancy rate decrease from 4.4% to 3.9%.
"This compression of vacancy rates is a culmination of several factors, one of which being related to the lack of new supply available for lease," Avison Young says,
According to the real estate services firm, purpose-built projects have been the primary driver of industrial development activity in Edmonton over the past two years, despite speculative projects making a splash as well.
"While the pandemic has been hard on many businesses, there are others who have flourished and continue to seek new spaces to match their growth," they said. "Overall, demand for industrial products remains greater than supply."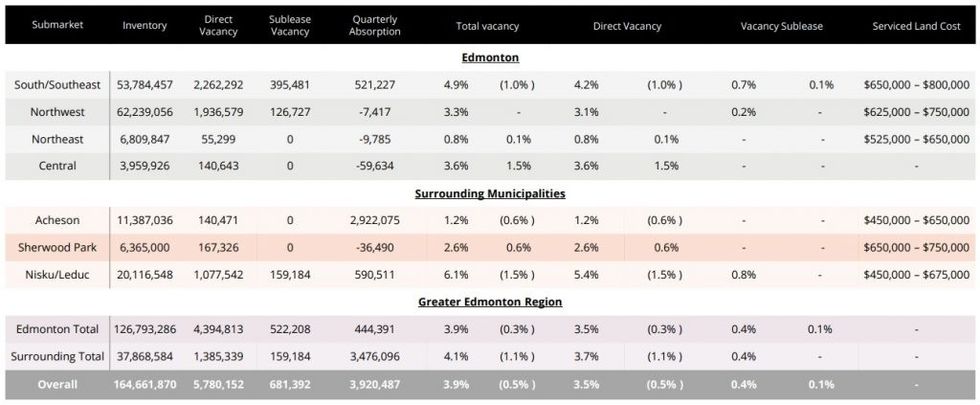 Industrial market statistics: (Avison Young)
And there appears to be sufficient supply in the pipeline.
Avison Young says that over the past five years, the amount of industrial space under construction has always had an asterisk next to it because of Amazon's YEG2 Slingshot Sortation Facility, a massive 2.9M sq. ft facility in Acheson, developed by Panattoni Canada, with square footage that was sometimes greater than all other projects combined. According to the Province of Alberta, the facility is expected to be completed by the end of the year.
Heading into 2023, however, Edmonton is expected to see more new supply than it has seen since 2015, even without Amazon greatly skewing the numbers, with the amount of space set for construction currently at over 3M sq. ft.
READ: "A Perfect Storm": Why BC Industrial Real Estate Demand is Migrating to Alberta
Notable impending projects include the 622,424-sq.-ft Pioneer Skies buildings and the 481,450-sq.-ft Border Business Park, both in Leduc, as well as the 432,481-sq.-ft Anthony Henday Business Park in St. Albert.
In terms of absorption, Q3 saw 3,920,487 sq. ft of space absorbed, out of Edmonton's 164,661,870 sq. ft inventory, and existing available space, about 5,780,152 sq. ft, is expected to continue being absorbed.
Avison Young notes that although it may be difficult to predict how the market will respond to "recessionary pressures", many of the impending projects were announced with that possibility, and uncertainty, already in mind, indicating that Edmonton will likely see sustained industrial development activity in the short-term.
Industrial