GTA
Real Estate News
Toronto Rental Market Remains Hot, Average Rents Up Nearly 5% as Demand Surges
After more than a year of pandemic-induced rent declines, the Greater Toronto Area is seeing a surge in demand that is sending average rents upward.
In July, the average rental rate across the GTA increased month-over-month by 3% to $2,078, with Toronto experiencing the largest monthly increase at 4.7% to $2,167, according to the latest Bullpen Research & Consulting and TorontoRentals.com Toronto GTA Rent Report.
July's steady increase marks the fourth straight month in a row in which average rents have risen after 14 consecutive months of monthly declines.
With demand steadily increasing, Toronto-area leasing agents continue to report bidding wars on prime rental suites as active listings continue to decline, while suites in new purpose-built apartments are leasing at a quicker rate than last year.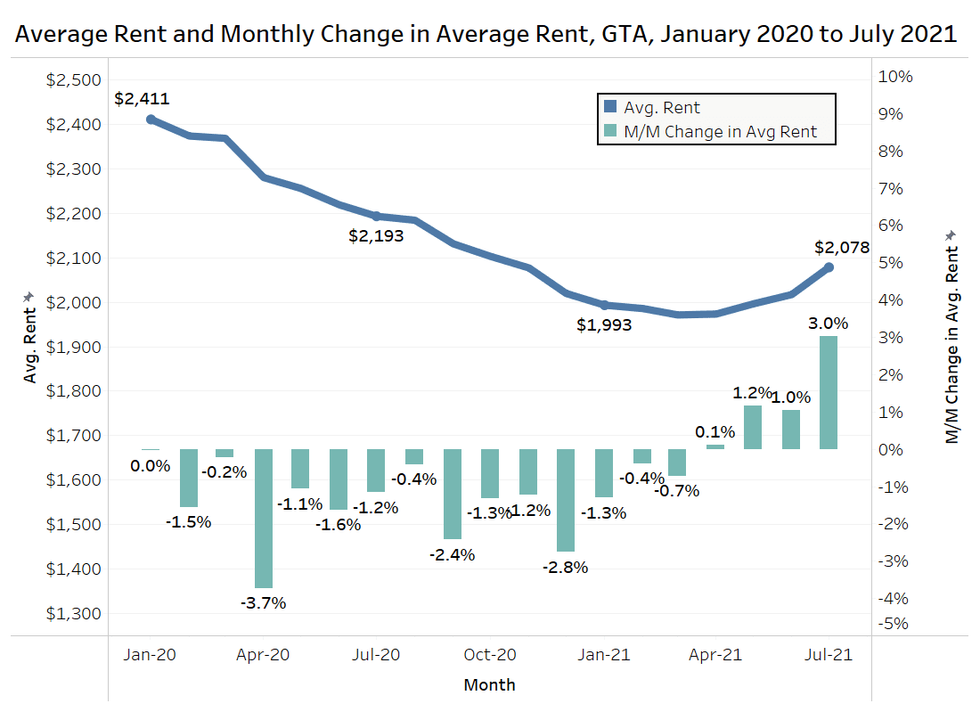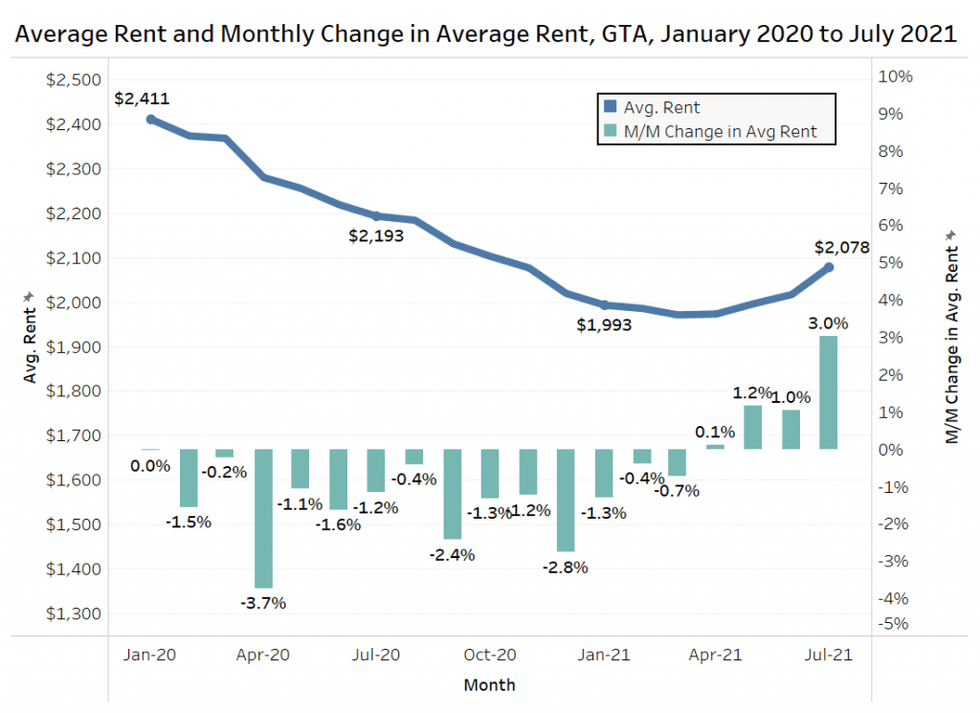 READ: Bidding Wars for Rental Units Becoming Norm in Toronto and Vancouver as Demand Spike
According to the report, average rents increased month-over-month in most municipalities and former municipalities in the GTA, lead by Toronto (up 4.7% to $2,167), Etobicoke (up 4.6% to $2,105), and Oshawa (up 4.3% to $1,839). Following behind was Markham (up 2.4% to $2,101), Mississauga (up 1.8% to $2,046), Brampton (up 1.2% to $2,013), Scarborough (up 0.8% to $1,871), and North York (up 0.4% to $1,923).
On the other hand, some areas still experienced monthly declines, including Vaughan (down 1.4% to $2,176), York (down 2% to $1,884), East York (down 1.2% to $1,769), and Richmond Hill (down 0.1% to $2,506).
"After the unprecedented rent declines experienced during the pandemic, the rental market is seeing renewed interest, with rents starting to increase more rapidly than they declined," said Ben Myers, president of Bullpen Research & Consulting.
"Toronto's average rent jumped 4.7%, a huge increase in the face of increasing demand. The number of active listings on TorontoRentals.com has declined over the past couple of months as rental properties are snapped up quickly," said Myers.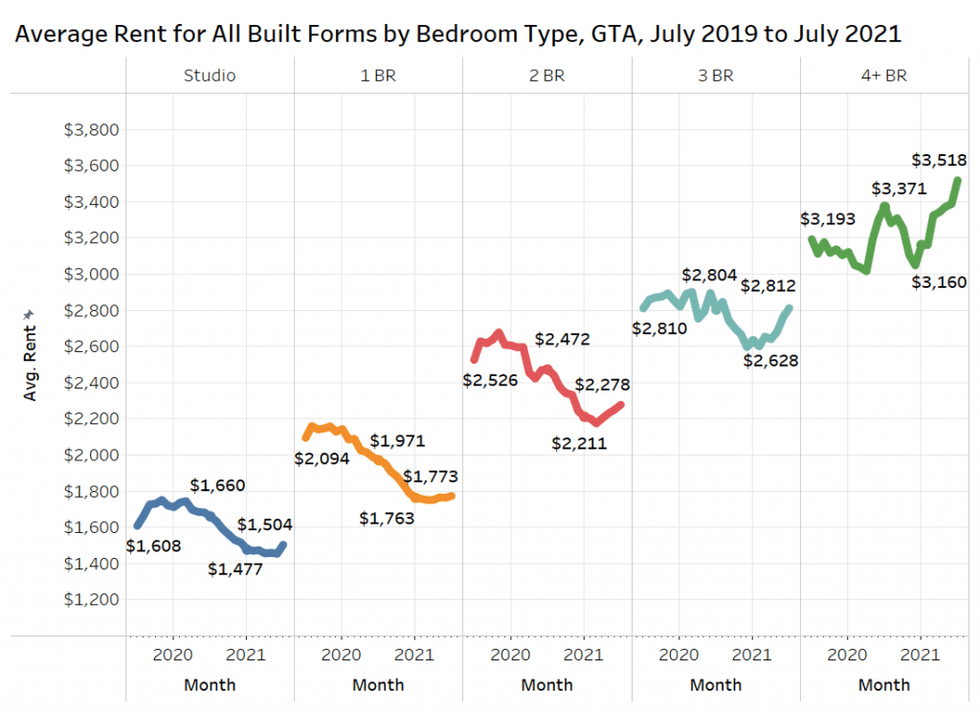 According to the report, units with four or more bedrooms experienced the largest increase from their 2021 market low to July from $3,160 to $3,518, an increase of 11.3%.
One-bedroom units experienced the smallest increase from $1,763 to $1,773 in July, an increase of less than 1%, a sign that suggests tenants are still looking for more space, and one-bedroom units are not in as high demand as the pre-pandemic period.
Interestingly, many of the larger units outside of downtown are being snapped up quickly, suggesting that some renters don't expect to go back to the office full-time in the immediate future.
As the county, provinces, and cities continue on their path to normalcy, it's expected that rental rates in the GTA will continue to rise into the latter half of 2021, with larger rental units leading the way.