---
At a time when the Greater Toronto Area desperately needs more housing options, rental construction is at a much-needed 30-year high, with record-high condominium completions and a multi-decade high of purpose-built rental completions expected in 2022.
While this is undoubtedly good news for renters and investors, the influx of supply doesn't mean that tenants can expect a break on monthly rents anytime soon. In fact, it's quite the opposite, as rents are expected to increase higher, according to Urbanation's 2021 year-end rental market results.
According to the report, released Wednesday, purpose-built rental apartment development in the GTA rose to its highest level in decades as 6,720 units started construction in 2021 -- nearly doubling the five-year average of 3,379 starts between 2016 and 2020.
At the end of 2021, a total of 17,912 rental units were under construction and an additional 93,321 rentals were proposed for development. 
READ: New Toronto Green Standard Pushes Local Developers to Embrace Clean Energy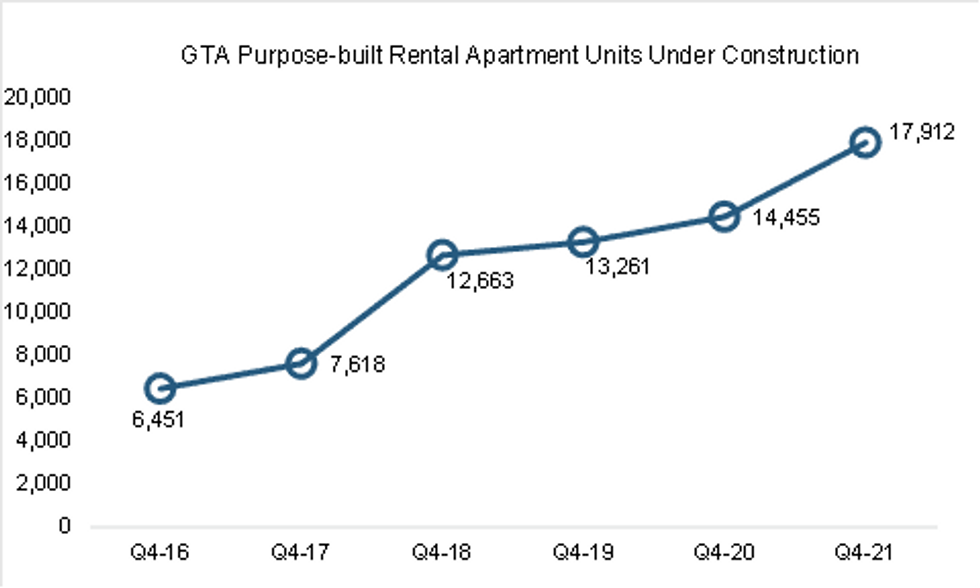 Urbanation Q4-2021
This comes as demand for renting, particularily in the downtown core, picked up steam again after months of declines amid the pandemic. In the GTA as a whole, total condo apartment lease transactions rose 24% in 2021 to a record 47,737 units. As a result, Urbanation says total active rental listings at year-end dropped 73% from a year earlier to 2,158 units, equal to only 0.7 months of supply based on Q4 lease volume.
But it was the downtown markets that were the real growth leaders in 2021 with lease activity up 27% annually within the former City of Toronto. Furthermore, Urbanation's data showed that rental activity once again favoured small units, as lease volume in 2021 grew fastest for rentals under 600 square feet with 29% annual growth.
With demand improving, vacancy rates followed suit, with purpose-built vacancy rates in buildings completed since 2005 in the GTA declining to 2.4% in Q4-2021. Urbanation says this was down from 5.7% a year ago in Q4-2020 and a recent high of 6.4% in Q1-2021.
In the former City of Toronto, vacancy rates returned to a balanced level of 3.1% after climbing to 7.4% a year ago, and 9% in the first quarter of 2021. In the outer-416 -- including Scarborough, Etobicoke, and North York -- and surrounding 905 markets, vacancy rates effectively returned to pre-pandemic levels in Q4-2021 at 2.3% and 1.1%, respectively. Urbanation noted that in the case of the 905, vacancy never rose above 2% during the pandemic.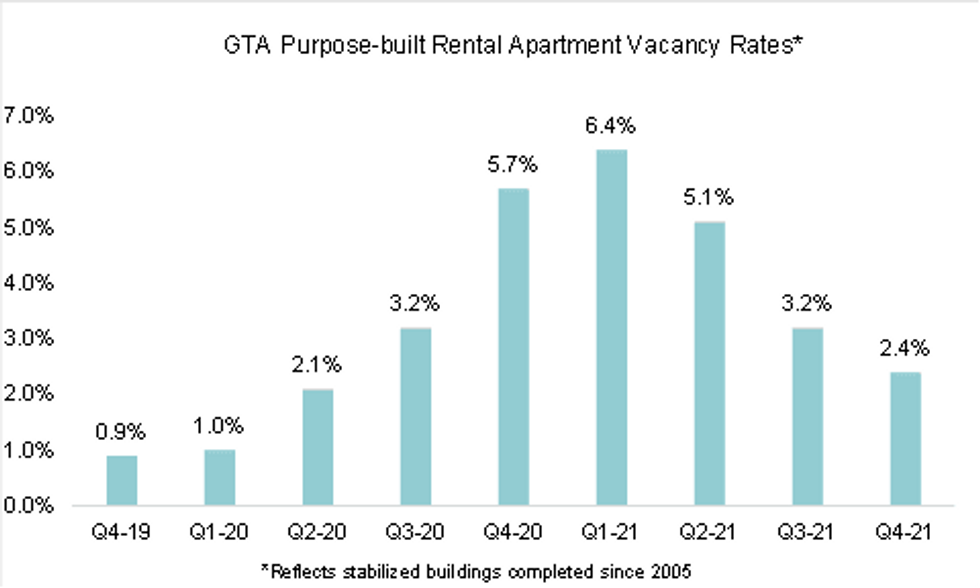 Urbanation Q4-2021
What's more, the incentives in place amid the pandemic to attract renters, which have been effective for rental operators, became less essential as the market tightened and shifted back towards a landlord's market. As such, less than half (47%) of surveyed purpose-built rental buildings offered some form of a financial incentive to new tenants in Q4-2021, in comparison to 70% a year ago.
"The GTA rental market downturn that occurred during 2020 as a result of the initial effects of COVID-19 quickly reversed in 2021," said Shaun Hildebrand, President of Urbanation.
"While an expected record high for condominium completions and a multi-decade high for purpose-built rental completions in 2022 may help to keep some level of balance in the market this year, expect rents to continue growing on record high immigration, rising incomes, and low homeownership affordability."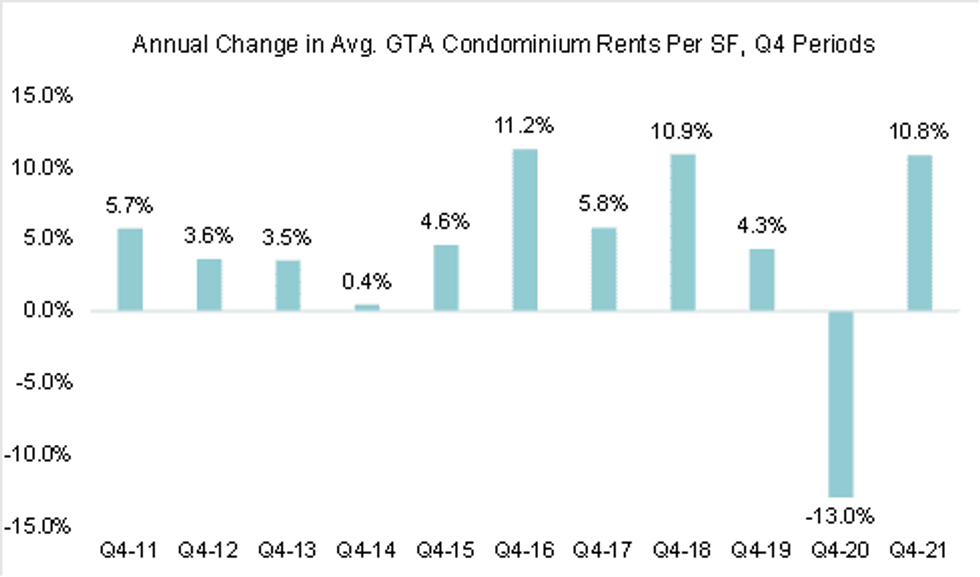 Urbanation Q4-2021
Urbanation's latest data also revealed that condominium rents for leases signed during Q4-2021 rose 10.8% year-over-year to an average of $3.27 per square foot ($2,361). This was led by a 15.9% annual increase in the former City of Toronto to $3.64 psf ($2,456).
In the outer-416 markets, rents grew 8.9% annually to $3.03 psf ($2,277), while 905 region rents were up 9.4% to $2.95 psf ($2,282). On the other hand, GTA rents were down 3.5% in comparison to the pre-pandemic average in Q4-2019, with City of Toronto rents down 4.5% but 905 region rents growing 4.1% over the two-year period.
Urbanation said rent recovery over the past year was the strongest for studio units, which grew 15.9% annually in Q4-2021 to an average of $4.31 psf ($1,771). In comparison, one-bedrooms grew 12.5% year-over-year to an average of $3.44 psf ($2,117), 9.6% for two-bedrooms to an average of $3.08 psf ($2,741), and 6.3% for three-bedroom units to an average of $2.80 psf ($3,382).
Considering that average rents in the GTA are expected to increase by as much as 11% in 2022, now might just be the perfect time to start looking for a rental.
Renting