---
New condo sales across the Greater Toronto Area (GTA) took a sizable hit during the second quarter of the year, falling 19% from Q1.
New condo sales totalled 6,792 units during Q2, according to a new report from Urbanation Inc., which not only was a 19% decrease from the previous quarter, but a 24% year-over-year drop. Interestingly, despite this change, sales still remained above the 10-year average of 6,302 units.
But with sales declining, the absorption rate for new projects that launched during the second quarter also tumbled, sinking from the 81% seen in the both previous quarter and the same quarter last year to a more modest 57%. This, however, may have been inflamed by the fact that Q2 saw the launch of 9,924 new presale condos -- the third-highest volume of new units brought to market on record, exceeding the 10-year average by 43%.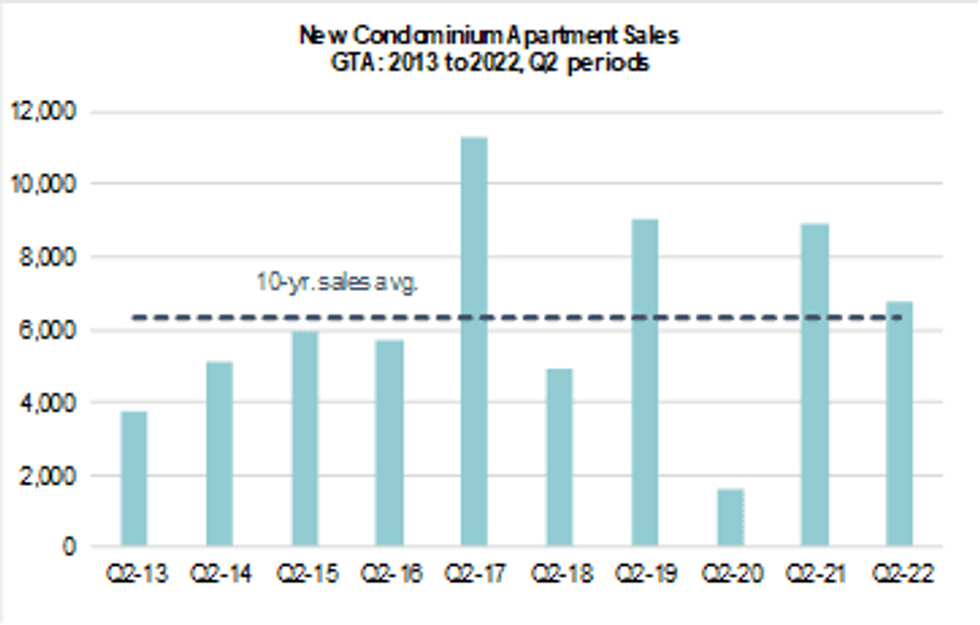 At the close of the quarter, the number of unsold condo units sat at 11,703, marking a 36% increase from the 18-quarter low seen in Q1. But this level of unsold inventory is still down 6% year over year, and is 20% below the 10-year average.
"The new condominium market is likely to continue slowing in the near-term from last year's record highs as presale buyers act cautiously and developers delay new openings, with a focus on finishing projects already underway," said President of Urbanation Shaun Hildebrand. "However, prices are expected to hold firm amid low inventory and high development costs."
Indeed, condo prices are continuing to rise, having reached a record-high average of $1,453 psf in Q2. This is a 4% jump from the previous quarter and a 20% annual increase. The report notes that this is partly the result of an increase in inventory at higher-priced projects, but is also influenced by the fact that developers are dealing with rising construction costs, increases to development charges, and higher interest rates, meaning there's little room for condo prices to fall.
As Hildebrand notes, it's unlikely that there will be major changes ahead when it comes to condo prices.
"The strength in the rental market and shift in demand towards more affordable ownership options should provide support for condominium activity as the market works through the effects of higher interest rates," Hildebrand said.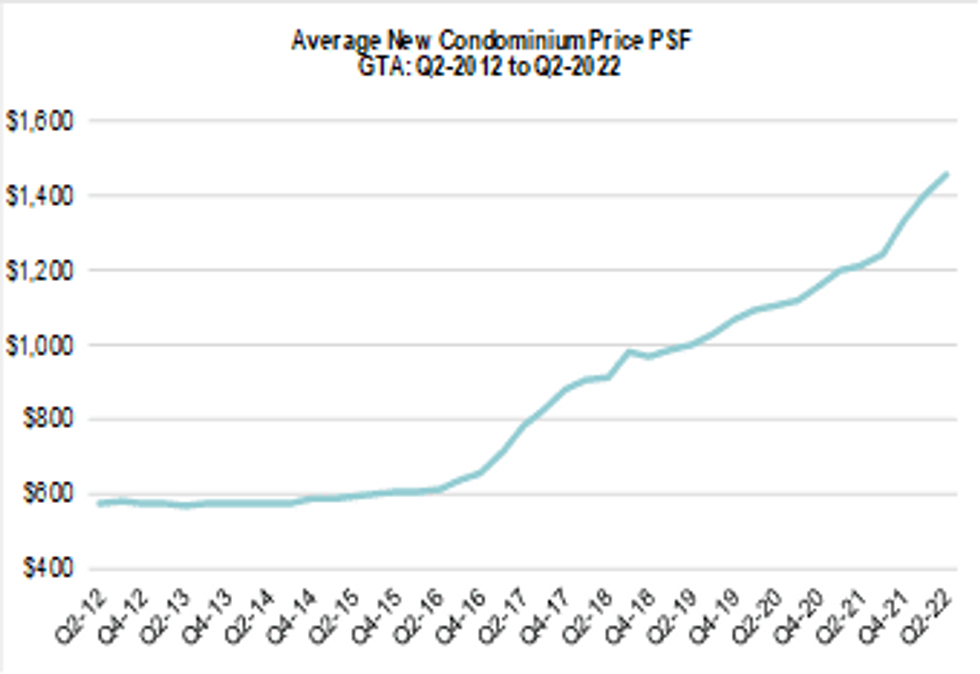 Instead of prices falling as sales slow, what is likely to happen, the report says, is cancellations and delays of condo launches.
"At the beginning of the year about 35,000 new condo units were anticipated to launch for presales in the GTA," the report reads. "In the first half of this year close to 16,000 units launched. With less than 10,000 units expected during the rest of 2022, this leaves at least 10,000 units that will be put on the shelf."
As of Q2, there was a record-breaking 123,654 new condo units either under construction or in pre-construction sales. A growing number of these are in more suburban 905 regions, with just 46,391 located in the Toronto core.
Condos